Here on the Central Coast there's a tonne of fun to be had for families. You'll find wildlife parks, farm experiences, go-kart tracks, high ropes courses, virtual reality experiences, indoor climbing centres, and more. To make it easier for you to discover all of the fun things to do on the Central Coast with kids, we've compiled this ultimate guide that includes all of the attractions available to families in our region!
With more than 68 activities on offer, you can experience a new adventure every weekend for an entire year! Did I hear a yeehaa! So, without further ado, and in no particular order, here is your ultimate guide to the Central Coast's attractions for families.
---
JUMP TO: Animal Attractions, Farm Tours, Wildlife Parks, and Zoos | 'Pick Your Own' Events and Farm Visits | Active Outdoor Adventures on the Central Coast | Active Indoor Fun on the Central Coast| Central Coast Indoor Play Centres | Indoor Fun on the Central Coast – Perfect for Families with Multiple Ages and on Rainy Days | Cinemas on the Central Coast | Central Coast Galleries, Museums, and Centres of Culture | Swimming Pools and Places to Cool Off | Summer Fun – Open Through the Warmer Months
---
Central Coast Animal Attractions, Horseriding, Wildlife Parks and Zoos
---
Visitors to the Australian Reptile Park in Somersby can head along to pat the kangaroos, watch the crocodiles being fed and see the lizards out for their regular walk! Guests will also get to learn all about the lifesaving work the Park does through its antivenom program as well as their important conservation work saving Australia's wildlife through the charity Aussie Ark.
---
Amazement Farm and Fun Park at Wyong Creek invites little ones to meet goats, donkeys, and bunny rabbits. Families can also explore the multiple hedge mazes, bird sanctuary, giant board games, kids playground, and The Big Barn Cafe, plus heaps more!
---
Guests to the Australian Walkabout Wildlife Park in Calga can spend the day with some of Australia's favourite animals including koalas, kangaroos, wombats, wallabies, and heaps more!
---
Located on 18 acres and just minutes from Terrigal Haven, you'll find the Outlook Riding Academy – a gorgeous family-run horseriding centre. Children can take a lead pony ride along a rainforest track, have a private horseriding lesson, undertake games on horseback with a parent or embark on a trail ride.
Playing in Puddles visited! Check out our review here.
---
'Pick Your Own' Events and Farm Visits
---
Open throughout the winter months, Cedar Farm in Dooralong makes for a perfect family day out in the sunshine. Simply arrive, grab your bags and trolley cart from the trestle tables behind the car park, collect a picking stick and head out into the orchard. You'll have a tonne of fun hunting for the biggest, ripest, juiciest looking oranges. Then when your bags are full, simply head back to the tables to weigh your haul!
Playing in Puddles visited! Check out our review here.
Where: Cedar Farm, 48 Dittons Road, Dooralong.
When: Oranges are available for picking between July and September. The farm is usually open daily between 10am and 4pm throughout the winter school holidays and then every weekend (Thurs-Sun) from 10am – 4pm until mid-September. Check the Cedar Farm Facebook page for updates before you head out, as the operating hours can change.
Contact: Visit: Cedar Farm Facebook page
---
A few times a year, the Bloom Barn Farm in Peats Ridge opens its flower fields to the public for a 'Pick Your Own Sunflowers Day' (occasionally there may be other seasonal flower varieties too). Families can head along to pick their own flowers and enjoy family-friendly activities, including roasting marshmallows on a fire pit!
Playing in Puddles visited! Check out our review here.
Where: The Bloom Barn Farm, 1154 Peats Ridge Road, Peats Ridge.
When: Visit the Bloom Barn Farm website to find out about future events.
Contact: Call 0455 246 789 or email [email protected]
---
Moo to Ewe is a gorgeous Central Coast animal sanctuary with a very special purpose – to rescue, rehabilitate, and where possible, re-home. Its mission is to provide a forever home to orphaned farm animals and to give them the freedom to live out their lives in their own unique ways.
Families are invited to attend pre-arranged sanctuary tours where'll they get to meet and feed snacks to piglets, ducks, sheep, alpacas, cows, hens, and roosters! Advance bookings are recommended to avoid disappointment. Tours can be booked for 12pm and run approximately 1.5 hours.
---
Watch the cows be milked, cuddle the chicks, collect the eggs and pull veg straight from the patch at this local working farm. You can join a group tour or book a private one.
Playing in Puddles visited! Check out our review here.
---
The Giving Farm in Jilliby runs a variety of pick-your-own events throughout the year. Families can head along to pick anything from sunflowers, garlic, and cherry tomatoes to blueberries, gooseberries, and other seasonal flowers (depending on what time crops are harvested). They also run regular farm visits where families can cuddle and pat baby goats, babydoll sheep, lambs, and chickens!
Playing in Puddles visited! Check out our review here.
---
Active Outdoor Adventures on the Central Coast
---
Glenworth Valley Outdoor Adventures is packed with exciting activities the whole family will love. There's horse riding, bush and track quad biking, kayaking, abseiling, laser skirmish, and more! In fact, there's so much to do you'd be best placed to stay a few days on the Valley's campground. Set among peaceful creeks, cool watering holes, and acres of wide open space, you can pitch your tent and really get back to nature! Or why not hire one of their amazing Glamping tents or Eco-Villas for a super relaxing getaway?
Playing in Puddles visited! Check out our review here.
---
If you've never tried FootGolf, now's the time to give it a go! Rally the family together for an afternoon of healthy competition as Mum, Dad, Nan, and Grandpa attempt to kick a football into nine specially designed holes in as few kicks as possible! This is an activity suited to little (and big) kids of all ages and is the perfect way to build up an appetite before grabbing a chicken schnitty at the Club's bistro afterwards.
Playing in Puddles visited! Check out our review here.
---
If you're planning your next family adventure, Treetops Adventure Park in Ourimbah should be next on your list! Families with very young children can experience NetWorld, a network of interconnected spaces where they'll bounce around while enjoying a heap of fun games with gigantic inflatable balls! For children aged three and over, there's a lot of fun to be had at one of their self-guided rope courses. Or for slightly older children who'd like to test their sense of adventure, there's the vertical challenge or their LONG zip line that will get the adrenaline pumping!
---
Look out parents of active teenagers – there's a new, high-octane activity in town! Whether it's birthday party ideas, activities for the school holidays, or just plain old weekend family fun you're looking for, The Paintball Place in Kulnura promises a fabulous day of entertainment.
The well-organised series of mini-adventure games set on a 200-marker field will impress Central Coast locals as well as visitors from Sydney, Newcastle, and the Hunter region, so it's well worth the trip.
Sessions prices start at $50 and go up depending on session length and how many paintballs are required. It's also important to note that by law in NSW, all players must be 12 years or older.
---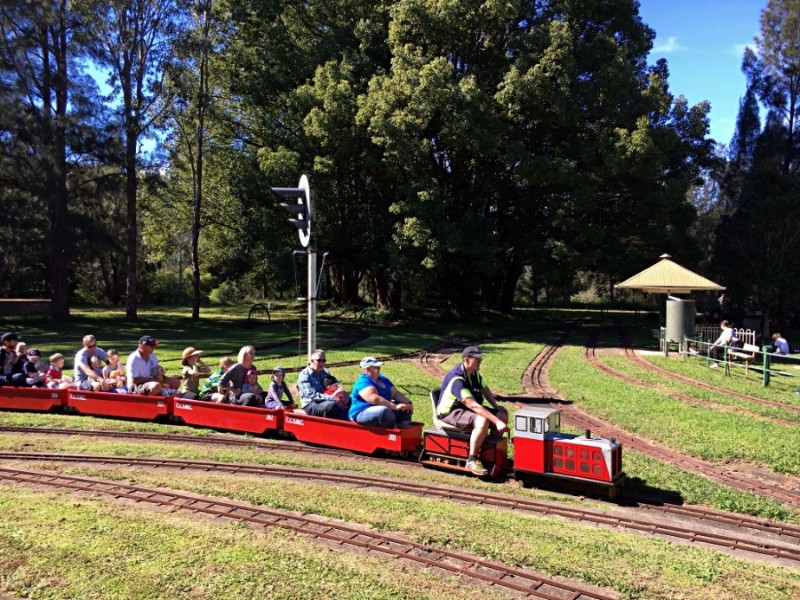 Toot toot! We are so pleased to hear that after some time spent out of action during 2020 and 2021, the mini trains at Central Coast Steam Model Co-op are back! For those who haven't yet experienced this brilliant morning out with little ones, you'll basically get to climb aboard a miniature train and ride the tracks! Some of the engines run on steam, some battery-powered electric motors, and others on small internal combustion engines. They're all driven and owned by lovely volunteers.
For opening times and to plan an exciting expedition with your minis, visit our Narara Mini Trains feature.
---
The Entrance ticks all the boxes for a family day of fun with its picturesque setting, variety of carnival rides, a kids' waterpark, and a whole host of eating options.
On the weekend, Thomas the Tank fans can jump aboard the Pelican Express – a small blue train that circles the Entrance's foreshore. The Entrance's famous carousel from the 1800s is also guaranteed to produce ear-to-ear grins and a nostalgic experience that'll be remembered for years to come. Expect fairy floss, laughing clowns, and kewpie dolls on sticks as part of an epic day out at the Entrance.
Playing in Puddles visited! Check out our review here.
---
Active Indoor Fun on the Central Coast
---
If you've got kids bouncing off the walls then Flip Out Gosford is the remedy! Kitted out with trampolines, a wall runner, a foam pit, a play maze and a dedicated toddler play area, the super-fun Flip Out arena in Gosford is the perfect place for kids to go wild. Mother's groups will love their term time, daily Playgroups where kids under six will be kept well entertained while parents get to enjoy a coffee available at the on-site cafe!
Playing in Puddles visited! Check out our review here.
Where: 10 Hely St, West Gosford.
When: Monday to Sunday 9am-6pm.
Contact: Call 4323 0162 or email [email protected]
---
A visit to Erina Ice Arena is a HUGE treat for Central Coast kids! As well as visiting casually for some fun on the ice, they can take lessons to pick up a whole bunch of new skating skills while having a go at ice hockey, figure skating, stick and puck, and more! Plus there's "Playgroups on Ice" for the littlies, not to mention on-ice disco events and birthday parties too!
---
Got kids doing forward-rolls off the sofa and somersaults across the coffee table? You may have a mini ninja on your hands! Australian Warrior Fitness in North Gosford is open for regular term-time ninja training classes, school holiday clinics, and for "Open Play" sessions for kids aged 12-16 – just what your budding warriors need to burn off that energy! Whatever their fitness level, AWF caters to beginners right up to elite champions.
---
Calling all skateboarders, scooter riders, BMX and mountain bike riders, roller bladers, roller skaters, and anyone who loves to roll on wheels – Australia's longest-running indoor skate park Slam Factory in Tuggerah is the place to practice your skills! There's also a cool shop where you can purchase protective gear, apparel, and all types of boards, scooters, bikes, and accessories – plus if you spend in the shop, you will receive FREE skatepark entry!
---
Got active tweens or teens? Pulse Climbing at West Gosford is an indoor bouldering and rock climbing facility that promises to challenge kids both mentally and physically. Children as young as five can join in the fun, with the climbing walls ranging from the basic beginner level to "super-hard climbs for the hard-core". Pre-book to secure your spot!
Playing in Puddles visited! Check out our review here.
---
The vibrantly themed Clip 'N Climb arena in Gosford is an exciting space where kids can challenge themselves in a fully supervised environment. With 28 different climbing walls, kids will have fun racing each other as they make their way to the top, jump off, glide down and start their next climb all over again! Clip 'N Climb is suitable for children aged six and above – no experience is necessary.
---
Less than 500 metres from Westfield Tuggerah and Tuggerah train station, the Central Coast's only indoor Go-Karting track Kartatak Raceway is easily accessible and ready to fulfill your thrill-seeking needs! This exciting venue has karts for juniors and seniors as well as double karts so there's something for the whole family!
---
Located inside the Central Coast Leagues Club at Gosford, Laser Tag Mania offers a state-of-the-art laser tag game that is bound to excite the whole family! Kids, teens, and adults can head along 7 days a week for a casual game of laser tag before grabbing a bite to eat at one of the many dining options within the club! Plus, you can get a discount on the entry price if you're also visiting Monkey Mania which is right next door!
---
The incredible custom-built space at Obstacle Course Racing School in Tuggerah is equipped to provide a variety of fitness sessions and ninja training to kids aged 3 – 80! Children will strengthen their bodies through climbing, improve their balance and cardio fitness and enhance motor skills and coordination – all while having fun and doing something different!
Term-time classes are available for mini ninjas and school-aged children, plus they run a fun and affordable school holiday program for kids wanting to challenge themselves and try something new. Bookings are essential so make sure you reserve your spot!
---
Central Coast Indoor Play Centres
---
If you're looking for things to do with young kids on the Central Coast, Play Time at Kincumber Indoor Sports is where it's at! The awesome Play Time area is packed with huge inflatables, cubbies, ride-ons, and toys – just perfect for little tots and children under seven with a lot of energy to burn! Plus, there's a cafe serving coffee and a variety of hot and cold snacks conveniently positioned right next to the play equipment! Play Time is open daily 9am – 3pm.
Playing in Puddles visited! Check out our review here.
Where: Kincumber Indoor Sports Centre, 19 Cochrone St, Kincumber.
When: 9am-3pm every day. Closed public holidays.
Contact: 0243 683 197.
---
Parents can enjoy a cuppa or a feed at the Brasserie while kids monkey around at the Mini Mania play area located inside Gosford RSL. The little centre is best suited to children aged between 0-5 but bigger kids can have fun too at the adjoining lounge where they can play computer games, a claw arcade game and watch flicks on TV.
The play centre is FREE and open daily between 9am and 9.30pm.
Playing in Puddles visited! Check out our review here.
Where: 26 Central Coast Highway, West Gosford.
When: Mini Mania is open daily from 9am-9.30pm (Cafe daily 9am-late; Luminous Brasserie lunch Mon-Fri 11.30am-2pm and Sat-Sun 11.30am-2.30pm, dinner Sun-Thu 5pm-8.30pm and Fri-Sat 5pm-9pm).
Contact: 0243 232 311.
---
Did you know the Central Coast is home to one of the biggest indoor inflatable playgrounds in Australia? If you haven't checked it out yet, we recommend you bounce on over to Inflatable World in Charmhaven! Situated inside Charmy Indoor Sports, you'll find ALL the inflatables from classic jumping castles and mega slides to obstacle courses, activity zones, and rock climbing walls! With so much for kids to explore, it's got to be one of the ultimate activities you can do with kids on the Central Coast. Plus it's a great option as something to do when it's raining or on a scorching hot day!
Playing in Puddles visited! Check out our review here.
---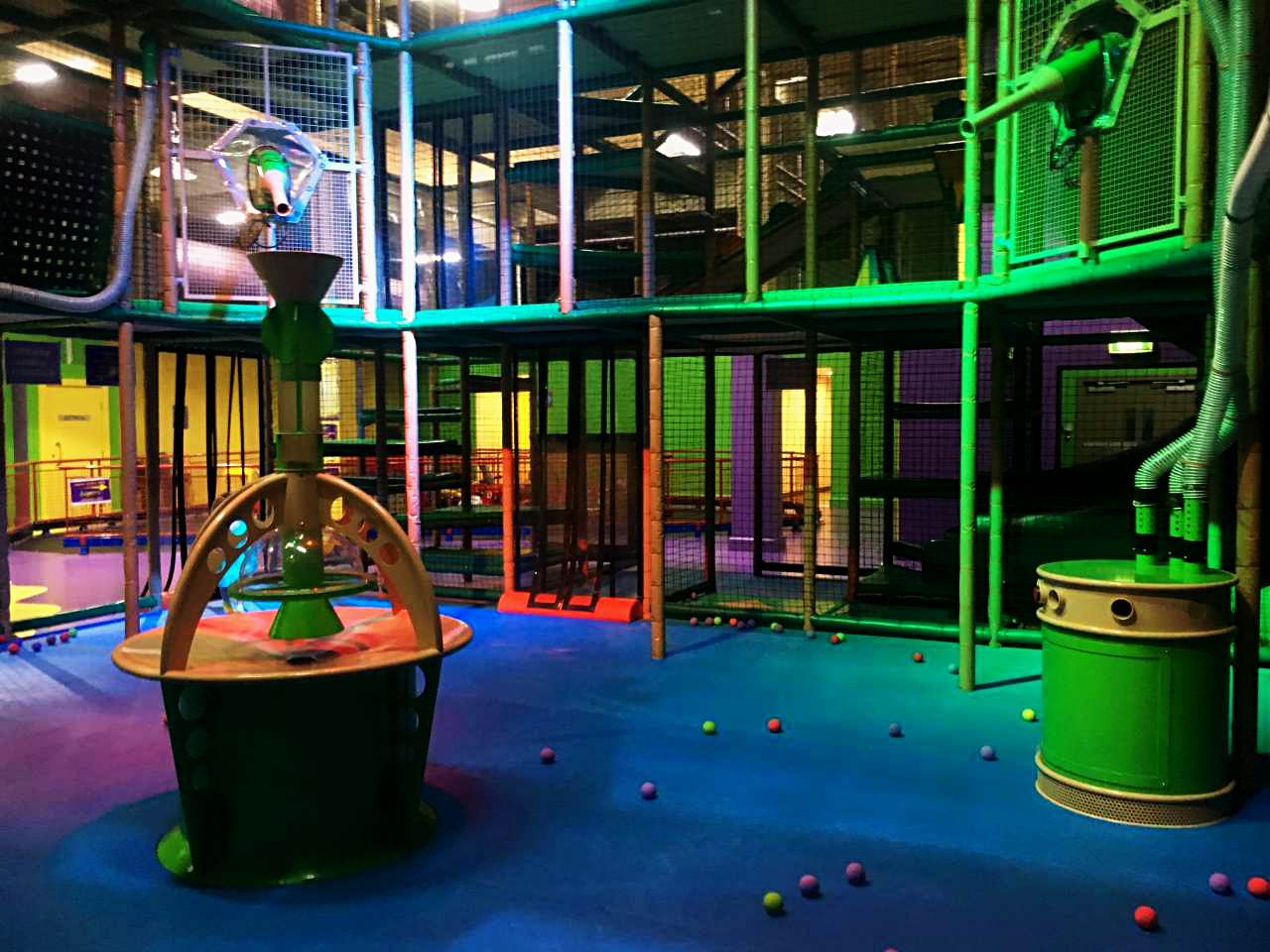 Another great wet weather option when looking for things to do on the Central Coast with kids is Monkey Mania in Gosford (situated inside Central Coast Leagues Club). Inside you'll find a three-storey soft-fall play zone filled with slides and obstacles – there's even a wind-activated foam ball arena! If that's not enough to run the kids ragged, they'll also find a jumping castle, a race-car track, and a designated area for the under-fives featuring a cubby house, mini slides, foam animals to bounce on, and wall activity panels. Plus coffee, cakes, and lunch are available from the on-site cafe!
Playing in Puddles visited! Check out our review here.
---
Other Indoor Play Centres on the Central Coast
There are lots of indoor play centres located across the Central Coast. Click below to learn more about each centre and to find out their pricing and opening times.
---
Indoor Fun on the Central Coast – Perfect for Families with Multiple Ages …and also on Rainy Days!
---
Looking for fun ways to escape the heat or rain? Located inside Central Coast Leagues Club (next to Monkey Mania) is this exciting activity that families can enjoy whatever the weather! At Plaster Funtime in Gosford, you'll find over 40 different plaster pieces, along with endless paint colour choices so families can get as creative as they like! No bookings necessary – just walk in.
Then if you're feeling peckish or want to make a day of it, head into Monkey Mania afterward where you'll find coffee, cold drinks, ice creams, hot food, and much more at their onsite cafe!
---
Got a slot car hobbyist in your house or maybe you've never done it before and want to give this hands-on family activity a go? Get to Sloties in Charmhaven for a joy ride you've not experienced before! They supply the rental cars, complete with hand controllers that you'll get to race on one of their four large tracks with a total of 26 lanes!
Sloties is so much fun and is the perfect venue for kids' (and adults') birthday parties, a casual visit with friends and family, or during the school holidays when they have a bunch of deals on offer.
---
Kids don't have to be a technical whizz to get a breathtaking and transformative experience at the Central Coast Virtual Reality studio. Whether your kids are into horror, outer space, cute baby dragons, or the zombie apocalypse, this awesome studio at The Entrance offers heaps of experiences catering to all tastes!
They're open Weds – Sun 10am – 6pm and 7 days throughout the school holidays.
---
Ever wanted to be a Jedi? You can at Tuggerah! Sons of Obiwan, Australia's first and only light saber training facility is located right here on the Central Coast!
In a centre packed with Star Wars paraphernalia (think R2-D2 statues and Stan Lee-signed posters), staff train participants in European Longsword and Balintawak using light sabers made from aircraft-grade aluminium alloy. "It's theatre combat," says Sons of Obiwan founder Luke Boyton, "choreographed fighting like you see in movies".
"I used to be a behavioural learning teacher," says Luke, "and I started this as a way to teach kids on the autism spectrum." Sons of Obiwan continues to run weekly general spectrum group classes and customised special needs classes.
"We have people aged 10 to 60. We have hard-core Star Wars fans, we have people who are looking to try something different," says Luke. "Anyone who comes through the door can learn something fun".
---
Ten-Pin Bowling Alleys
There's no one that doesn't enjoy the friendly competition of ten-pin bowling and it's super cute watching kids give it their best go! A couple of games are always well accompanied by a bowl of fries and a play on the arcade games too, so it's a great option for either a very hot or very wet day!
---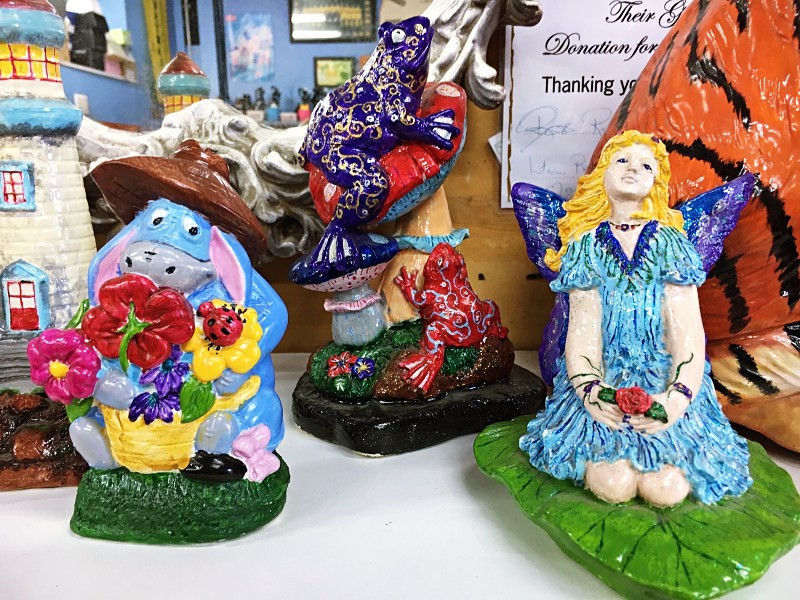 Art Barn Plaster Painting in Gosford is the perfect alternative to play centres on a rainy day! Children will "ooh" and "aah" over the great selection of figurines to choose from – will they pick a Disney character, superhero, fairy, or truck? They'll each get their own palette of paints, brushes, and a painting apron to explore their artistic side decorating these cute ornaments.
Playing in Puddles visited! Check out our review here.
---
Family Entertainment Centres
Conveniently located inside two of the Central Coast's largest shopping malls are these cool family games arcades. Whether you're looking for things to do with kids on a rainy day or just somewhere for dad to usher little people into while mum finishes the shopping, these family entertainment centres are guaranteed to put smiles on faces.
---
Home to renowned Australian confectionery producers Nougat Limar, Bon Bon Fine Chocolate, and The Sydney Marshmallow Co. The Factory in Gosford would have to be the sweetest place to visit on the Central Coast.
Visitors to The Factory can peek through porthole windows to see their favourite chocolate coming to life or take part in a guided tour of the factory floor where they'll learn about how the delicious treats are made. Children can also have their own fun at the Junior Chocolatiers Workshop.
Afterward, big and little guests can indulge in a warming cup of The Factory's signature hot chocolate and a yummy cake.
---
Cinemas on the Central Coast
---
Movie Theatres and Cinema Complexes on the Central Coast
There are multiple cinema complexes located across the Central Coast. Click below to learn more about each theatre and to see their current screenings.
---
Central Coast Galleries, Museums, and Centres of Culture
---
At the Central Coast Marine Discovery Centre you can see Port Jackson sharks, handle shells, look at shark teeth under microscopes, paint pelican plasters and watch a cartoon about sea dragons! It's a fun informative space run by local volunteers and in 2020 it was newly renovated.
Playing in Puddles visited! Check out our review here.
Where: 11 Terrigal Drive, Terrigal (inside Rotary Park next to Terrigal Lagoon).
Open: 7 Days, 9:30am – 3:30pm (last admission 3pm). Closed on public holidays.
Cost: $16 adult; $12 child; Family of 2 children and 2 adults $44; Family of 2 children and 1 adult $28; 1 Adult & 3 Children $40; Concession (Senior +60/Pensioner/Carer) $12; Carer with Carers Card Free, Children under 2 years old Free. $7 to paint a plaster mold. The Centre accepts Parents NSW vouchers.
Tips: The Centre has air-con, so it's a great place to head when you need to escape the chill of winter and the heat of summer.
Phone: 4385 5027
---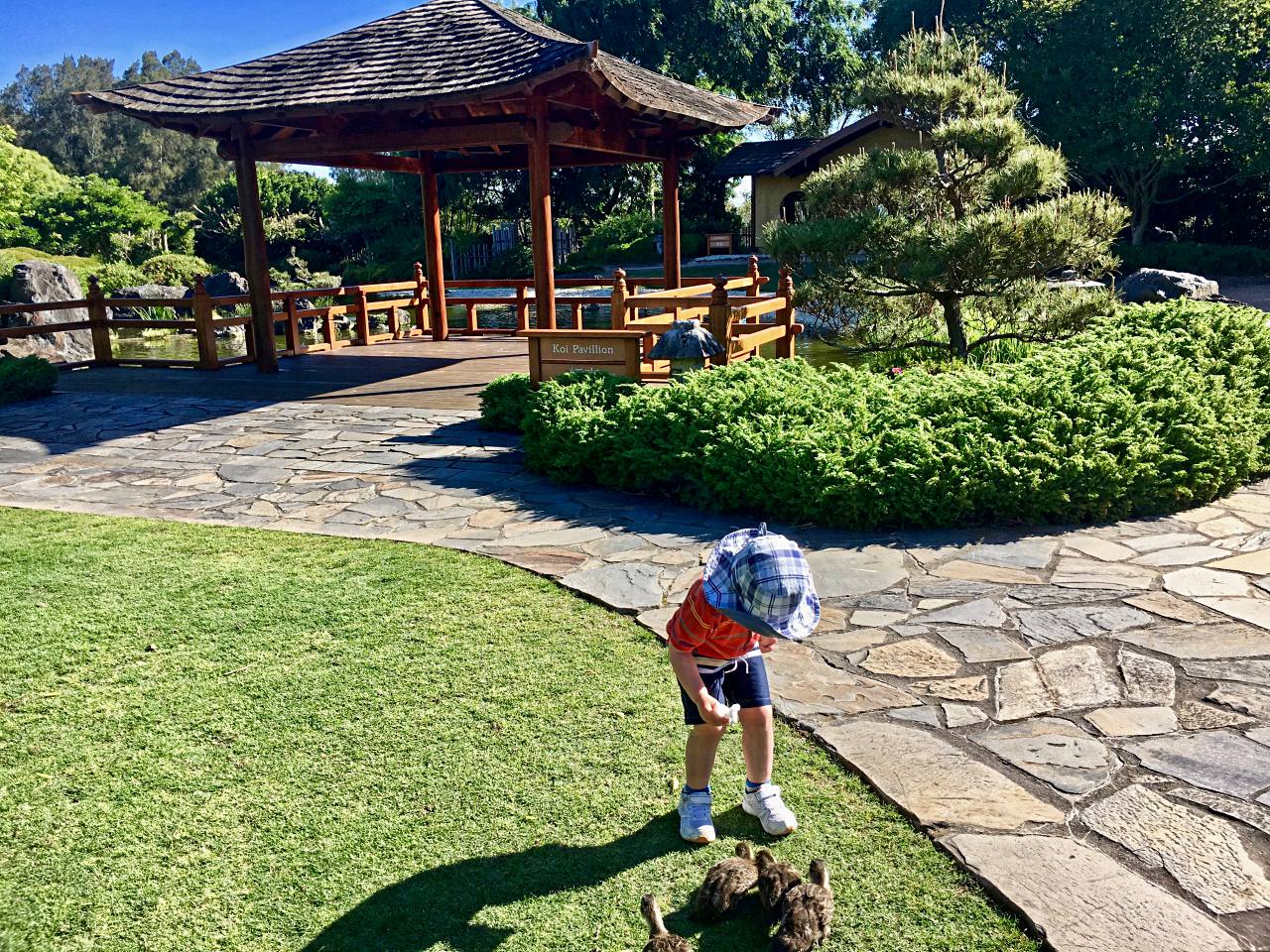 If you're looking for somewhere to stretch little legs, the Edogawa Commemorative Garden at Gosford Regional Gallery is the place. Tots can explore the winding paths of the Japanese garden, sit and enjoy a picnic in the peaceful surrounds or feed the koi for $2 per bag of fish food. Plus there's also something for the parents – a yummy coffee from the Point Cafe!
The Gallery is open 9.30am to 4pm Monday to Sunday.
Playing in Puddles visited! Check out our review here.
---
In the coastal suburb of Norah Head on the Central Coast is Norah Head Lighthouse – a working lighthouse that offers guests the opportunity to climb the 96 stairs to the top where they'll find spectacular views out across the ocean and headland.
Exploring families can wander the grounds of the lighthouse and take in the view at their leisure – and if visited between July and October, they may even be lucky enough to witness the spectacle of the migrating whales.
There are many surrounding beaches that offer hours of family-friendly activities and when everyone starts to get hungry, they can grab a bite at the Keepers Watch Cafe.
Playing in Puddles visited! Check out our review here.
---
Take a trip back in time to Wyong's Alison Homestead where little historians can peruse the Museum filled with memorabilia, photos, furniture, toys, machinery, and tools from as far back as 1825. Learn about the early settling of Wyong and its surrounds, see the Old Schoolhouse set up with classroom furniture and equipment from days gone by, take a wander around the stunning gardens or enjoy a morning tea of coffee and scones in this beautiful historical setting.
There's also a picnic area with BBQs available for self-catering and the outdoor areas are dog friendly so furry friends are welcome!
---
Set on two and a half acres in a peaceful spot of West Gosford is Henry Kendall Cottage. The now museum was built by convicts in 1836 and was home to poet Henry Kendall, and the Fagan and Adcock families.
Families can spend a few hours exploring various sheds dotted throughout the property – each containing industry equipment and farm machinery of the past. For those wanting to make a day of it, the grounds have a designated picnic area that has tables and BBQs and there's parking available on site.
---
Swimming Pools and Places to Cool Off
---
Vera's Water Fountain, The Entrance
Next to Memorial Park on The Entrance Foreshore is Vera's Water Fountain – an aquatic Mecca for kids! A favourite haunt for summertime play when it's just too hot to do anything else, this vibrantly coloured mini park is an oasis of fun for toddlers and preschoolers. In fact, the bigger kids still love a visit to Vera's Water Fountain no matter what their age!
This is a great free activity for families and a perfect way to cool off during the warmer months.
Playing in Puddles visited! Check out our review here.
---
Council Leisure Centres and Swimming Pools
There are a number of leisure centres, gyms and pools dotted around the Central Coast – see the list of locations here:
Swimming pools:
Recreation Facilities and Sporting Complexes:
---
Mingara Aquatic Centre is part of the Mingara Recreation Club – a hive of activity for kids and adults of all ages. With its Olympic-sized pool for lap swimming, play area including a whirlpool, multiple fountain sprays, and a sloping beach entry for little ones finding their fins, the aquatic centre isn't just your ordinary pool!
The centre also features a hydrotherapy pool for learn to swim lessons and during the school holidays, kids can make the most of the huge inflatables.
Once shriveled fingers have made an appearance and appetites have peaked, parents can avoid "Hangry" kids by popping into one of the many eateries at the Mingara Recreation Club. With options ranging from egg and bacon rolls or a smoothie bowl at The Roasted Berry to black bean chicken or steamed prawn dumplings at the Fortune Cookie Noodle Bar, there's something to tickle everyone's fancy at all times of the day!
---
Summer Fun – Open Through the Warmer Months
---
Waterworld Central is a mobile water park that lands in Doyalson each January. The park includes two wading pools the size of basketball courts, a huge zorb ball you can run hamster-style inside, ride-on paddle boats, multiple slippery dips, and a HUGE inflatable water slide!
Playing in Puddles visited! Check out our review here.
When: Open throughout the kids' summer school holidays (10am – 4pm). Closed on New Year's Day.
Where: Doyalson RSL, Pacific Highway, Doyalson.
Age group: All ages. Please be aware that there are some ride restrictions based on weight/age.
Entry Cost: Little Dip Slip N' Slide (2-16 yrs) 2-hour pass (excludes Thrill slides) $25 | Extreme Splash n' Slide (5yrs – Adult & 110+cm) 2-hour pass (includes Thrill slides) $35 | Spectator only pass $5.
Contact: Visit www.waterworldcentral.com.au for details.
---
Terrigal Paddle Boats have been hiring out paddle boats on Terrigal lagoon for more than 30 years! In recent years they've also added kayaks and stand-up paddle boards to their collection, too. Come for a SUP lesson or take one out on your own. Terrigal Paddle Boats are open on weekends, school, and public holidays. Call 0243 652 355 for mid-week sessions.
---
Central Coast Aqua Park lands at Gosford Waterfront during the Summer months. This on-water inflatable obstacle course includes slides to slip down, pyramids to climb up, trampolines to bounce on, "Icebergs" to scurry across, and the Sky Rocket – the biggest water swing in the world!
---
Perfect for burning off energy during the Summer school holidays, these local Central Coast pools are packed with inflatable fun that'll have your kids bouncing, jumping, and splashing for hours! Grab yourself a coffee, find a comfy spot, and spend the morning watching your kids do hot laps of these giant slides while you escape the summer heat!
Playing in Puddles visited! Check out our review here.
---
Families can soak up the summer sunshine before cooling off with Aquafun on Avoca Lake. Aquafun has pedalboats, kayaks, and stand-up paddle boards for hire, plus they recently introduced a new giant stand-up paddle board to their offerings. Nicknamed the Whale Shark, this on-water craft holds up to 10 people! Aquafun is open on weekends, public holidays (except Christmas), and school holidays through the warmer months.
---
Attractions Not Currently Open…but that we hope will be returning soon
---
Firefly Magic is a unique festival of nature that takes place during November and December at the beautiful Australian Rainforest Sanctuary in Ourimbah.
Guests are invited to enjoy a twilight stroll and a BYO picnic under the stars in this beautifully serene setting. Then as dusk falls, be prepared to spot the fireflies as they come out to bask in the humidity. Since this is a natural display, it's worth mentioning that the fireflies will come out at their own will and so you may see a handful or there may be too many to count! However, just the experience of the sun setting in the magical surroundings makes this 100% worth the visit.
Sadly, this event hasn't run for the last couple of years. We hope to see its return in 2022 and will keep you posted as we find out more!
---
Want to discover the Central Coast's natural beauty – our stunning rock pools, beaches, bushwalks, and waterfalls? Click here to see our feature outlining 92 Outdoor Activities on the Central Coast.
---