Mud-spattered legs are a tell-tale sign of a fun day! When you also have a dirt-dust "beard" you know it's been epic! After an afternoon of quad biking at Glenworth Valley our entire crew had both, plus super white smiles. This was fun that we hadn't had in a while, and everyone in our group – from our 67-year-old pop to our 12-year-old nephew – had a blast.

Glenworth Valley itself is stunning, and simply cruising around this property is a beautiful way to while away the day. Located just 20 minutes from the Gosford CBD, the tarmac ends at Glenworth Valley and a rough, steep, dirt road welcomes you to the property, which adds to the sense of remoteness and adventure.
The property is family owned and operated, and has been providing locals and tourists with outdoor adventure experiences for more than 40 years. If you grew up on the Coast you probably knew of Glenworth Valley as a horse-riding venue (and that's what the M1 signs still suggest), but in 2007 the owners introduced kayaking, abseiling and quad biking to the fold, and now this 3,000-acre wilderness property is regarded as a must-visit outdoor-adventure location for international tourists. How lucky are we to have this Valley just on our doorstep!
At the property today you can go quad biking, abseiling, kayaking, horse riding or play a few rounds of laser skirmish. Or, better still, combine a few activities into one full day of fun (and at a discounted rate). When Playing in Puddles visited we did just this. The teenagers and adults jumped onto the quad bikes and the toddlers saddled up for a lead pony ride, and in between everyone enjoyed a swim in the river, a pat of the resident guinea pigs and a front-row view of the "Running of the Horses" (more on that below).
Playing in Puddles goes Quad Biking
Quad biking is an activity that people with lots, little or no riding experience can participate in. You have to be 12 or older, but otherwise it's game on. The quads are easy to handle and you're put through a brief introductory riding course so you get a handle for the machine before you take to the road.
Our quad instructors – Mick, Tiego and Andre – were awesome. They were patient, encouraging and genuinely excited about taking our group of newbies out for a spin. You could tell that they loved this sport, and their enthusiasm was infectious.
Once we'd all been given a thumbs up on the practice track we took to the road. The dirt road wound its way through bushland and past paddocks of horses. It was beautiful, and as soon as the nerves gave way to adrenaline, completely exhilarating. You couldn't help but ride with an enormous grin on your face.
The instructors led us into a clearing where a dirt quad track had been carved into the earth. The track dipped into mud holes, twisted and turned, and included a long straight stretch that gave dare devils the chance to put the throttle to the floor. This is the part the teens and adrenaline junkees will really love. This is the part that will have teens asking for a quad bike at the end of the day!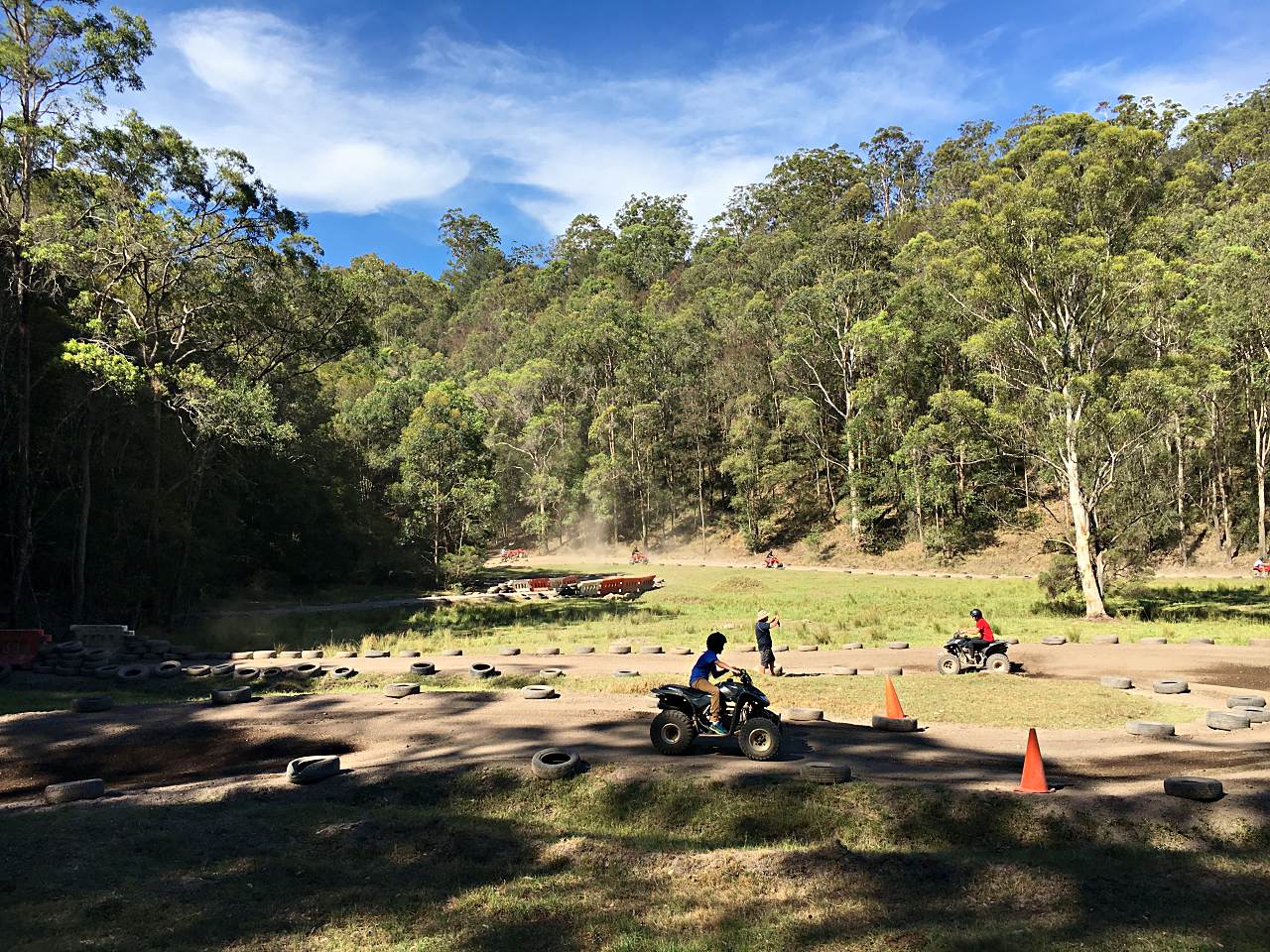 The session runs for 1.5 hours and costs $105/person (if you have The Entertainment Guide don't forget your discount voucher). If you're like lots of parents, you probably let your kids enjoy these sorts of activities while you watch from the sideline, but we recommend you, too, have a go. After all, kids love nothing more than sharing in these experiences with you. (OR, you could get a sitter, skip the normal anniversary dinner date and do this instead!) Believe us, you'll love it.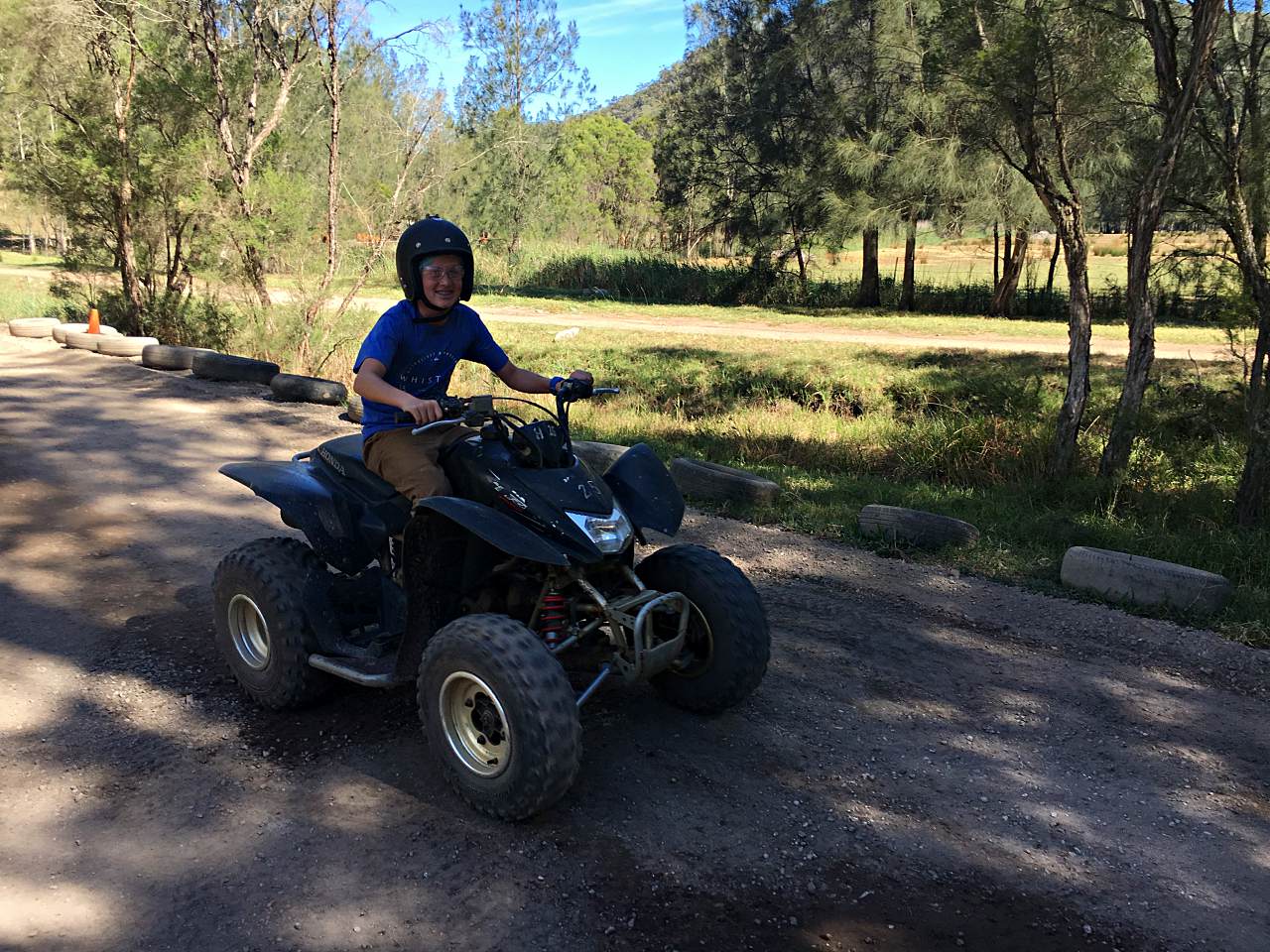 Mr Three Saddles up for a Lead Pony Ride
After we'd enjoyed our quad biking it was time for Mr Three to saddle up for his first lead pony ride. Lead pony rides are available to children aged 3-12 and are a lovely way to introduce little ones to horse riding. If you've never handled a horse before it can be a little daunting leading a horse on your own for the first time, but the staff know these horses very well, and the ones they choose for the kids rides are very gentle and well behaved. We were given Dory, a lovely 18-year-old Clydesdale.
Mr Three was a ball of excitement in putting on his helmet, mounting the horse and putting his feet in the stirrups, but as soon as we took the reigns from the instructor and started leading Dory down the hill his nerves got the better of him. We let him walk down the hill and once we were on the flat grass of the river paddock he saddled up again and was soon all smiles.
Having the hour to wander the paddock was rather special, as it gave Mr Three time to just be with the horse – to give him nose rubs and ear scratches – as well as experience time in the saddle. By the end of the hour his confidence had grown three-fold and he happily enjoyed a ride back up the hill.
One of the great things about this activity is that it can be shared. The lead pony ride is for 60 minutes and 4 children can share the time (with 1 child allowed on the horse at any one time). You can invite some friends, take your mothers group or bring your tribe along and treat them all to a horse ride. If it's their first ride it'll be extra special, and when you split the cost between four kids, it's a bargain.
---
We have a surprise for Playing in Puddles readers! Get $10 off a lead pony ride (normally $60)! Use the code LP10OFF to redeem. Click here to book online or call 4375 1222. The booking must be made between 1 Feb 2018 to 23 Feb 2018, and the ride can take place mid-week until 31 December 2018. Weekends and Public Holidays excluded.
---
The Running of the Horses
We ended the day with a walk across the paddocks to watch Glenworth Valley's iconic Running Of The Horses – a daily event in which some 200 horses are mustered out of the riding yards and across the river to other pasture. This event occurs every afternoon at about 4.30pm; however, the time and location varies daily, so it's best to check with staff on the day for all the details. You're welcome to come to the Valley any time to watch this event, and it won't cost you a cent!
---
We experienced only a couple of the activities that Glenworth Valley offers, so we've compiled a little snapshot of their other activities for you below, so you have an idea of the extent of what's on offer.
Horse riding at Glenworth Valley
More experienced horse riders to the Valley can saddle up for a trail ride, a cattle drive (yep, we kid you not: cool right!), or a free-range horse ride, which allows you to explore the Valley on your own at your own pace. You can also take horse-riding lessons here – either a casual one-off lesson, or as a local, you can get regular lessons. Click here for details on all horse riding experiences.
Laser skirmish
Play laser skirmish in the outdoors and experience the thrill of paintball minus the welts and mess. Sessions run for 3 hours and are run daily at 10am and 2pm. Cost: Adults $70; kids aged 7-17 $55. Birthday parties are welcome.
Abseiling
Glenworth Valley has two abseil sites with a range of both beginner and advanced descents. This is one for adrenaline seekers. Sessions run for 2.5 hours and are run daily at 10am and 2pm. Cost: $90 per person (children must be 7+).
Kayaking and Stand-Up Paddle Boarding (SUP)
Hire a kayak or SUP to explore Popran Creek on your own or join a guided tour.
The 2.5-hour Eco Kayak Tour is $75 per person (from age 7+) and runs daily at 10am and 2pm. The 5-hour Wine and Seafood Kayak Tour is available only on select weekend dates and costs $130/person (children must be 12+).
Single kayak hire is $70/day and double kayaks are $120. SUP hire is $50/day. Children must be 7+.
School holiday Adventure Max Camps at Glenworth Valley
Boredom is busted! On this adrenaline-pumped day-camp kids get to conquer their fears and enjoy the thrills of laser skirmish, kayaking and quad biking or horse riding. The Adventure Max Camp is great value at just $140pp (a massive saving of $205 off the usual price if the activities are booked separately).
The camps cater to children aged 7-16 years old and are available on select days during school holidays.
Click here for more details on the Adventure Max Camps.
School holiday Horse Riding Camps at Glenworth Valley
Glenworth Valley's school holiday horse riding camps teach horse riding skills to children aged 5-17 years and are suitable for beginners through to advanced pony club riders. The camps are loved by kids who are horse crazy and those saddling up for the first time.
The camps are split into three levels and age groups (click on the links below for more details on each camp):
Hire a cabin at Glenworth Valley
There are 2 self-contained cabins at Glenworth Valley – each located some distance from the other for privacy. Each cabin can sleep up to four people, has two bedrooms, a fully equipped kitchen, gas barbecue, fire pit and hammock. Rates start at $220/night (from now until 28 March save 20% mid-week on the eco cabin). Click here for more details. 
Camping, glamping and tipis!
Experienced campers can BYO accommodation, but if you don't have all the gear, you can hire a tent or tipi – and the best part is you arrive to them fully set up. This is a great option for people looking for a "gentle" introduction to sleeping under the stars. The river-front camp sites have amenities and allow camp fires and the kiosk – a 10 minute walk away – has an espresso machine, so you don't have to withdraw from your daily caffeine hit.
Cost: Children under 7 are free at all times. Camping with an Activity* Adult $12.50/night; Child $6.25/night. Camping without an Activity Adult $25/night; Child $12.50/night. Camping during peak periods* Adult $30/night; Child $15/night. Click here for conditions and further details. Tipi hire starts at $150 first night, $75 each additional night thereafter. Tent hire is $100 first night, $50 each additional night thereafter. (Please note: Tipi and tent hire is in addition to the above camp-ground rates.)
Glamping: If you like the idea of getting outdoors but don't want to skip on comfort, glamping, too, is available. They'll set up your tent, fluff your pillows and can even provide a hamper for your arrival. Click here for details.
Glenworth Valley
This is a place you can visit time and time again as your kids grow and interests change. We get that it's not affordable to come here every weekend, but it sure makes for a pretty awesome birthday or Christmas present (And, for adults, a great alternative to your normal anniversary dinner date).
Here's a general guide of what's available for children based on age. 
Kids aged 0-3: Camping, Running of the Horses.
Kids aged 3-7: Lead Pony Rides (plus activities listed above).
Kids aged 7+: Abseiling, Laser skirmish, Kayak and SUP hire, Eco Kayak Tour, Horse Trail Ride (plus activities listed above).
Kids aged 12+: Quad Biking, Cattle Drive (plus activities listed above).
Kids aged 14+: Free-range Horse Riding (plus activities listed above).
Food: There is a small kiosk that sells coffee, pies, ice-creams, soft drink, etc. If you plan on coming for the day we recommend you bring a picnic lunch. The kiosk is only open weekends and school holidays.
Address: 69 Cooks Road, Glenworth Valley.
Phone: 0243 751 222.
Email: adventures@glenworth.com.au