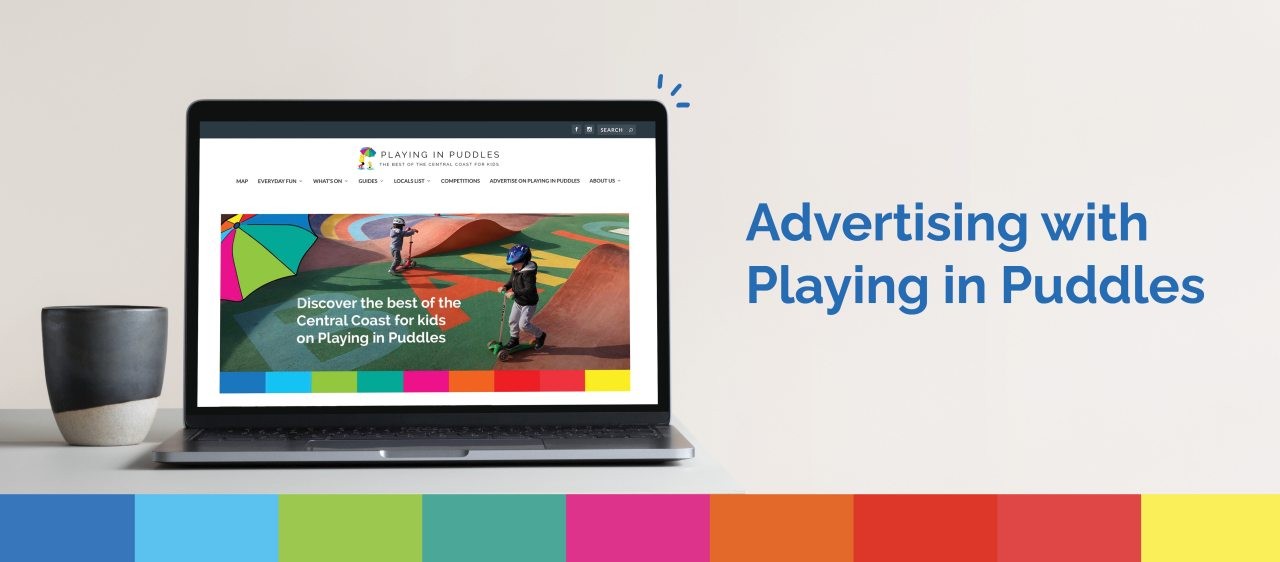 Playing in Puddles is your link to Central Coast mums!
Want to Fast-track your connection with mums on the Central Coast?
+ Interested in connecting with women and mums who live on the Central Coast?
+ Do you need more leads and business visibility?
+ Are you juggling all jobs within your business and need someone with expertise to boost your marketing?
Playing in Puddles can fast-track your connection with mums on the Central Coast.
ABOUT US 
Playing in Puddles is an independent online publisher and marketing platform with a highly engaged readership of Central Coast mums. 
We promote fabulous brands, businesses and events on our website (and other channels) using authentic and meaningful sponsored content and banner advertising.
We're committed to creating and delivering tailored promotions that allow brands and businesses to connect with our audience in a way that's authentic, trustworthy and fun.
Our clients include major attractions, councils, government departments, tourism destinations, small businesses, local cafes and restaurants, large events and festivals, and great brands. We work both directly with brands and via agencies.
Playing in Puddles is the go-to authority for Central Coast families. It's a trusted source and has a loyal following who are highly engaged. 
52,000
Website page views each month!
Playing in Puddles is #1 on Google when people search for:
School holidays Central Coast 

Kids classes Central Coast 

Birthday party venues Central Coast

Kid-friendly cafes Central Coast

Rainy-day activities Central Coast

Central Coast Santa photos

Indoor activities Central Coast

After-hours chemists Central Coast

Central Coast parks

Free activities Central Coast

Christmas events Central Coast

+ more
93% are women.

86% live on the Central Coast, Sydney and Newcastle region. 

72% are aged 25-44

.
21% have 1 child, 45% have 2 children, 18% have 3 children, 9% have 4 or more children.
3% are pregnant, 15% have a baby (aged 0-1), 79% have a toddler or preschooler (aged 2-5), 66% have a child at primary school (aged 5-12), 23% have teenagers (aged 12+). Most have children of varying ages.
51% view Playing in Puddles' content several times a week; 22% view it daily!
We have a highly engaged and targeted audience who are eager to discover our region. They want to…
+   Buy tickets to events, kids shows, workshops and school holiday camps.
+   Visit attractions and events in Sydney, Newcastle, the Hunter Valley and beyond.
+   Enrol their kids in fun classes and activities.
+   Book family holidays.
+   Get parenting support and advice from local experts.
+   Experience local attractions, our national parks, beaches, lakes and playgrounds.
+   Form community connections.
Contact Playing in Puddles to get your business seen by Central Coast mums!

Playing in Puddles is a great way for our business to connect with active families on the Central Coast, delivering many
new families to experience our various activities and events. Playing In Puddles is now one of the top referring sources
to our website.
Wanted to let you know how happy we are with Playing in Puddles. Nine out of 10 newbies that I ask 'Where did you hear about us?' answer Playing in Puddles.
I need to give a HUGE shoutout to Katie from @playinginpuddles!
We have grown so much over the past year and @playinginpuddles has played a big part in that! I can't talk highly enough of Katie and am so thankful for how she has helped this business grow! Thank you Playing in Puddles.
Just want to give a big shout out and thank Playing in Puddles for giving us an awesome write up about our playgroup – we are overwhelmed with the response.
Louise meers
Content Producer & Social Media Manager
Louise has a Bachelor of Communication (Journalism) from the University of Technology, Sydney and started her media career in youth publishing in 2007. She worked on Australia's leading children's magazines for over a decade and was the editor of K-Zone magazine before moving to the Central Coast with her family in 2018. An experienced content and social media producer, Louise continues to write for publications and websites on everything from toys to technology. She is very excited to be working with the Playing in Puddles team to share her passion for our beautiful local area and the amazing things that take place here.
Katie Stokes
Founder & Editor
After working in print media for more than a decade, Katie launched Playing in Puddles in 2017. A mum of two young boys and local of the Central Coast, Katie loves discovering and sharing all that's happening in our region. Before moving back to the Coast in 2016, Katie was subeditor of Gourmet Traveller magazine (both print and iPad) for seven years. Katie assisted in the launch of Qantas's Travel Insider website and was an online content producer for YHA Australia. A travel writer for many years, Katie has been published in Cathay Pacific's and Qantas's inflight magazines and travel websites, The Brisbane Courier, Gourmet Traveller's national Restaurant Guide, Backpacker Essentials, Powderhound ski mag and more.
Alison mccann
Content Producer & Social Media Manager
Alison began her career in media monitoring, before branching out into corporate communications, copywriting and brand management. She has worked with both corporate and not-for-profit organisations and loves helping create stories that make a difference. As a local mum to three delightful kids (and one crazy cattle dog!), she loves discovering the Central Coast's many family attractions, and sharing them with our wonderful Playing In Puddles audience.
Promote your Business on Playing in Puddles
Do you have a business or event aimed at Central Coast families? Want them to easily find information about your brand? Playing in Puddles is your perfect fit.
We'll increase your business's visibility and create maximum hype and exposure by sharing you with our targeted audience of highly engaged readers.
We offer opportunities for paid banner advertising on our website, in our newsletter and across our social media channels. We also put together innovative native content packages across all mediums.
Please fill in the form below to get in touch.
Want to grow? Let's Connect
Please fill in the form below to get in touch.
Fields marked with * are required.