The Central Coast has bucket loads of fun activities for toddlers and preschool-aged children. We know that parents of young children are always on the lookout for things to do with their little ones where they can learn, explore and most importantly, play in an age-appropriate environment that's safe and secure.
Whether it's during the week when older siblings are at school, when meeting up with other parents of young kids, or on the weekend when enjoying family time together, we've found a tonne of awesome toddler-friendly activities and attractions across the Central Coast that are guaranteed to keep younger children entertained, while parents can relax knowing they are happy and safe.
---
---

Term-time Kids Classes
---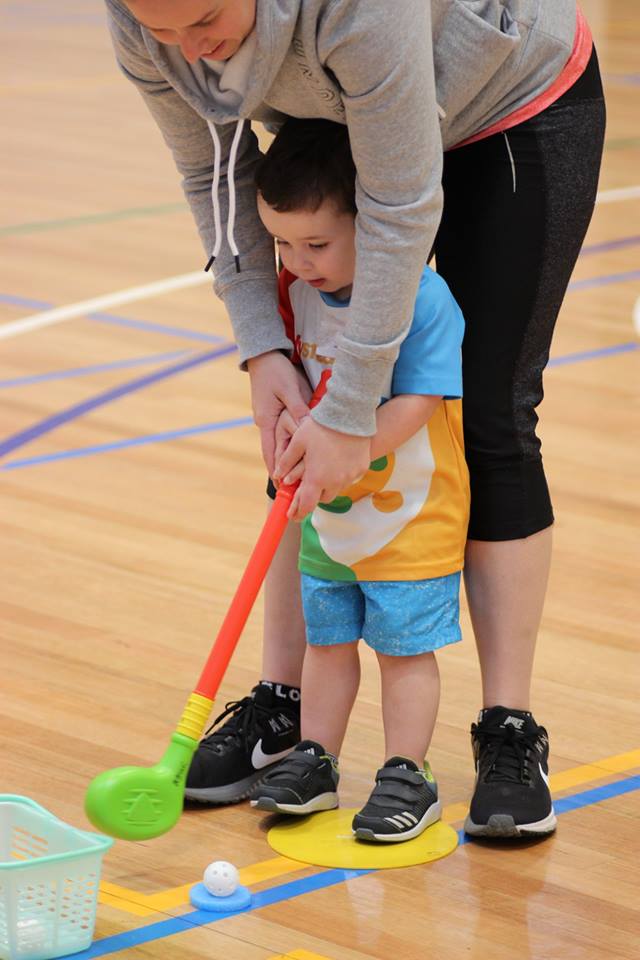 Looking for an exciting and skill-based activity for your energetic toddler or preschooler? Sign them up for Ready Steady Go Kids sports classes! Specifically designed for kids aged 18 months-6 years, these cool classes will introduce your young children to five different sports throughout the term.
Children aged 18 months to 2.5 years can join the GET READY toddler program – a semi-structured, 30-minute class that provides an introduction to sports in a fun, exploration-based environment with modified equipment. Children aged 3 – 6 can sign up for one of the READY, STEADY, or GO groups. These 45-minute classes are for preschool and young school-aged children and focus on gross motor skills, coordination, and balance.
Location: Erina and Charmhaven.
Phone: 1300 766 892
Email: [email protected]
Special Offer: Playing in Puddles readers can get a FREE trial – simply visit their website to book.
Playing in Puddles visited; click here to see our review.
---
DS2U HQ Crazy Play, Wyong opened on the Central Coast in December 2021 and it's quite honestly toddler (and parent) Heaven! It has a completely separate toddler play zone that's fully fenced, which means little ones can explore its myriad activities including a mini ball pit, activity boards, a sensory bubble tube station, multiple softplay ride-ons, and seesaws, while parents can be confident they won't escape!
Preschool-aged kids will love this area too – but if they're up for a little more adventure, there's a double-storey play structure with loads of obstacles to keep them challenged and entertained.
Did we mention there's also an onsite cafe AND a relaxing station? That's right – parents you can flop into a bean bag and enjoy a quiet – and oh-so-rare – coffee while your tots play in the nearby fully fenced sensory play area.
With kids of varying ages and abilities in mind, this fab new accessible play centre ticks all the right boxes!
Playing in Puddles visited. Click here to read our review.
Location: DS2U HQ Crazy Play, Wyong
Phone: 43 512 341.
Email: [email protected]
---
A NEW space has opened up on the Central Coast and it welcomes toddlers to come along and have a tonne of fun getting extremely messy! At the Messy Little Munchkins' Messy HQ at Niagara Park, tots aged 1-3 years can join in the "Moving Munchkins" class antics where they'll have bucket loads of fun exploring the play dough, paint, and colourful rice at each of the different play stations.
For parents with toddlers AND preschool-aged children, there's a special class just for you! The "All Messy Munchkins" classes are set up for children aged 1 – 5 years and include a heap of fun, sensory, and craft activities for all to explore.
Location: Niagara Park
Phone: 0432 800 070
Email: [email protected]
---
Engage your young child's mind with music and see them thrive at these wonderful Musikbugs' Kindermusik music classes at East Gosford! During these sessions, your toddler or preschooler will dance, sing, play instruments, and travel on imaginative adventures as they share ideas and read stories together.
For parents who are new to the Kindermusik program, Musikbugs' classes aren't just any weekly music class! Run by Sharon, a trained and licensed Kindermusik educator, your child can expect to reap a HUGE amount of developmental benefits including improved literacy and language abilities, socio-emotional skills, and cognitive development – all while having a huge amount of fun with their parents and new friends.
Face-to-face classes are held on Tuesdays and Thursdays at East Gosford and are delivered according to age group. There's also an online class for families who would love to attend but are unable to travel.
Location: The Piano Bug Music Studio, 61A Webb St, East Gosford
Phone: 0424 446 778
Email: [email protected]
Special Offer: Mention Playing in Puddles and get $5 off your full term fees.
---
Toddlers get set to jump, shake, ,crawl and bounce during these fab music classes at the Central Coast Conservatorium of Music! Parents of little ones will love watching their child's imagination come to life as they experience music through songs, story telling, puppets and heaps of games!
Little ones aged 4-5 can join the preschool classes where they'll start exploring their independence as they're asked to participate in classes without mums, dads, or caregivers in tow! During these 45-minute sessions, they'll practice singing and speaking, learn to recognise different musical patterns, explore musical concepts, refine their listening skills, and practice in-tune singing.
Location: Toddler classes are at Woy Woy and Gosford. Preschool classes are held at Gosford only.
Phone: 02 4324 7477
Email: [email protected]
---
Want to introduce your child to rugby? These gorgeous Rugbytots rugby classes are just perfect for little beginners who are ready to embark on their sporting journey!
Tots aged 2 to 3.5 years can take part in the youngest class group designed especially for toddlers. Classes run for 30 minutes and are set-up to teach children skills in coordination, teamwork, ball skills, and listening skills. Plus it's a great opportunity for them to shake out the jitters and burn off a heap of energy! Parents are required to participate in these fun classes which provide a unique opportunity to spend quality time together.
Got a kid who's graduated to the grand old age of preschooler? These budding sportsmen and women can sign up for the 3.5 to 5-year-old classes that have a larger focus on rugby-specific skills and run slightly longer at 45 minutes. Parents are not required to participate in these lessons.
Location: Kincumber, Berkeley Vale, Gorokan, and Doyalson.
Phone: 0414 413 724
Email: [email protected]
Special Offer: Playing in Puddles' readers can get a FREE trial of Rugbytots across any of their Central Coast locations.
Playing in Puddles visited; click here to see our review.
---
Ready to send your kids off to join the circus? These cool Kinder Circus classes for children aged 2-5 years are just what the doctor ordered for little ones with energy to burn and skills to hone! Alongside their parents (yes you get to join in the fun too!), kids will explore a series of awesome circus games and activities where they'll develop improved balance, coordination, and concentration along the way.
Smiles are a given during these action-packed classes that provide a fantastic opportunity for spending one-on-one time with your child.
Location: Wyoming
Phone: 0423 324 407
Email: [email protected]
Special Offer: Mention Playing in Puddles and get FREE annual registration.
---
---
If you've got a small child with BIG dance dreams then try Dance Adventure – a gorgeous dance and music class held across three Central Coast locations! Miss Rachel, the wonderful instructor at Dance Adventure encourages her tiny students to dream big, use their imagination, and believe anything is possible during these classes that will have your child's cup filled and their faces beaming with delight.
Toddlers and preschoolers will learn a heap of techniques through this introductory dance and music class while having huge amounts of fun at the same time.
Location: Tuggerah, Terrigal and Erina
Phone: 0413 539 928
Email: [email protected]
Special Offer: Mention Playing in Puddles and get 10% off your first term when you enrol!
---
Calling all little girls and their Mammas! Are you looking for something special for you and your little miss to do together? Sign up for these awesome dance classes at Terrigal Physie where girls of all ages are invited to join in the fun (yep, that includes mums too)!
During these gorgeous classes, dancers big and small can try out a combination of various dance types (all choreographed by BjP Physical Culture), all while increasing confidence, building fitness, honing flexibility, and most importantly, having fun!
Location: Terrigal
Phone: 0412 004 397
Email: [email protected]
Special Offer: Playing in Puddles' readers will get their first lesson for FREE – just tell them we sent you!
---
Got a preschooler who loves to groove? Or maybe they're destined for performing gorgeous ballet routines on stage? Your preschooler can learn to plie, pirouette, and pivot-step at these wonderful new dance classes for preschoolers at Rockstudios dance school!
With a choice of learning jazz or ballet at one of THREE Central Coast locations, these classes are a 'must-try' for parents of budding performers this coming school term!
Location: Wyoming, Wyong, and Green Point.
Phone: 0410 681 174
Email: [email protected]
---
Toddlers and preschoolers can immerse themselves in creative play during these 5-week art play courses run by Little Seeds Art Play in Terrigal. The course is for children aged from 16 months up to 6 years and has been designed to support your child as they explore their own creativity through a range of activities (think clay, large scale painting, pushing toy cars through paint, sensory tubs, tipping, splashing and scooping)!
Homebound? Little Seeds Art Play also have home ArtPlay kits available on their website! If you're planning a few days at home and are looking for activities that will keep your busy little people entertained, these kits are a great way of bringing the fun to you! You'll find playdough kits, sensory kits and art project kits with everything needed for your child to have a fabulous art experience at home!
Location: Terrigal
Phone: 0433 942 011
Email: [email protected]
---
Kids Classes That Can Be Joined Casually Or For The Term
---
Looking for a cool new activity you can do with your preschooler? Erina Ice Arena is running a fab new preschool program for children aged 3-6 years and it's called "Playgroup on Ice!" Young children will find their balance, build strength and get comfortable on the ice while having a huge amount of fun playing games and singing songs with the coaches.

Parents are welcome to join in the sessions to support their child – or if little ones are already showing you up with their new skating skills, they can join Coffee Club – a program designed specifically for beginner adults that runs at the same time as Playgroup!
Location: Erina Ice Arena, Erina Fair
Phone: 0409 504 896
Email: [email protected]
---
Designed for children 18 months – 5 years, Breakers Indoor Sports Stadium's Basketball Minis classes are fun and interactive classes that focus on basic basketball skills for your little ones. All kids under 5 are welcome to participate in the same class which makes this a great activity if you have two or three kids within this age group. Plus, you can join for the term or come casually. And mum, dad, you get a free coffee at EVERY lesson!
Sessions include a general warm up, run and shoot, colour and number recognition games, passing practice, bouncing practice, obstacle course and parachute fun. It sits somewhere between a playgroup and structured kids class and really is a lot of fun.
Location: Terrigal
Phone: 4385 3577
Email: [email protected]
Learn more about Basketball Minis here
---
---

18 Attractions to Visit with your Toddler or Preschooler
---
---
---
---
---
---
---

More Activities to Enjoy Every Day
---
---
---
---
---
---
---
Central Coast Playgroups
---
Looking to join a local playgroup? Playgroup NSW has a directory of playgroups that are being run all over the Central Coast. Head to their website to find details on a playgroup near you!
LOCATION: Central Coast wide
---
The Gosford Presbyterian Church Community Playgroup meet up fortnightly on a Thursday at 10.30am during the school term. Meetups take place at local parks where little ones can run around and play while parents and carers enjoy catching up with other grownups! To find out more about the next meetup, visit their Facebook page, or send a message through their website.
LOCATION: Gosford
---
Wild Child Playgroup is an outdoor bush playgroup located on the north Central Coast and is perfect for parents of toddlers and preschool-aged children who love to spend time exploring outside in the fresh air. These groups run every Friday at 9.30am and focus on nature-based, all-weather play experiences for children aged 0-6 years.
LOCATION: Various locations across the Central Coast
---