The Central Coast is home to 41 beaches. Some have awesome surf breaks, some are secluded and unpatrolled, some are beautifully isolated and require a 20-minute hike from car park to sand: we love these spaces, but they're not always great for families with tiny tots. We've rambled the coastline to bring you this list of beaches that we believe are some of the best on the Central Coast for families – for their ease, their beauty… and their coffee!
Avoca Beach
One of the things we love about Avoca – and there are many – is that the rockpool, lifeguard flags, playground, cafes and car park are all located within a 20 metre radius, so you're never lugging umbrellas, wet towels and children long distances. The beach is patrolled and the rockpool provides a safe space to splash. The fully fenced playground with flying fox, fishing boat and digger is a great space for kids (though when we last visited it was sadly in need of an upgrade) and The Point Cafe – with its coffee, seafood menu and enviable view – is a great space for adults.
Click here for our feature on Avoca playground.
---
Terrigal Haven
When scuba divers and pelicans frequent a beach you know you've found a gentle shoreline. Many babes have taken their first ocean dip at The Haven. The barbecues and picnic tables are popular with kids parties and family gatherings on weekends, but mid-week during the shoulder seasons you'll find lots of fishermen and dog walkers. The Cove Café is a popular spot for brunch, but we recommend you grab a coffee and wagyu brisket burger from their kiosk and take to the sand.
Click here for our feature revealing "The Best things to do in Terrigal" – including the places to grab loaded doughnuts, New York-style cookies and other special treats.
---
Macmasters Beach
Macmasters Beach, or Macs as it's locally known, is fantastic for families. This patrolled beach has a kid-friendly ocean pool and large pine trees that cast shade across the sand – bringing a welcome reprieve from the scorching sun in the peak of summer. It's also home to the Barefoot Café which serves coffee and an all-day breakfast menu from 8am-4.30pm daily (dinner Friday and Sunday 5.30pm-9pm). Free barbecue facilities are also available. There's also a fabulous playground (built mid-2019) directly opposite the beach.
---
Ettalong Foreshore
The protected shallows of the Ettalong Foreshore makes it an ideal space to introduce tiny tots to the ocean – without risk of them being pummeled by a shore dumper. It has two playgrounds, public barbecues, a bike/scooter/stroller path and a view that takes in the Bouddi National Park and Lion Island in the distance. Let's not forget the final gong: The Box on the Water Kiosk serves Fat Poppy coffee, T2 tea, bacon and egg rolls, and Moroccan chickpea salads.
Click here for our feature on The Box on the Water Kiosk and Ettalong's foreshore playgrounds.
Click here for our feature on "The Best Things to do in Ettalong".
---
Patonga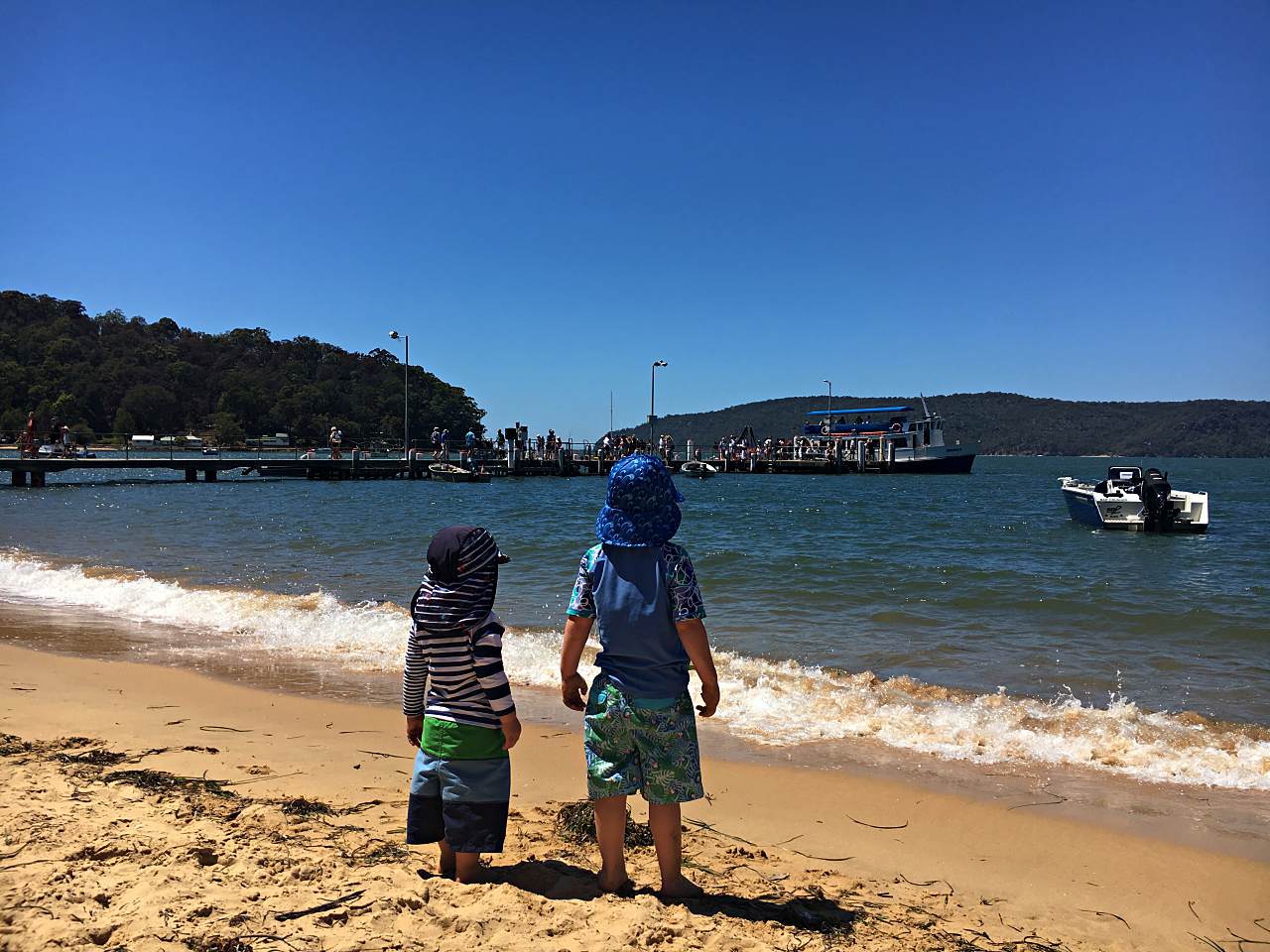 Patonga is idyllic in its isolation. This barefoot, coastal village is hugged by the Hawkesbury River on one side and Patonga Creek on the other and its only access road winds through Brisbane Water National Park. You can take a plunge at the wharf (and then drop into the newly renovated Boathouse Hotel opposite), or in the waters surrounding the Patonga Camping Ground. The campground's barbecues, play equipment and kiosk can be used by both over-nighters and day-trippers.
Click here for our feature on Patonga playground.
---
Killcare Beach
Tucked under the cliffs of Box Head, Killcare beach is a bit of a local secret. This stretch of sand is undeveloped and the only building to dot its foreshore is the Killcare Surf Club. The Club's kiosk does a good trade in salads, burgers and milkshakes and adjoins a grassed area that invites kids to play. The percussion instruments made from primary-coloured pipes and rubber thongs are a favourite of budding young musicians. Just in front of the café, you'll find a small rockpool, which provides a safe haven for young children to take a dip and for parents to recharge.
---
Toowoon Bay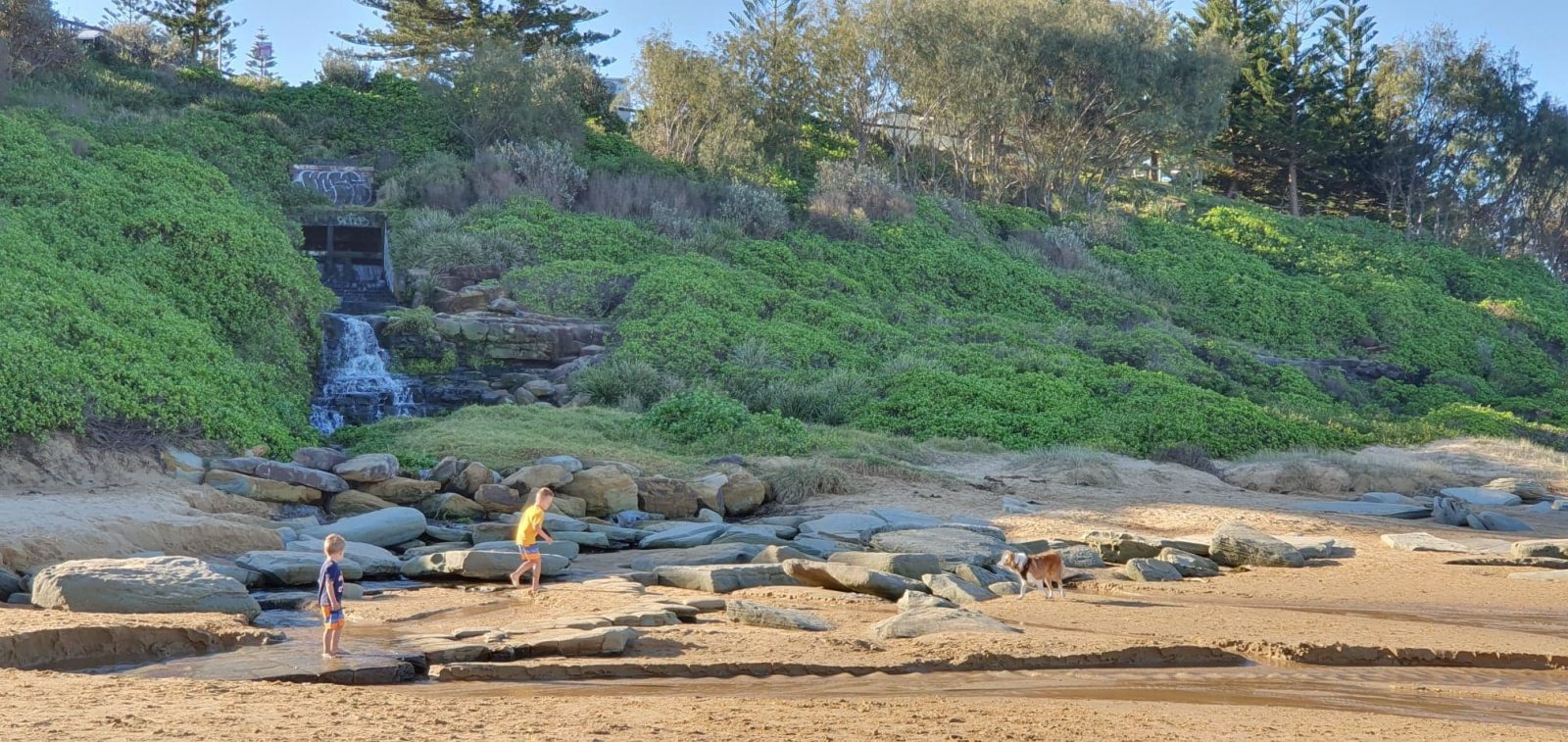 The calm waters of Toowoon Bay make it a popular beach for young families as well as paddle boarders and kite surfers. The surf club's café serves everything from Nutella French toast and breakfast burritos to banana smoothies and Pure Pops iceblocks (their ginger-beer-and-lime flavour gets our tick for sweltering days). There's a park with play equipment and barbecue facilities at the top of the hill – add a visit here and you have a fabulous day.
---
Norah Head
The rockpool at Cabbage Tree Harbour (more commonly referred to as Norah Head) is a favourite spot for swimming and exploring under-water ecosystems. Periwinkles, crabs, sea urchins and anemones can be spied and myriad shells found. Take the short walk up the bush-lined stairs and you'll be rewarded with The Ark café. Everything on their menu – from the granola bowl to the crunchy noodle salad – can be eaten in or taken away, which makes lunch in the adjacent park a breeze.
Click here for our feature on how to make the most of a day at Norah Head.
---
This feature (written by Playing in Puddles' editor Katie Stokes) is regularly updated. It was first published in COAST magazine's Summer 2018 issue.