Terrigal is one of the most popular spots on the Central Coast, enjoyed by locals and holidaymakers alike. And it's easy to see why. With multiple swimming spots, playgrounds, outdoor adventures and a buzzing restaurant and café scene, it's the perfect place to experience the best of what the Central Coast has to offer.
We're going to share with you here the well-known hotspots as well as the hidden gems and local secrets that make Terrigal truly special. We'll share details on a private property where you can go horse riding. Reveal a centre where you can view a Port Jackson shark. And spill the beans (and address) on a local patisserie that specialises in New York-style cookies.
Terrigal is a great location for families to holiday – with plenty of activities, attractions and playgrounds to keep your kids well entertained. Read on to find some of our favourites.
Happy holidaying!
---
Terrigal Beach – Markets, Swimming and Board Hire
As you come down the hill and into Terrigal, you'll immediately spot its beautiful patrolled beach. If you're looking to surf and don't have your own gear, head to Terrigal Surf Life Saving Club where Rabbit's Surf Hire is located. This is an automated surfboard system (think vending machine for surfboards). You can hire a surf board for as little as $10/hour, or you can grab a bodyboard for $5/hour.
Central Coast Surf School also offers surfing lessons at Terrigal Beach and has been teaching newcomers to surf for more than 20 years. Prices start at $50pp for a group lesson.
After you've had a dip in the ocean, take a stroll along the esplanade. If it's the first Saturday of the month, Terrigal Markets will be on and you can snap up some gorgeous oceanic prints from local artist Mango Sea, handmade bibs from Made with Grammy Love, delicious raw treats from Soul Food, jewellery, homewares, succulents and more.
The Haven and The Skillion at Terrigal
From Terrigal's main beach it's a short stroll along the esplanade to The Haven. Its calm waters make it the perfect spot for the kids to swim and play in the sand. While you're there, treat yourself to a seafood platter at Reef or pack a picnic, set up under a pine tree and soak up the area's magical vibe.
Right next to The Haven you'll find the famous Skillion. It's a must-see… Literally. You can't miss it – it's massive! Tourists and locals love climbing The Skillion for the challenge, but also for the panoramic views once you get to the lookout at the top. To the south, you'll see Avoca Beach and to the north, you'll see Wamberal. Too tired to walk back down? Make like a Coastie and roll down!
At the foot of The Skillion is a large oval where you can kick a ball around or chase the kids. Scattered around the oval are covered picnic tables and free-of-charge, electric BBQ facilities – perfect for a sausage sizzle lunch.
Paddle Boats at Terrigal Lagoon
Terrigal Lagoon is a tranquil spot for a paddle. Paddleboat hire is available here through Terrigal Paddle Boats – you can call to hire or just turn up (they have plenty of boards). Hire rates are $25 for 30 minutes or $45 for an hour. You can also hire stand up paddleboards and kayaks through the same group.
The Outlook Riding Academy
There's a horse-riding school in Terrigal where parents and children (from as young as three) can take to the saddle. This family-run equine school offers private lessons, group lessons, lead pony rides and trail riding on their private property in the beautiful Terrigal hinterland. At their school holiday camps, children are invited to saddle up for two hours of riding and to learn horsemanship skills, such as feeding and grooming.
Read more about Outlook Riding Academy and their services here.
Address: Gate 2/256 Scenic Hwy, Terrigal | Phone: 0427 189 567
Parklife Cafe at Terrigal Rotary Park
This is a fenced playground with a café that serves excellent coffee: every parent's dream! Fun features include a flying fox, in-ground merry-go-round and a gorgeous wooden pirate ship for imaginative play.
Check out our full review of Terrigal's Rotary Park here.

Address: 11 Terrigal Dr, Terrigal | Phone: (02) 4385 5027

Banjo's Skate Park, Terrigal
This is a fun area for everyone from kids on scooters to teens on skateboards. The skate park has multiple rails, an open bowl, a pump track, and many street elements. It's also a stone's throw from Parklife and the Central Coast Marine Discovery Centre, so you can visit this trio one after the after.
Read our full review of Banjo's Skate Park (as well as other Central Coast skate parks) here.

Address: Corner of Willoughby Rd & Terrigal Drive, Terrigal

Drummer Parry Park
This one's a bit of a local secret! If you have younger children and are looking to escape the crowds, head over to Drummer Parry Park which is in the backstreets of Terrigal. The play structure includes two slippery dips, a periscope, a set of tele tubes and a climbing ladder. There's also a small bike/scooter path that's ideal for toddlers.
Read our full review of Drummer Parry Park here.

Address: The southern end of Quarang Road, Terrigal
Sweet treats, ice-cream and lolly shops in Terrigal
Terrigal has lots of sweet treats for the kids too! We recommend you check out the following for a sugar high.
Sweet Surprises for all the lollies they could ever want! They claim to have over 2500 products, which means wall-to-wall of treats and candy. Address: Shop 2/74 Terrigal Esplanade, Terrigal | Phone: 0419 212 767
Terrigal Ice Creamery for delicious ice cream, gelato and sorbet. Terrigal Ice Creamery is also famous for The Sink – a mix of ice-cream, desserts and topping served up in a sink! Address: 6 Church St, Terrigal | Phone: (02) 4384 5644
Loaded Dough for the Central Coast's first New York-style cookies. They will also be stocking the famous Cakes by Kyla cupcakes from February 2021. Address: 3-1a Campbell Crescent, Terrigal
Bouffant for delicious baked goods, such as croissants, donuts and gourmet pies. Address: 7a/6 Pine Tree Lane, Terrigal
Daily Dough Co is a shop that creates mouth-watering doughnuts loaded and stuffed with cremes, custards and a heap of flavour. They opened their first store at the Wyong Milk Factory earlier in 2020 and they've now come to the southern end. Address: 92 Terrigal Esp, Terrigal.
Milky Lane, known for its burgers and mega-shakes, plus.
---
Favourite Restaurants & Cafés for Families
Terrigal is jampacked with a wide range of eateries, from takeaway options to fine dining. Here are our top picks for families.
BREAKFAST
Maccoa @ The Clan
Perched next to Terrigal Lagoon, this café has a seasonal changing menu that uses produce from local suppliers. Breakfast options include Nutella Pancakes, brekky rolls and smashed avo. Sit outside and enjoy the serenity, but be careful of the proximity to the road if you have a little runner! Address: 1 Ocean View Dr, Terrigal | Phone: (02) 4385 3855
Bellyfish
Brunch rules at Bellyfish, where you can chow down on cinnamon porridge, eggs benny, sticky date pancakes and the 'best ever' bacon and egg roll. Address: 4/112 Terrigal Esplanade, Terrigal | Phone: (02) 4385 6838
Cove Café
Head over to The Haven for all-day breakfast menu items like chia pudding, bruschetta and sweet potato and zucchini fritters. The kids' menu includes bacon and eggs and fruit salad and Greek yoghurt. Address: Scenic Hwy, Terrigal | Phone: (02) 4384 5083
LUNCH
Four Hands Pizza
Their tapas are great to share and there are over 10 gourmet pizza flavours to choose from. The kids menu features penne meatballs and ham and cheese pizza. Address: 6/17 Church St, Terrigal | Phone: (02) 4384 4492
Terrigal Beach Fish & Co
This place is so good that'll have even the fussiest of eaters munching away happily. They have lots of different meal pack options, but you can't go past the fish and chips and the calamari. Address: 108 Terrigal Esplanade, Terrigal | Phone: (02) 4384 3780
Surf Café Terrigal
You'll find this one under the Terrigal Surf Lifesaving Club, right on the beach. The kids can play in the sand while you enjoy classic lunch options, like burgers, wraps and salads. Address: 1 Terrigal Esplanade, Terrigal | Phone: (02) 4384 6283
DINNER
Arc. Est
This chic restaurant has been described as a little bit of Byron Bay meets Bali and has everything from shucked oysters to steak. Address: 7/18 Church St, Terrigal | Phone: 0451 717 607
Mumbo Jumbo's
Mumbo Jumbo's is tucked away on a rooftop on Terrigal Esplanade, here you can enjoy Caribbean island life, a Jamaican flavoured menu and great music. Address: 92 Terrigal Esplanade, Terrigal | Phone: (02) 4304 5969
Terrigal Hotel
Enjoy relaxed pub grub opposite the lagoon. The kids' menu boasts cheeseburgers, fish and chips, chicken schnitzel bites and casarecce alfredo. Address: 176 Terrigal Dr, Terrigal | Phone: (02) 4384 1033
Special Occasions
If you can manage to get a babysitter, we recommend The Cowrie for upscale Modern Australian dishes, Yellowtail for a fine dining experience, L'isle de France for a French gastronomic journey overlooking the sea, and The Joker and Thief for cocktails.
---
Nearby Attractions + Things to Do on the Central Coast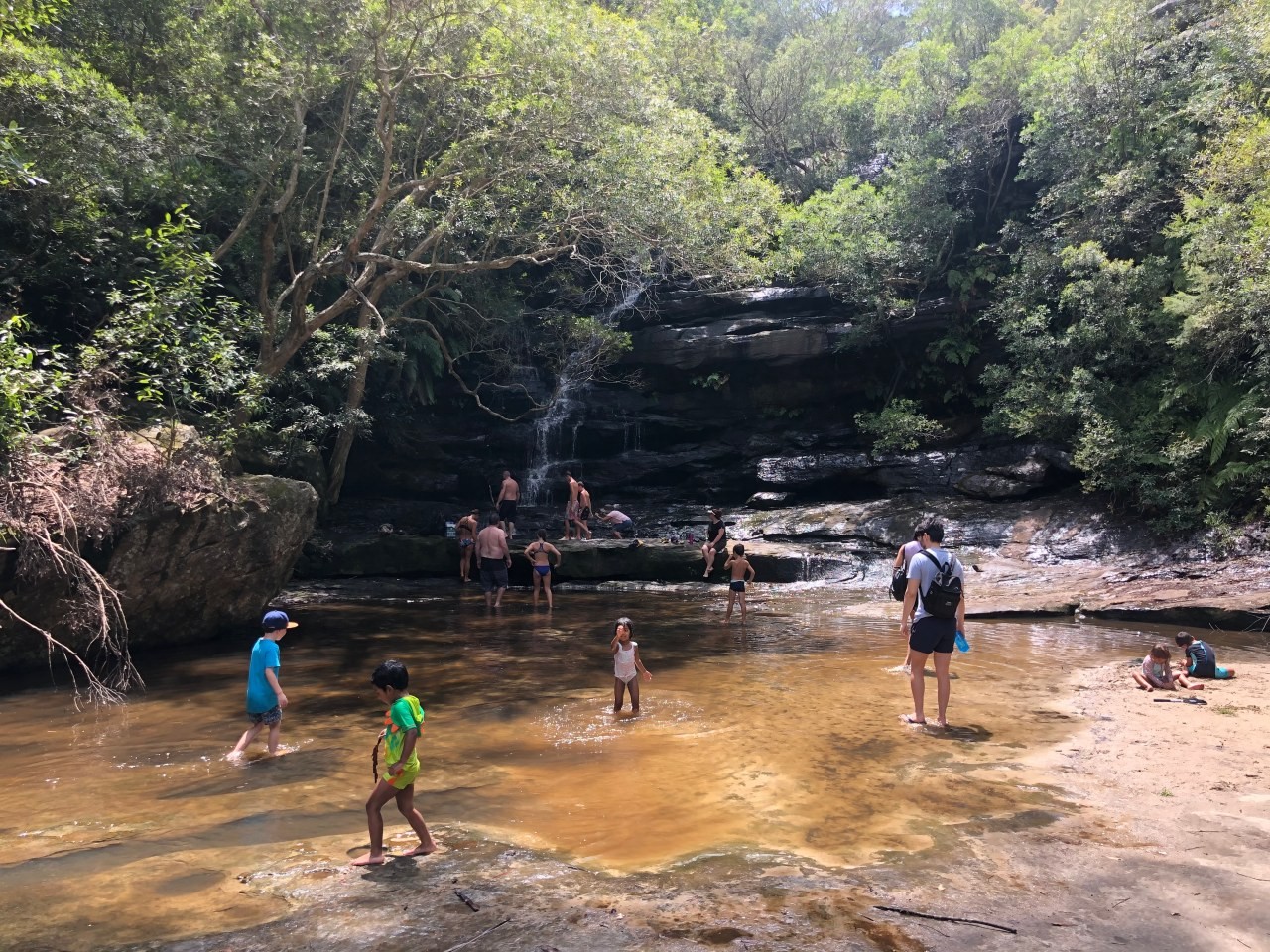 Terrigal is centrally located on the Central Coast, meaning it's quite easy to get to other attractions and areas from here. You can…
On a budget? There are stacks of fun, family-friendly and FREE activities to do all over the Central Coast. We've rounded up our top 10 free kids activities here.
---
Getting to Terrigal
Terrigal is located around a 90-minute drive from both Sydney and Newcastle. If using public transport, catch a train to Gosford Station then board a connecting bus to Terrigal.
Parking in Terrigal
Terrigal gets busy and there's only two roads in and out, so expect traffic (especially in peak travel times and on weekends).
Free parking is available at a multi-level car park on Wilson Road and at Terrigal Haven. There's also limited, two-hour parking next to Terrigal Surf Life Saving Club.
Where to Stay
There are plenty of accommodation options in Terrigal, with everything from waterfront resorts to holiday houses. Popular choices include:
The Outlook Cabana @ The Outlook Riding Academy
The Outlook Riding Academy boasts indulgent accommodation with the added bonus of an equestrian centre, swimming pool and local beaches and national parks on your doorstep. Their Outlook Cabana is the perfect hideaway and is ideal for couples or small young families. Features include a king bed, a kitchenette, a bathroom with pampering products, air-con, Wi-Fi and a large TV with Netflix. You can also enjoy bushwalking, kayaking and feeding livestock while you're there! Address: Gate 2/256 Scenic Hwy, Terrigal | Phone: 0427 189 567

Crowne Plaza Terrigal Pacific
Crowne Plaza Terrigal Pacific is situated in the heart of Terrigal and offers oceanfront accommodation, various dining options (including daily buffet breakfasts) and a heated outdoor pool. Address: Pine Tree Lane, Terrigal | Phone: (02) 4384 9111
The Clan
The Clan offers boutique accommodation with simple and comfortable rooms. The best thing about The Clan is that you are steps from the water's edge as it's located on Terrigal Lagoon. It's also a 10-minute stroll to Terrigal's Esplanade. Address: 1 Ocean View Dr, Terrigal | Phone: (02) 4384 1566
Star of the Sea
These luxury apartments sit right on the headland overlooking Terrigal Beach. You can book a three-, four- or five-bedroom apartment and each comes with two secure parking spots free of charge. Address: 8 Terrigal Esplanade, Terrigal | Phone: (02) 4385 7979