From marine centres to play centres, water fountains to water slides, and orange picking to shell collecting – there is so much fun to be had for kids on the Central Coast. And the best part is, you can do it all for less than $10. And, better still, some of them don't cost a cent!
Here is a list of some of our favourite free and cheap activities – in no particular order.
---
For a day packed full of family adventure and mystery, head to the Kariong Hieroglyphs (or the Gosford Glyphs as they're more commonly known)! With its "ancient Egyptian" stone carvings, this intriguing Central Coast landmark makes the perfect setting for a treasure hunt and is sure to keep little ones enthralled.
Cost: Free!
Where: Bambara Road, Kariong
Playing in Puddles visited! Read our review for further details.
---
---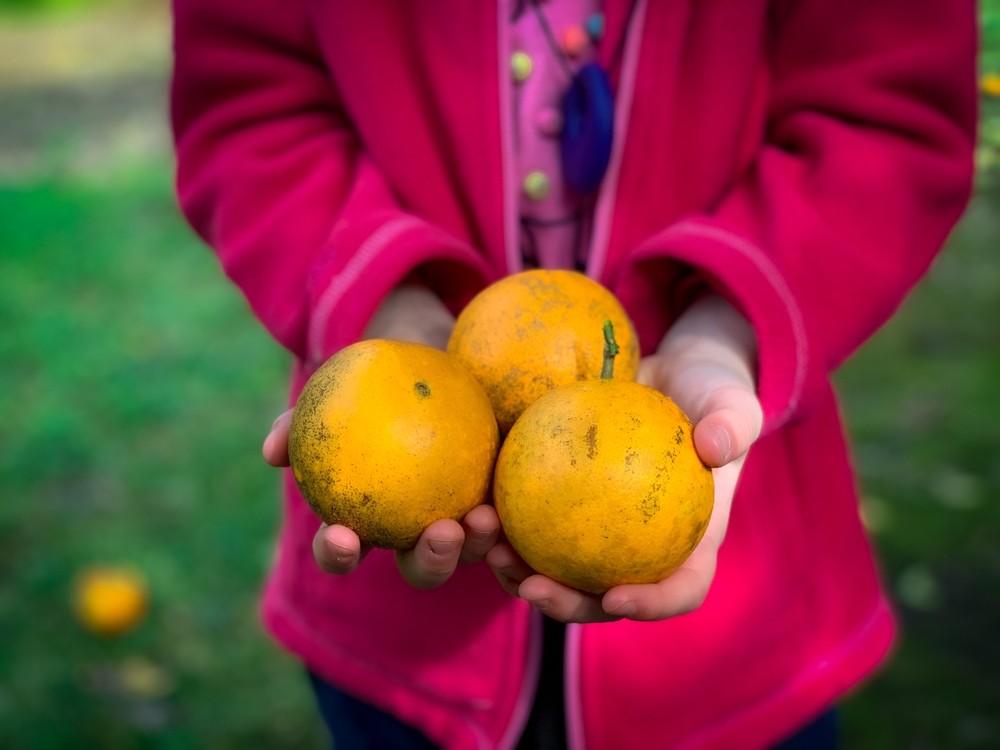 Head to Dooralong for a family day of orange picking and give little ones a first-hand experience of where our food comes from. Play games hunting for the biggest, ripest oranges, guess how many you can squeeze into a bag and challenge each other to see how many you can carry!
Cost: Free
Where: Cedar Farm, Dooralong (orange picking is of course seasonal, but generally runs July-September)
Playing in Puddles visited! Read our review for further details.
---
Play Time is an indoor play centre for kids aged 0-7, and it has a huge range of toys, inflatables, cubbies and ride-ons. One of the things we love about Play Time is that everything is located in one large open space. This makes supervision so much easier, as you can watch, for example, your 6-year-old bouncing on the jumping castle and keep an eye on your toddler on the bike ramp all while sipping your cappucino at the cafe.
Cost: Children under 10 months, free; 10 months-2 years, $7; 2-7 years $10; Adults, free. 10% Discount applies for families with 3 children or more.
Location: Kincumber Indoor Sports Centre, 19 Cochrone St, Kincumber.
Playing in Puddles visited! Read our review for further details.

---
4. Paddle, Splash and Picnic at Somersby Falls
Somersby Falls is one of those gorgeous spots you arrive at and wonder why you haven't visited sooner! There are two main waterfalls, multiple shallow pools to splash about in, and an abundance of rocks to climb. Plus, the picnic area at the top of the falls has barbecue facilities, picnic tables and toilets. It's a wonderful day out and is an area that's sure to become a family favourite.
Cost: Free
Where: End of Somersby Road, Somersby.
---
5. Visit the Bulgandry Art Site in Kariong
Located in Brisbane Water National Park is the Bulgandry Art Site Aboriginal Place – a wonderful landscape of well-preserved Aboriginal engravings. There are engravings of fish, wallabies, a dolphin and a man.
Cost: Free
To discover more outdoor adventures such as this, visit our feature on "Outdoor fun without the crowds".
---
Have you heard of FootGolf? We'll admit we never had! But now that we've tried it we'll be playing it again and again. It is as it sounds: a game that combines the fun of soccer and golf – the aim being to kick a soccer ball into nine specially designed holes in as few kicks as possible. It's great fun, something the entire family can play together and, as of last year, it's now available to play on the Central Coast – at Mangrove Mountain Memorial Club and Golf Course.
We were told that FootGolf was a game the whole family would enjoy, so we tested it out and took the ENTIRE family. We had toddlers, kids, teens, adults and grandies, and we ALL had an awesome time. Click here to read our review.
Cost: A game of nine holes of FootGolf is $6 for children under 16, $11 for adults, $5 for ball hire (you can bring your own soccer ball if you like) and $20 for cart hire.
Where: Mangrove Mountain Memorial Club & Golf Course, 18 Hallards Rd, Central Mangrove.
Playing in Puddles visited! Read our review for further details.
---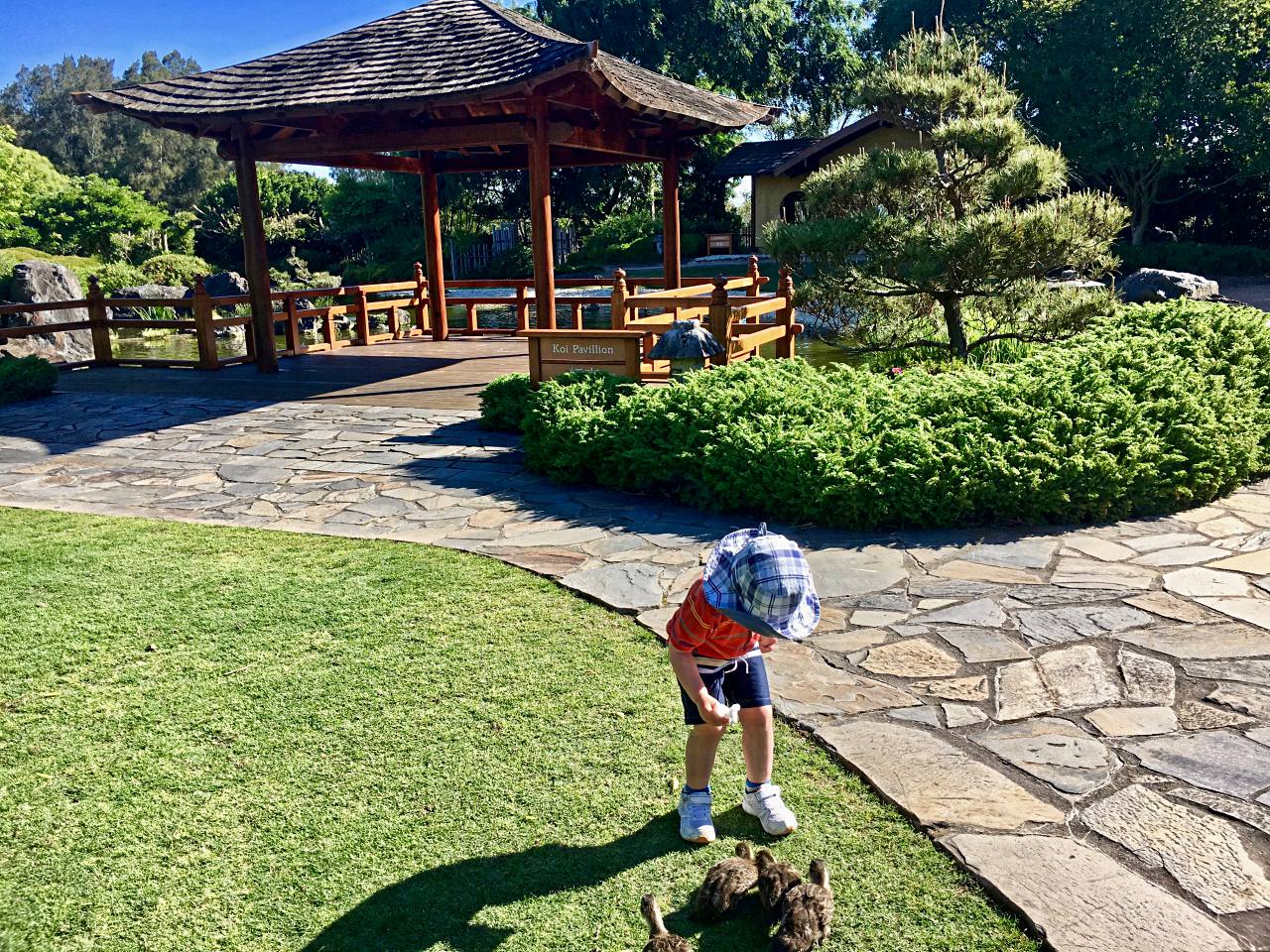 The Japanese Gardens, as it's locally known, is a 4,000m2 area of meandering paths, wooden bridges and koi-filled ponds. Purchase a bag of fish food for $2 from the gallery shop and let the colourful koi and resident ducklings take over the entertaining for a little while. There's a small children's play area in the gardens, too, and of course the adjoining gallery, which often holds free exhibitions.
Cost: Free!
Location: 36 Webb Street, East Gosford.
Playing in Puddles visited! Read our review for opening times and further details.
---
---
8. The Haven, Terrigal
Build a sandcastle, splash in the shallows and have a walk up the Skillion (and then roll back down the hill).
Cost: Free!
Location: The Haven, Terrigal.
To discover more family-friendly beaches on the Central Coast, visit our feature here.
---
9. Bato Yard, Bateau Bay
If pro-skateboarder Renton Millar is calling Bato Yard his "dream bowl", chances are your little skater will think it's pretty awesome too. The 2800m2 skate park offers skaters, BMX riders, in-line skaters and scooter riders a mixture of street and transition terrain. There's also parkour areas for those without wheels. If this all sounds like gobbledygook, don't worry, just know your tween will love it.
Cost: Free!
Location: 460 The Entrance Rd, Bateau Bay.
To discover more Central Coast skate parks, check out our feature here.
---
10. Local Parks
Looking for fenced, shaded parks with tables, BBQs, coffee and more? We've got you covered.
Playing in Puddles has more than 70 park reviews! Click here to see them all.
---
11. Explore one of the Central Coast's Rockpools
Grab a bucket and take a trip to one of the Central Coast's many rockpools. With 41 beaches to choose from, there are an abundance of rock shelfs to explore. Here are two of our favourites:
Terrigal: At the southern end of Terrigal Beach lies a tiny ocean pool where little explorers will find myriad crabs, fish, periwinkles and if they're lucky, they may even spot an octopus!
Bateau Bay: Spot nodiwinks, waratah anenome and brittle stars among many other sea creatures at the Bateau Bay Beach rock shelf.
Cost: Free
Want to discover more beaches? Read our feature on the "Top 8 Central Coast Beaches and Rockpools for Families".
---
I don't know any child who doesn't beam with delight upon seeing this water-play area for the first time. The quirky colourful statues, spurting fountains and other children running, jumping, skipping and laughing in the water make it a joy to behold.
Cost: Free!
Location: Next to Memorial Park on The Entrance Foreshore.
Playing in Puddles visited! See our review for photos and further details.
---
Leap across stepping stones, paddle under waterfalls and discover new beaches on one of the Central Coast's many beautiful bushwalks. With multiple national parks, nature reserves, umpteen waterways, and an enviable stretch of coast, this is the place to don walking boots and go exploring!
Cost: Free!
Discover lots of awesome family-friendly bushwalks here.
---
Impact has a double-story play area complete with ball pitt, a long double slide and soft obstacles to race through. They have a toddler zone out the back and race track, cubbies and trikes in the foyer. Plus the barista does a mean coffee and banana bread.
Cost: Children under 12 months are free; 1-10 years, $9.90 (or only $5 after 1pm); adults $4 (includes small hot drink).
Location: Impact Centre, 19 Chetwynd Rd, Erina.
Playing in Puddles visited! Read our review for opening times and further details.

---
Glenworth Valley's iconic Running Of The Horses is a daily event in which some 200 horses are mustered out of the riding yards and across the river to other pasture. This event occurs every afternoon at about 4.30pm; however, the time and location varies daily, so it's best to check with staff on the day for all details. You're welcome to come to the Valley any time to watch this event, and it won't cost you a cent!
Cost: Free.
Website.
Location: 69 Cooks Road, Glenworth Valley.
Playing in Puddles visited! Read our review for further details.
---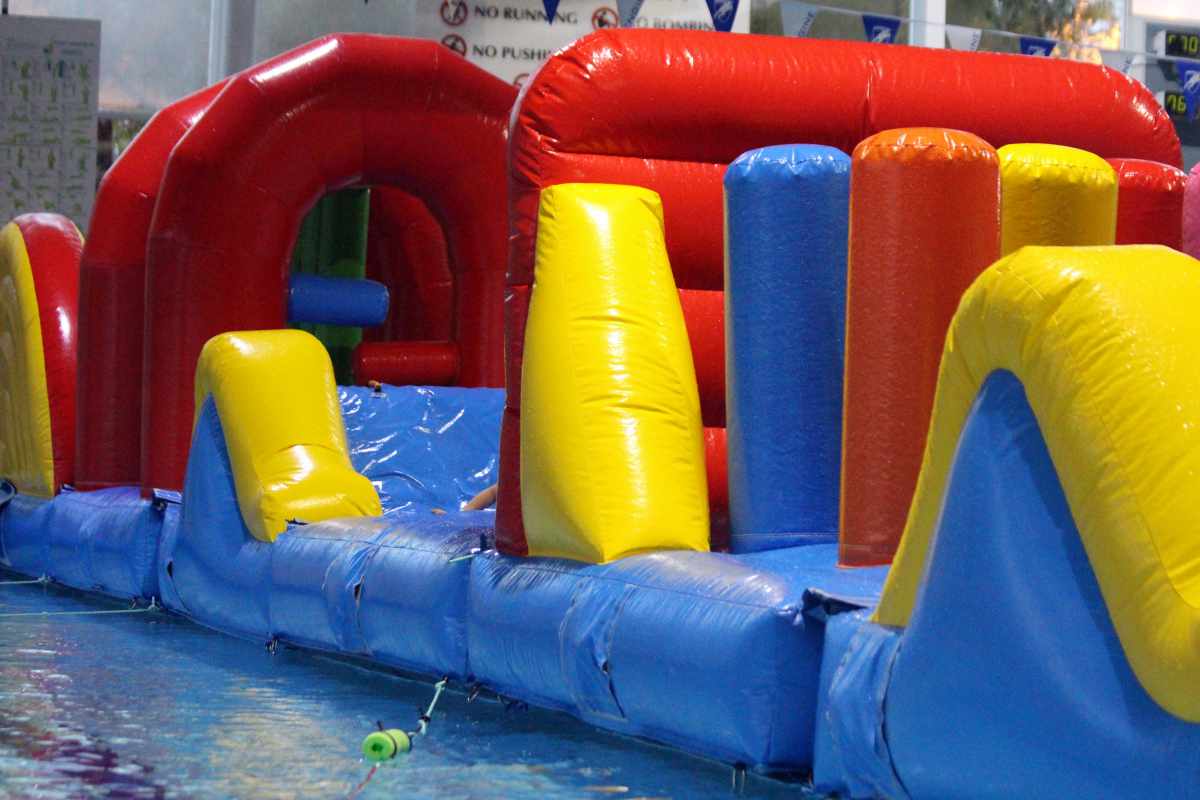 Have you checked out your local pool lately? It's a cheap and fun way to entertain the kids.
The Peninsula Leisure Centre is particularly great. There's a toddler slide, a large waterslide, floating inflatables and a dry softplay area in the foyer.
Cost: 0-4 years free with a swimming adult (children up to four must have an adult in the pool with them); 5-19 years $4.50; swimming adult $7.40; spectator $3.60.
Mingara Aquatics has a whirlpool and multiple fountain sprays. Plus inflatables in the holidays. It's guaranteed to keep your little ones giggling.
Cost: Adult Swim (12 years+) $7; Child (2-11 years) $4.50; Child (under 2 years) Free; Spectator $3; Family (2A 3C) $23. Inflatable Fun $5 plus pool entry.
Plus there are public pools at Gosford, Woy Woy, Wyong, Toukley and an ocean pool at The Entrance.
Read our feature on local pools for further details and to find out dates of on-water inflatable fun.
---
17. Get Down to Your Local
There are so many great clubs and hotels across the Central Coast that go above and beyond in creating great spaces for people with kids to eat, relax and play – and they're free! Some of our favourites are:
Cost: Free!
---
18. The Entrance Carousel + Carnival Rides
Of all the entertainment options on the Coast, few have seen more grins than The Entrance's carousel. Built in Germany in the late 1800s, the carousel has been a local lady of The Entrance since 1930. With fairy floss, laughing clowns and kewpie dolls on sticks, this is nostalgia at its best.
Cost: $3.50/ride or four rides for $10.
Open: Weekends and school holidays (10am-3pm winter; 10am-10pm summer). Closed when raining.
Location: The Entrance foreshore.
---
---
19. Free Local Markets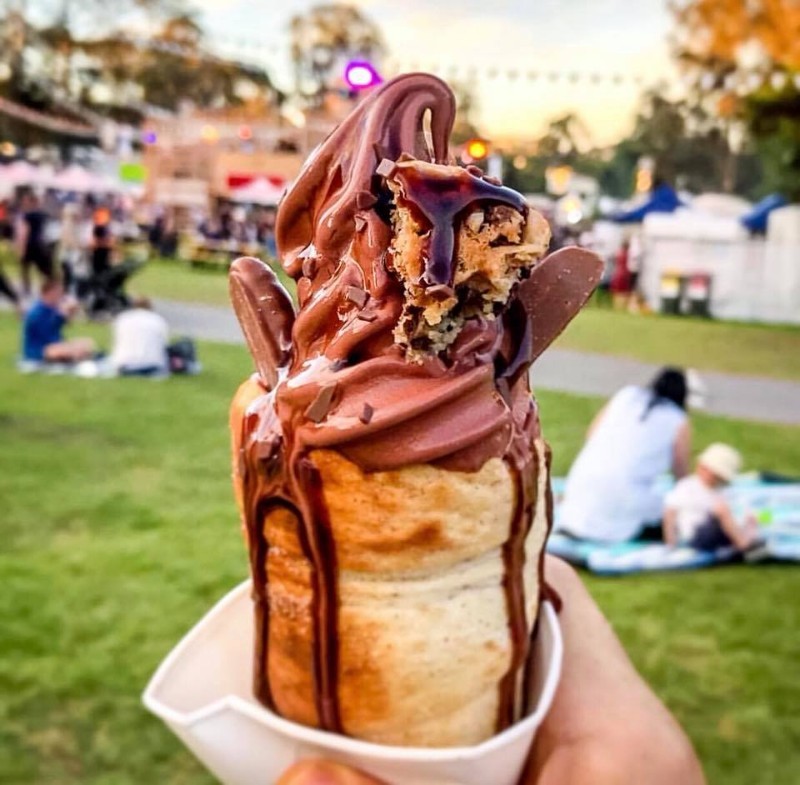 There are always loads of FREE markets occurring across the Coast. Be it the Beachside Market at Avoca, the Lions Car Boot Market in Terrigal, or fresh produce markets in Gosford, there's always something fun. Check out our events calendar to see what's happening near you.
Save
---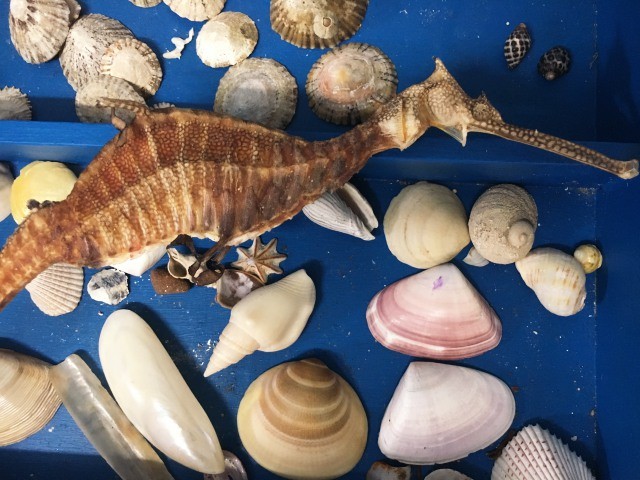 Where else can you see a Port Jackson shark, paint a plaster mold and touch a starfish, coral, cowrie shells and shark teeth? The marine discovery centre is a hands-on experience the kids will love… and the best part is they'll learn without feeling like they're being schooled. Win-win. Plus, it's home to the Parklife Coffee shop and Rotary Park playground, so you can have your coffee and cake fix too.
Open: weekends and school holidays 10am-4pm (Last admission at 3pm).
Cost: $10 adult; $6 child; Family of 2 children and 2 adults $26; Family of 2 children and 1 adult $16. $5 to paint a plaster mold.
Location: 11 Terrigal Drive, Terrigal (in the Rotary Park next to Terrigal Lagoon).
Playing in Puddles visited. Click here to read our review
---
The following free/cheap activities are temporarily closed due to Covid-19, but we hope they'll be back really soon.
The Pelican Express at The Entrance – a small blue train that laps the Entrance's foreshore.
Pelican Feeding at The Entrance.
Baby and toddler classes at Central Coast Libraries.
---
♥ It's fun to discover new places. Share this list with your mothers group, so together you can experience a new place each week.Save
Save
Save
Save
Save
Save
Save
Save
Save
Save
Save
Save
Save
Save
Save
Save
Save
Save
Save
Save
Save
Save
Save
Save
Save