Hoping to enrol your child into a new activity in 2022 but not sure where to start? You've come to the right place!
There are heaps of fantastic kids' classes available across the Central Coast, with new ones to try popping up all the time. From ninja classes and horse riding lessons to circus classes and martial arts, there's something to suit all ages, abilities, personalities, and passions – and we've listed a few of our favourites right here!
Scroll down to find your perfect fit. And remember, too, that many classes offer a FREE trial and/or term discount exclusively to Playing in Puddles' readers.
Take a look and sign your kids up for something new in term 1 2022!
---
Dance @ Nikki Webster Dance Classes, Erina
Got a dancer in the family who's keen to try something new? Dance @ Nikki Webster offers one of the largest ranges of dance classes on the Central Coast! Families can choose from a bunch of classes to suit all ages and abilities, including:
+ Fairy ballet, movers & shakers, and tumbling tots (acrobatics) for the little ones aged 2 – 5 years.
+ RAD ballet, hip hop, jazz, cheerleading, acrobatics, musical theatre, anti-gravity yoga, silks, Lyra, contemporary, tap, and singing for older children and teens.
+ Elite programs including ballet development, musical theatre development, and extension elite for the experienced dancers seeking to develop their skills even further.
+ Plus, there's even a fun and energetic dance fitness class for adults!
Want to meet the teachers, see the studio or try out a class for size? Mention Playing in Puddles and get a FREE trial!
Age group: All ages from 2+.
Where: 1/310 The Entrance Road, Erina
Contact: 0411 861 849 or email [email protected].
---
O'Grady Drama Kids' Classes, Central Coast
Have a little star in the making? O'Grady Drama's kids' performance classes are now open for term one enrolments, and they're offering Playing in Puddles' readers 10% off their first term. During these fun classes, children will learn improv skills, stage presence, and voice training while gaining a heap of confidence and having a ton of fun!
Playing in Puddles offer: Playing in Puddles readers get 10% off their first term!
Age group: Kindy up to Year 12.
Where: Classes are held at Erina, Terrigal, Kanwal, Berkeley Vale, and Umina. View website for details.
Cost: $210 Per Term – Family discounts apply for two or more students attending.
Contact: Tim Doyle on 0403 368 517.
Creative Kids Voucher Accepted
---
Kids' Group Horse Riding Lessons and Pony Leads at The Outlook Riding Academy, Terrigal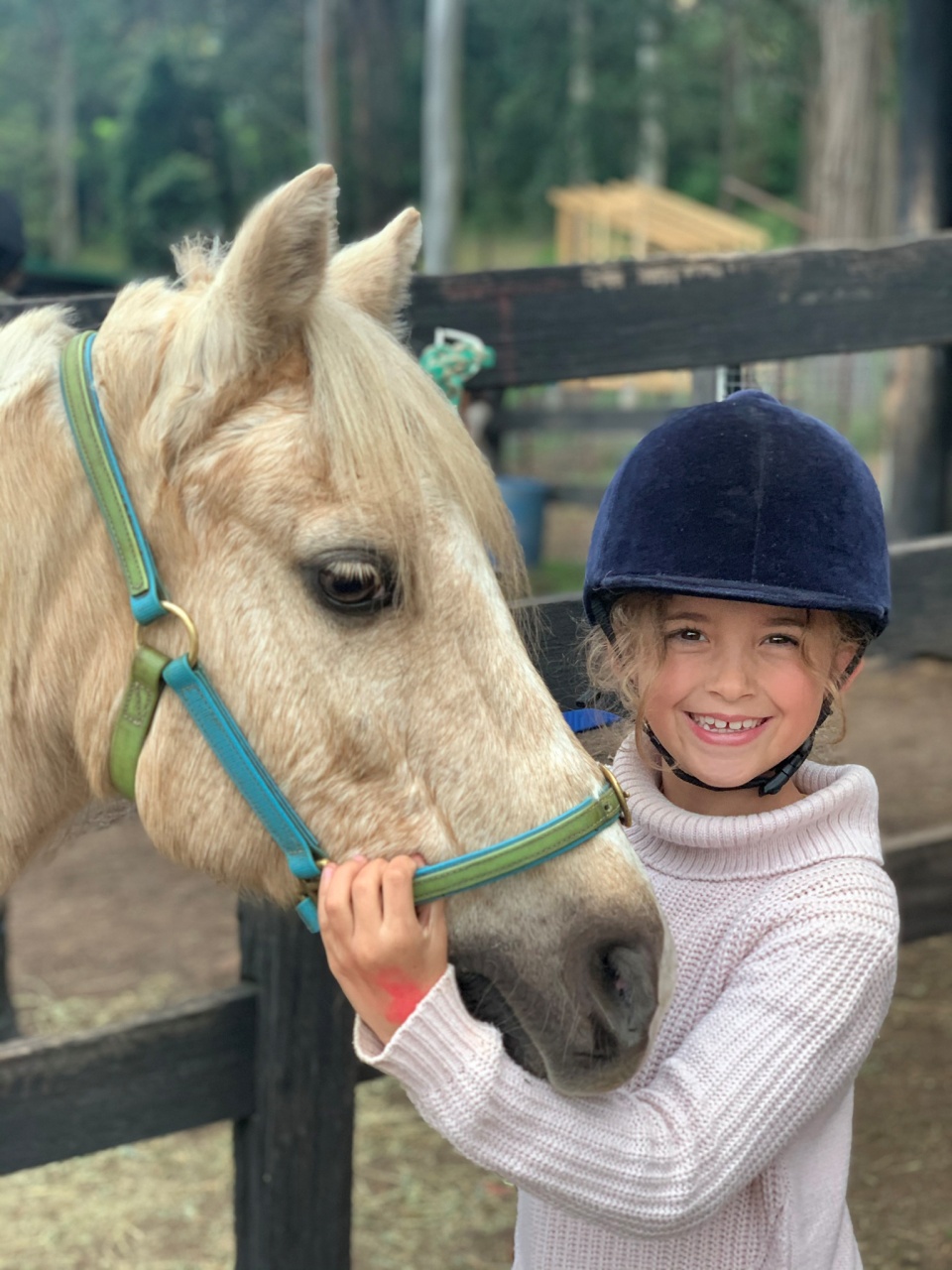 Set in a stunning location between Avoca Beach and Terrigal Beach, The Outlook Riding Academy is a beautiful, family-run equestrian centre offering private and group horse riding lessons to kids and adults of all ages and abilities. Their kids' programs are tailored to the individual child, helping them build skills, knowledge, and confidence both on the ground and in the saddle. These classes are great because:
+ Riding lessons are for one hour and may include catching, grooming, tacking up the horse, riding, washing, and feeding.
+ The horses are matched to your kid's age, level of experience, and preferred learning style.
+ Kids can ride with other tiny tots or school buddies.
+ They're a great way to meet other families on the Coast and for kids to create new friendships.
+ Riding lessons run every day (except Sunday) and they also do pony birthday parties on Thursday and Saturdays!
Little ones will need to complete a few private lessons until they are comfortable riding independently, at which point they'll have the option to join a group class. To see the range of classes available, visit The Outlook Riding Academy website.
Age group: All ages from 3+.
Where: The Outlook Riding Academy, Scenic Highway, Terrigal
Cost: Private lesson $99 per hour | Group lesson $77 per hour.
Contact: Sam on 0427189567 or email [email protected]
Active Kids Voucher Accepted
---
Ready Steady Go Kids is for children aged 18 months-6 years. They'll run, jump, bounce basketballs, bat cricket balls, have a load of fun, and learn great skills. This award-winning physio-designed program teaches children the fundamentals of 10 different sports and develops essential motor skills in a fun, non-competitive environment. The kids learn a new sport every fortnight, so there's no chance of boredom.
Playing in Puddles offer: Free trial class
Where: Classes are held at Terrigal and Charmhaven.
When: Daily – multiple times. See website for details.
Cost: From $153/10-week term.
Contact: Vanessa on 0439910467 or visit the Ready Steady Go Kids website.
Active Kids Voucher Accepted (4-5-year-olds only. To qualify, your child must be attending school).
---
Have a child with aerial ambitions? One who wants to twist, backflip, spin and leap like a ninja? Want them to learn these skills in a safe environment? Sign them up for Flip Out Gosford's Ninja classes. Flip Out's teachers will show your kids how to achieve agility, coordination, and aerial awareness in a safe environment. After mastering the basics, your child will learn tricks such as front flips, backflips, twisting skills, and more.
You can join in a class casually, or you can sign up for the full term.
Age group: Kids aged 5-16.
Where: Flip Out, Gosford.
When: Beginner classes: Tuesday, Wednesday, and Thursday at 4pm | Intermediate/advanced classes: 5pm (classes run for 1 hour).
Cost: $160 per term (plus $30 registration fee).
Contact: 4323 0162 or visit the Flip Out website.
Active Kids Voucher Accepted
---
Let your dreams defy gravity! Set your eyes on the skies with tumbling, juggling, spinning plates, and swinging on a trapeze – now they are some nifty tricks you don't pick up at school. But you can master them at Roundabout Circus in Wyoming. They host a heap of circus workshops for kids of all ages (young tots and adults, too) throughout the term and they're run by teachers who are highly trained and very experienced in circus skills so you really will be learning from the best! Plus, as well as being a creative and active kids provider, they offer Playing in Puddles' readers free annual registration!
Playing in Puddles offer: Mention Playing in Puddles and get FREE annual registration
Age group: From ages 1+ to Adults.
Where: Wyoming and Woy Woy.
When: Multiple sessions weekly.
Cost: From $10/class + a small annual student fee. Discounts are offered for multiple classes and family members.
Contact: 0243 117 133 or email [email protected]
Active and Creative Kids Vouchers Accepted
---
Established by Sensei Danny Simmons Snr in 1982, Woy Woy Judo Club is the longest-running martial arts club on the Central Coast! With its traditionally taught Japanese Judo, strong family values, and legendary community spirit, this long-standing club is a favourite with locals.
Kids can jump onboard their Judo journey at multiple levels, starting as young as 3 years old as a "Tiny Tiger" and moving up to junior level Judo when they reach age 10-12. Teenagers can join the adult Judo classes once they reach age 13.
Age group: Children aged 3+.
Where: Woy Woy Judo Club Dojo, 27 Bowden Road, Woy Woy.
Cost: For cost or timetable information, get in touch or visit the Woy Woy Judo Club website.
Contact: Call 0434 000 170 or email [email protected].
---
Looking for more kids classes? Check out our kids classes directory for even more classes near you.