Sun, sand, unicorn milkshakes, slow-brew coffee, pilates and stand-up paddleboarding. Sounds like the perfect combo for a top summer holiday, right? Welcome to Ettalong Beach – one of the Central Coast's lesser-known coastal strips perfect for a day trip or family-friendly holiday.
We pounded the pavement of Ettalong to bring you the best of what the area has to offer. Looking for a cafe with a courtyard for the kids? Head to Sounds on West. After a slow brew coffee? Hint: you'll find it in the cutest home in Ettalong Beach. As for activities, we'll reveal where you can get your yoga and pilates on, take stand-up paddleboarding classes and hire a boat to explore the beautiful Brisbane Waters.
Below, you'll find everything you need to know about visiting or holidaying in Ettalong Beach – local secrets and tourist hotspots included. Enjoy!

Ettalong Foreshore
You'll find Ettalong Foreshore on The Esplanade, Ettalong Beach. This is one of the area's main attractions, and it's easy to see why.
First of all, the panoramic view out across Broken Bay and to Sydney's northern beaches is simply stunning. It also has two playgrounds – one the littlies will love, the other aimed at older kids. There's a kiosk right next to one of these playgrounds where you can grab coffee and takeaway goodies such as bacon and egg burgers and fish and chips. And just next to the kiosk is The Box on the Water, a fabulous restaurant perfect for seafood share plates and cocktails at sunset.
The beach is excellent for little ones as there are no waves. Wanting to surf? We recommend heading to the neighbouring beach at Umina, which is a great place for longboarding or those learning to surf, as the waves tend to be small. More experienced surfers will prefer Tallow Beach in Bouddi National Park or Avoca Beach.
Ettalong's calm waters do make it perfect for another water activity… stand up paddleboarding! Bombora Ettalong Beach SUP have classes for beginners, pros and everyone in between. Stand up paddleboard hire starts at $35 for one hour.
If boating is more your speed, you can hire one in Booker Bay (a three-minute drive or 15-minute walk from Ettalong Foreshore) at Andersons Boatshed. Hire fees start at $45.
Once you've enjoyed everything Ettalong Foreshore has to offer, walk up the Esplanade to the Peninsula Recreational Precinct, arguably the biggest and best playground on the Central Coast. It's an easy 7.5km round trip that's pram-friendly too. Prefer to ride? Automatic bike hire is available in front of The Mantra, which is just opposite the foreshore. There are bikes equipped with a child seat, and hire starts at $14 for one hour.
Read more about the Ettalong Foreshore and its playgrounds in our feature here.
Favourite Restaurants & Cafés for Families
Ettalong Beach has an impressive café scene and a whole host of delicious dining options. Here are our top picks for families.
COFFEE
Slowwell
This is such a wonderful place to visit when you need a moment to catch your breath. At Slowwell, they're all about finding moments of 'slow' in our busy lives. Here you can peruse books and beautiful, mindful gifts while sipping on slow brew (a.k.a. filter) coffee. They even host Seekers of Slow coffee club events, plus monthly book club catch-ups. Address: 233 Ocean View Rd, Ettalong Beach | Phone: 0473 935 538
BREAKFAST
Inner Glow Kiosk
This newcomer to Ettalong offers light, on-the-go breakfast options. Think elixir bowls, cold-pressed juices, pastries and raw treats. They also do some mean takeaway salads for lunch, like shaved broccoli with almonds, cranberries and tahini dressing. Yum! Address: 366 Ocean View Rd, Ettalong Beach
Lords of Pour
Lords of Pour is super popular, especially on weekends. Once you've tasted their food, it's easy to see why! We highly recommend their sourdough toasties – choose from ham and cheese, pulled beef or mushies (don't worry, they're all delish). Address: 199A Ocean View Drive, Ettalong Beach

LUNCH
Coast 175
Just across the road from The Galleria, Coast 175 provides the perfect spot to relax and fuel up after a morning of shopping and exploring. Their menu focuses on fresh, handpicked produce and has everything from fish burgers to spiced lamb gozleme. Address: 175 Ocean View Road, Ettalong Beach | Phone: (02) 4341 8080
The BOX on the Water
Go for the location (water views and a playground directly next to it) and stay for the food – a hot and cold seafood feast is just the ticket as you soak up the seaside vibes. Kids can pick from fish and chips, chicken tenderloins and pasta Pomodoro. Address: The Esplanade (opposite the corner of Beach Street), Ettalong Beach | Phone: (02) 4339 3369

DINNER
Sounds on West
This one is technically just outside Ettalong, but it's so good we have to mention it. Sounds on West lets you enjoy smoked meats and craft beer while the kids play in the restaurant's garden. It's one of our favourite restaurants on the Coast. Read our full review here. Address: 227 West Street, Umina Beach | Phone: (02) 4339 9023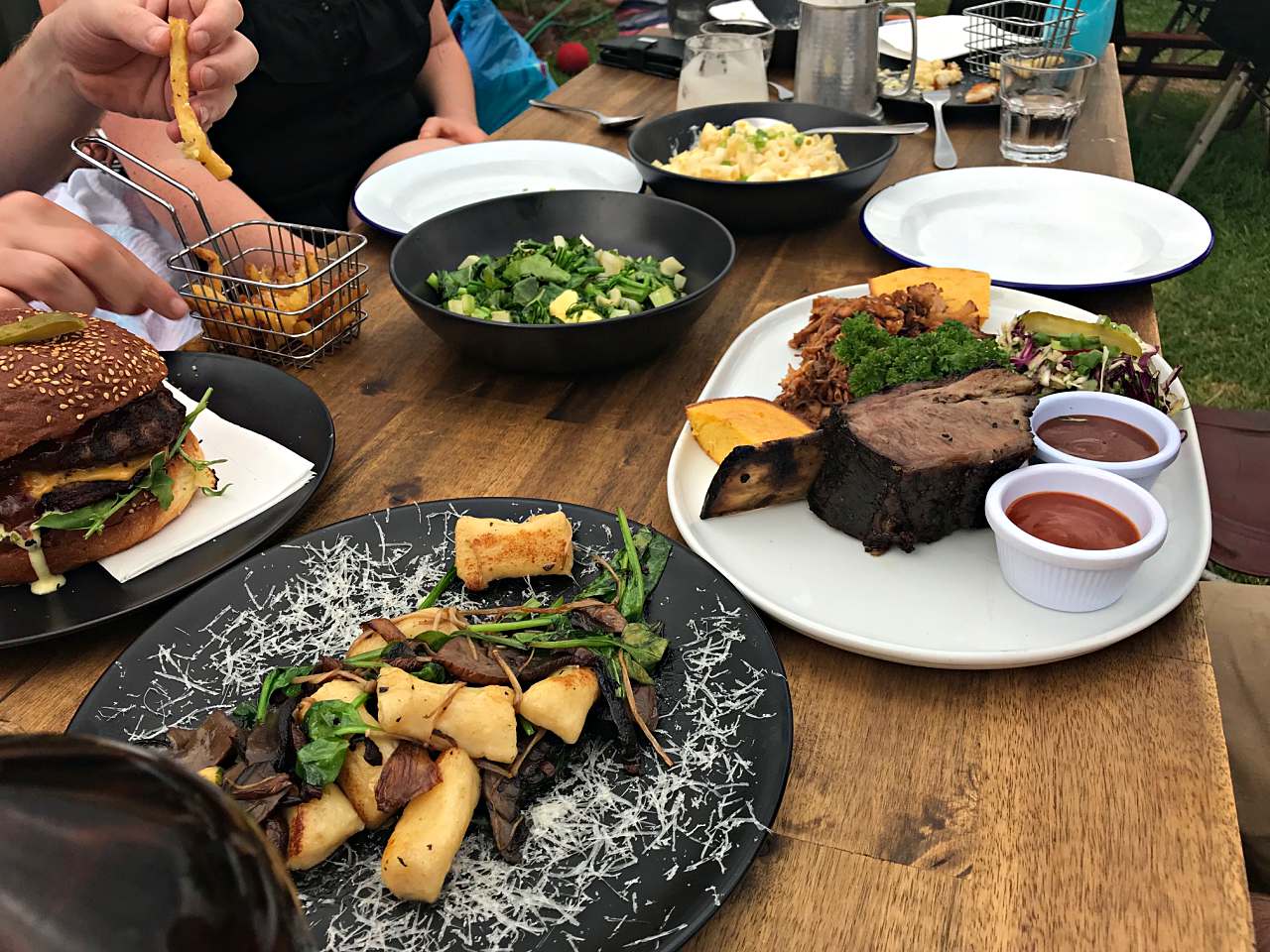 Safran
Safran is a favourite with locals. Enjoy Turkish and Middle Eastern dishes bursting with flavour. Share plates are the way to go here, and a fun way to get the kids to try something new. Address: 81/189 Ocean View Road, Ettalong Beach NSW | Phone: (02) 4342 7030
Ettalong Diggers
Staying at The Mantra? You'll be happy to know that Ettalong Diggers adjoins it, making it a convenient option for dinner. It has classic bistro-styling dining (steaks, schnitzels, fish and chips) and a play zone with an enclosed play area for the little ones, arcade games and an iPad kiosk with free Wi-Fi. Address: 1-52 The Esplanade, Ettalong Beach | Phone: (02) 4343 0111
Sasa
You'll smell Sasa's mouth-watering offerings before you even get in the door. Located on the outside of The Galleria, Sasa serves up Sicilian ricotta cannoli, handmade pastries, sourdough and specialty breads. Their Italian coffee is top notch too. Grab some takeaways and head to the sand for a morning tea picnic. Address: 61/89 Ocean View Road, Ettalong Beach | Phone: 0491 733 926

The Galleria
Don't miss out on exploring this character-filled building that you might hear locals referring to as the 'Ettalong Markets'. The Galleria is 600m from the Ettalong Foreshore and is an absolute treasure trove. Inside this landmark, you'll find a cinema, a unique dining precinct, over 50 stores selling everything from kids clothes to spices, a pilates and yoga studio, and even somewhere for the kids to do arts and crafts.
Here are our top spots to check out while you're there:
Belle Movement
This pilates and wellness studio caters specifically to mums and mums-to-be and is such a special and welcoming place. With a creche and on-site nanny, you know the kids will be in good hands while you take a class and relish in an hour to yourself! Read our full review of Belle Movement here.

Happy Hippies
If you're looking to escape the summer heat (or the rain), head inside Happy Hippies. Here kids can paint a range of plasters then take their masterpieces home. They also have a good selection of gifts, with everything from wooden toys to beach coverups.
Cinema Paradiso
Art deco décor, chandeliers and maze-like corridors… This old school cinema will intrigue the kids and have you feeling all nostalgic. Cinema Paradiso has six screens and shows the latest releases. It's cosy, charming and definitely a memorable experience for moviegoers.
Bar Toto
Get yourself a babysitter and head to Bar Toto for a cocktail (they make a mean Negroni) and an antipasti board. You're on holidays after all (and if you're not… treat yourself!).
There's so much to see and do inside The Galleria. Read our full review here. Address: Cnr Ocean View & Schnapper Road, Ettalong Beach | Phone: (02) 4341 1999

Ettalong Events
Brisbane Water Oyster Festival
The Brisbane Water Oyster Festival is held on the second Sunday of November each year and is a fun day out filled with fine food and wine, plus art and craft stalls and live entertainment.
Central Coast Italian Festival
With a huge array of Italian food, culture, music and stalls, this festival will tantalise your tastebuds and keep the whole family entertained.
Coastal Twist Arts and Culture Diversity Festival
Focusing on creating a more welcoming and inclusive Central Coast, this festival is set to take place in October 2021 with the theme "Be the change". There will be a line-up of bold and bright events, including cabaret, drag, film, live music, a carnie fair day and a pooch parade.
---
Nearby Attractions + Things to Do on the Central Coast
From Ettalong Beach, you are well positioned to explore other areas of the Central Coast. Why not…
On a budget? There are stacks of fun, family-friendly and FREE activities to do all over the Central Coast. We've rounded up our top 10 free kids activities here.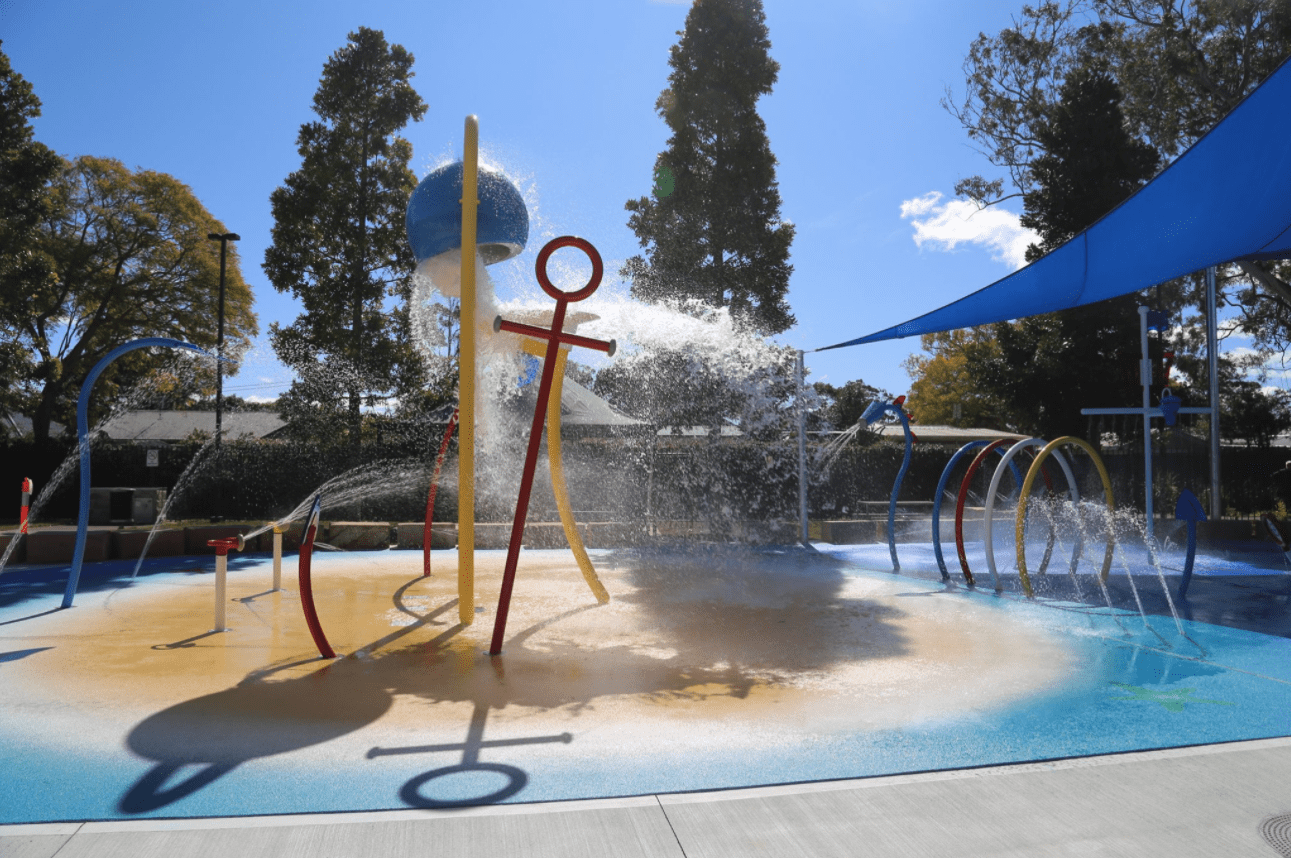 Getting to Ettalong Beach
Ettalong Beach is located a 1 hour 20-minute drive from Sydney and a 1 hour 35-minute drive from Newcastle.
If you're using public transport, catch a train to Woy Woy Station then board a connecting bus to Ettalong Beach. Or you can catch a ferry from Palm Beach Wharf to Ettalong Wharf – this journey takes 30 minutes.
Parking in Ettalong Beach
There's lots of street parking in Ettalong Beach, especially along The Esplanade near the Ettalong Foreshore. It can be hard to find a spot on sunny weekends and in school holidays, so if you're on a schedule, we recommend leaving plenty of time to park just in case.
Where to Stay in Ettalong Beach
There's a wide range of accommodation options in and around Ettalong Beach, including tourist parks, beach houses and a resort. Popular choices include:
Mantra Ettalong Beach
The Mantra boasts ocean views and is conveniently located just moments from eateries, playgrounds and the foreshore. The Mantra provides studio, one- and two-bedroom suites, has a day spa and adjoins Ettalong Diggers. Address: 53-54 The Esplanade, Ettalong Bach | Phone: (02) 4344 8888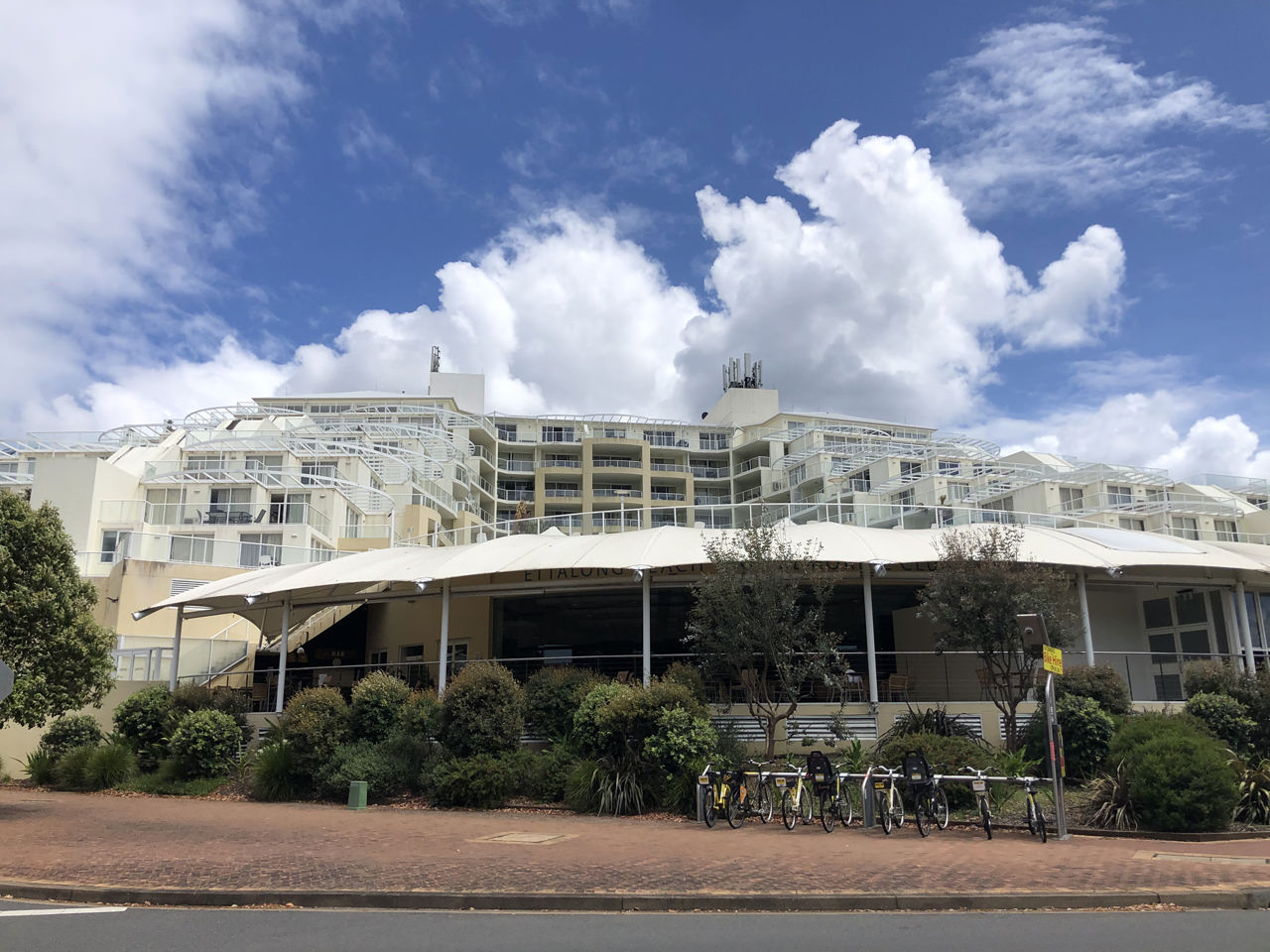 NRMA Ocean Beach Holiday Resort
This one is located in neighbouring Umina Beach but is super popular with families so we had to include it! Highlights include the beachfront location, daily kids club, playground, waterslide and swimming pools. Choose from camping, glamping, a caravan site or cabin and villa accommodation. Address: Sydney Avenue, Umina Beach | Phone: 1800 611 522