This just might be the best playground on the Central Coast. It has everything. Café (read coffee) on site: tick. A fenced and shade-cloth covered playground for under-fives: tick. Multiple play spaces for school-aged kids: tick. Bike and scooter path: tick. Barbecues, covered tables and toilet facilities: tick.
And it's set to get a whole heap better, with the Federal Government's weekend announcement (30 March 2019) of an $8.25 million grant to upgrade the skate park, BMX track and adjoining recreation areas! We're excited to see that these developments will be in addition to the awesome play spaces already occupying the site. These new structures will occupy the vacant land at the south end of the playground and stretch across to the current BMX track.
Recent community consultation has guided draft concept plans for the skate park and adjoining areas and they've come up with these two concepts below:
Concept one: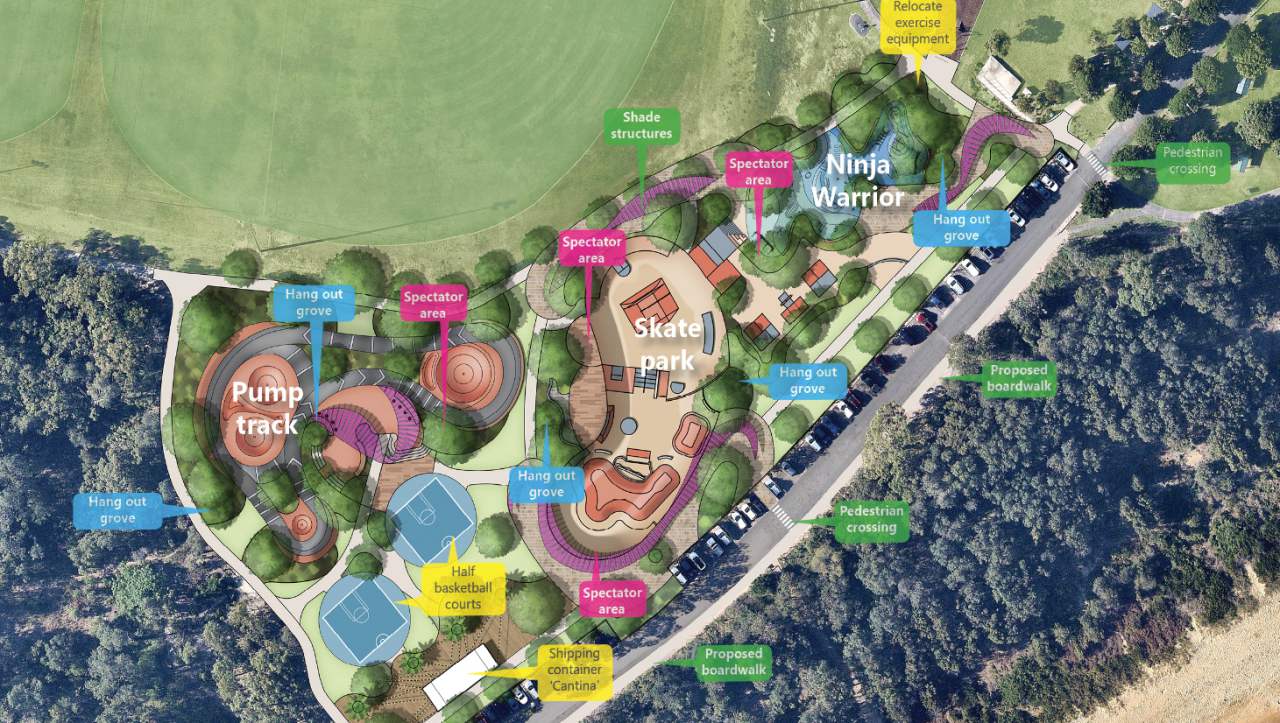 Concept two: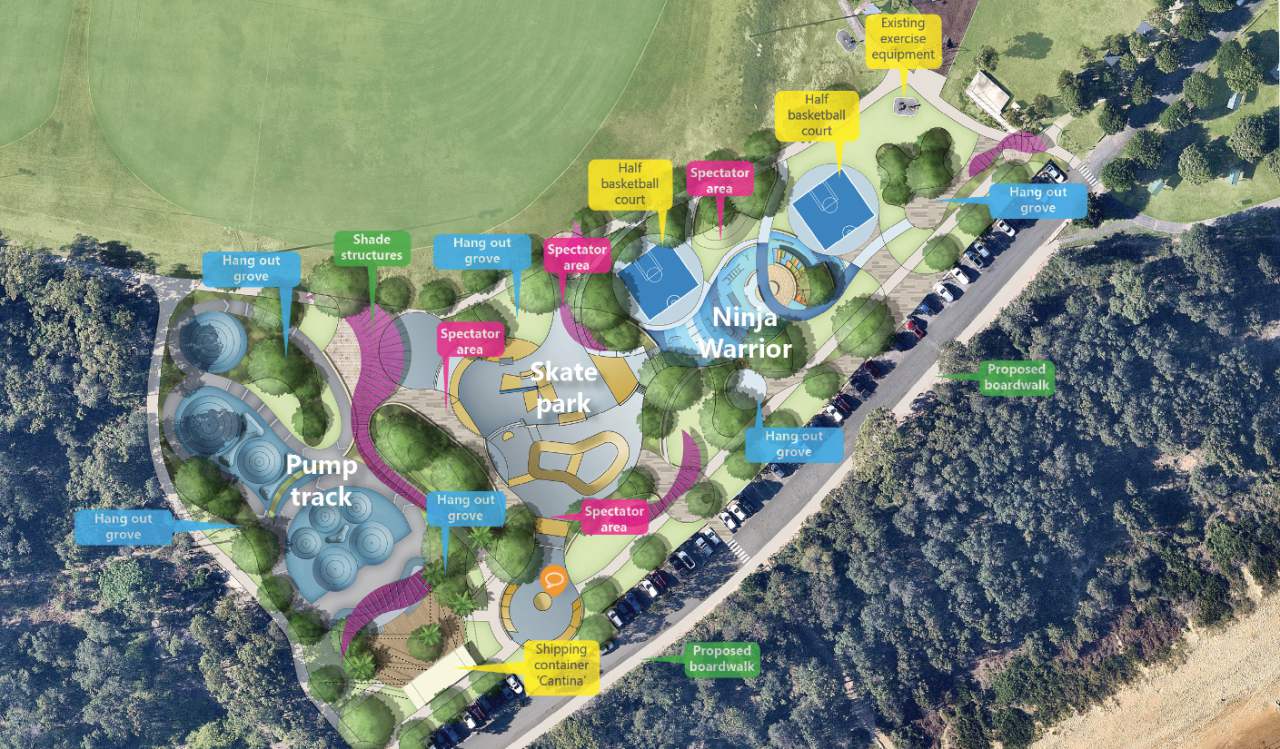 ---
We're a big fan of the Shipping Container "Cantina" idea and can't wait to see this project move ahead.
And while these developments will make the area even more of the drawcard for families, the great news is that the Peninsula Recreation Precinct is already a fabulous space. If you haven't visited already, read on to see what fantastic facilities are available and start planning a trip. Playing in Puddles has visited many times and we're big fans.
The tots' area includes a giant sandpit, which makes for soft landings and castle building. The rope net and sandstone blocks will attract littlies keen to perfect their balancing skills, while the cubby house and pirate ship (complete with shop window) invite hours of imaginative play. There's also a swing set, a rocking whale and a slippery dip – and it's all under the cover of multiple shadecloths and trees.
In mid-2020 soft-fall rubber replaced the sand under the pirate ship, cubby and swings (pictured below and above).
The older kids can take their pick from a number of play zones. One area has a basket swing, a wheel-chair-accessible spinning roundabout and swing set. Another features a ginormous scrambling net complete with nesting zones and a large slippery dip.
But wait, there's more. For adrenalin-seekers of all ages there's a bouldering wall, a skate park, a dirt-bike track and a paved scooter path with a bone-shattering bumpy section that kids will want to ride over again and again… and again.
And adults are catered for, too, with the adjacent Jasmine Greens Kiosk. There's a lean towards the healthy here, with many dishes being vegan and gluten-free (think vegan bean nachos with guacamole, activated umeboshi rice balls, and tempura-battered hoki with a radicchio and caper berry salad), but there's also banana bread, baklava, gelato and, of course, coffee. For kids there's grilled chicken and salad, toasted cheese sandwiches and, our favourite, slinky apples.
The park is opposite the patrolled Umina Beach, so don't forget to take your cossies.
---
♥ Have you told your friends about this place? They'll love you for sharing. Click on one of the social media icons below the map to share it with them. ↓
---
Peninsula Recreation Precinct
Ages: All ages.
Fenced: Yes.
Facilities: BBQ, covered picnic tables, bike/scooter path, toilets, water station.
Food: Jasmine Greens Kiosk is open daily from 7.30am-4pm (closed on New Year's Day, Good Friday, Easter Sunday, Christmas Day and Boxing Day.).
Parking: Beach car park plus plenty of street parking.
Location: The corner of Sydney Avenue and The Esplanade in Umina.
This park review – first published in 2018 – is regularly updated as equipment and facilities are modified. If you've visited this park and something has changed, please do let us know by emailing [email protected] 
---
---
♥ This place is too special to remain a secret. Let's share. ↓
Save
Save
Save
Save
Save
Save
Save
Save
Save
Save