The Entrance Foreshore is far more than a park: it's more like a mini carnival for kids. We can happily spend an entire day here flitting from one free play space to the next.
Vera's Water Garden
UPDATE: In May-June 2021, the fountain will be closed to get a brand new coat of paint and new soft-fall ground surface. It's due to re-open on June 18. We'll keep you posted. 
Vera's Water Garden is the real drawcard and we wish, wish, wish there were more public water fountains and pools such as this on the Central Coast. The colourful statues, spurting fountains and shin-deep water make it the perfect toddler pool and it's always packed with giggling cherubs on hot summer days.
The Entrance Foreshore's Playgrounds
Once the kids have cooled off they'll be eager to hit up the playground. There are two play areas along the waterfront. One is located between the water fountain and permanent carnival area (the one with the historic carousel) and includes a couple of climbing frames, round-a-bout and – what your toddler will really love – four in-ground mini trampolines.
The second play area is located on the other side of Memorial Park – next to The Entrance Visitor Centre. This playground isn't one we'd recommend on it's own as it's pretty basic and unshaded, but when tied in with the other activities, it adds to the day's adventure. It is fenced, so that's a bonus.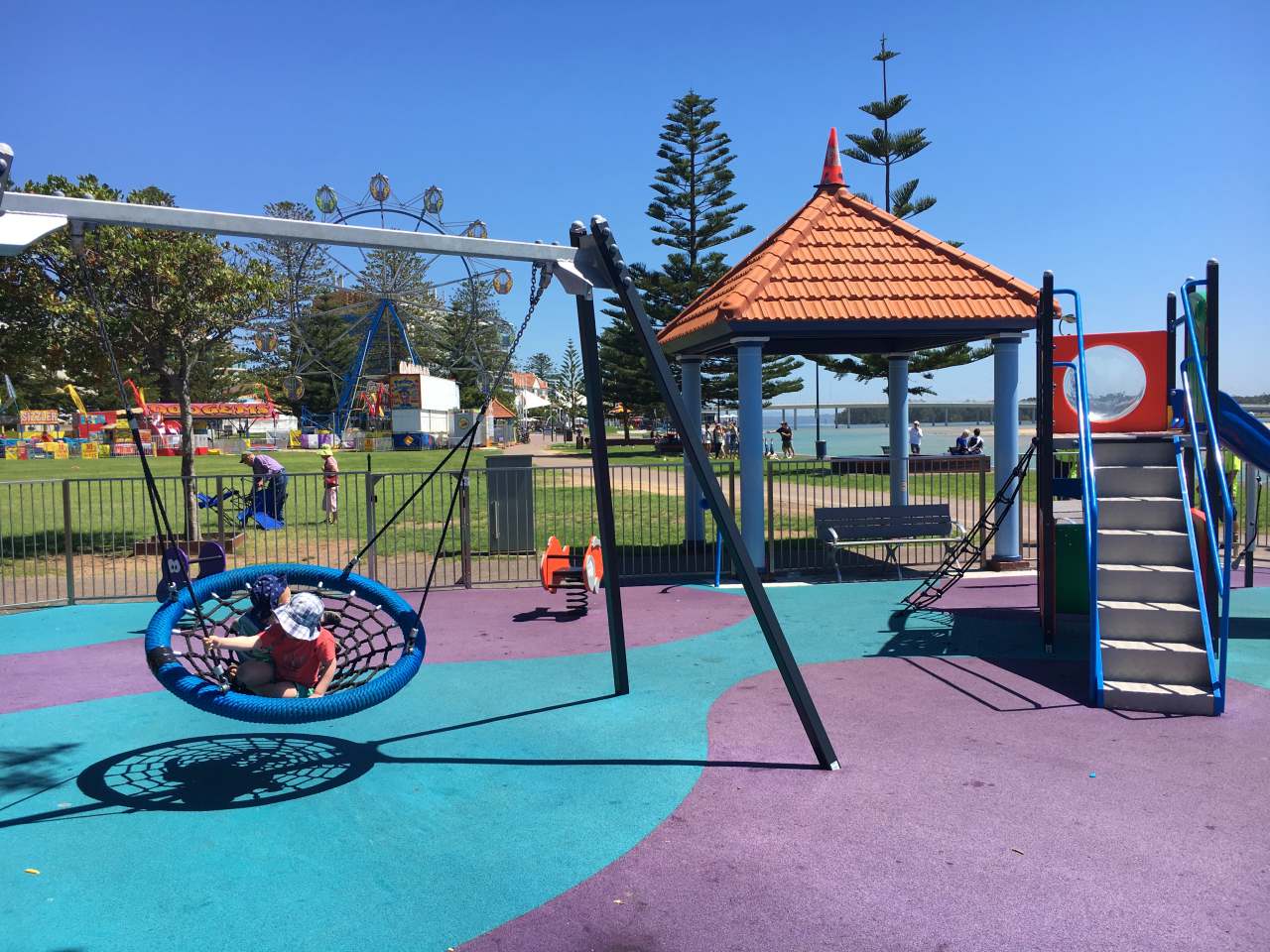 The Pelican Express
Thomas fans will get such joy in boarding the Pelican Express – a small blue train that laps the Entrance's foreshore on weekends. Jump aboard, sound a toot and wave at the passing crowd.
Cost: $4/ticket, or if the markets are on it's $3/ticket (as the ride's not as long).
Location: The Entrance Foreshore. Pick up is near Pelican Plaza (where the pelicans get fed).
The Entrance carousel + carnival rides
Of all the entertainment options on the Coast, few have seen more grins than The Entrance's carousel. Built in Germany in the late 1800s, the carousel has been a local lady of The Entrance since 1930. With fairy floss, laughing clowns and kewpie dolls on sticks, this is nostalgia at its best.
Cost: $3.50/ride or four rides for $10.
Open: weekends and school holidays (10am-3pm winter; 10am-10pm summer).
Location: The Entrance foreshore.
Pelican Feeding at The Entrance
UPDATE: The pelican feeding is closed due to COVID. 
To round out the day, head to Pelican Plaza for the pelican feeding. It happens daily at 3.30pm and is absolutely free.