It's school holidays and lockdown, so there's really never been a better time to gift the kids (and you) some special treats. A heap of our absolute favourite venues are offering takeaway and/or home delivery these school holidays, so you can enjoy a sugar high, spoil the kids and support local business these hols – even in lock down.
From Warnervale to Umina and everywhere in between, we've rounded up the best places to treat yourself on the Coast these holidays. We've taste-tested gelato. Scoured bakeries for the crispiest croissants. Eaten cupcakes for lunch. And even fallen into a chocolate coma after some particularly decadent fondue.
In true Coast style, there's something for everyone on this list, and new and exciting things are popping up all the time. Very soon, we'll even have not one but two late-night doughnut dessert bars in Terrigal and Wyong, thanks to the legends at Daily Dough Co. They want to keep the party going after dinner with Caramilk and Biscoff hot chocolates, brownie skillets and lava cakes. Stay tuned for more details.
But now, onto the desserts. Let the sweets begin…
Burnt Honey
When a bakery's hours are listed as "7am-2pm or until sold out", you know you're onto a good thing. Jo (Joanna) Fairalland Hayley Thorncraft's opening of Burnt Honey Bakery opposite Copacabana Beach made waves in this quiet sleepy corner of the Coast. Hayley's experience reads as a who's-who of the bakery world: she's floured benches at BlackStar Pastry in Sydney, at Honey & Co in London and at Dominique Ansel Bakery London, whose owner was named the World's Best Pastry Chef in 2017.
Hayley bakes everything on site. You'll find the likes of Greek almond shortbreads, almond croissants, cinnamon buns and Portuguese tarts flavoured with cassia bark and lemon zest. Hayley's danishes are topped with white peach custard, or asparagus, cheddar, and béchamel. Her doughnuts are flavoured with saffron and cardamon, or loaded with salted-caramel cream cheese. And the pies, just trust us and order a pie. The Boston baked beans and vintage cheddar is a long way from the traditional and quite possibly the best pie we've ever eaten.
Burnt Honey: Shop 1, 224 Del Monte Pl, Copacabana; https://www.burnthoneybakery.com.au
MacDaddy Cakes
Take your sweet tooth to the iconic Blue Bay Store building and find a treasure trove of colourful cupcakes that taste as good as they look. With flavours like raspberry cheesecake, apple cinnamon crumble and pina colada, it's hard to know what to choose. Best to go on an empty stomach and try them all. Oh, and they don't just serve desserts. If you're after breakfast, they whip up the classics like smashed avo and bacon and eggs, plus they have a burger menu and free babyccinos. Yes!
We recommend spending the morning feasting in their courtyard, then heading for a dip at Blue Bay or Toowoon Bay.
MacDaddy Cakes: 73 Bay Road, Blue Bay; https://www.macdaddycakes.com.au
Flour & Co.
Flour & Co. is a small, family-run bakery and coffee house known for their superb selection of raw treats. Our favourites include the raw Snickers slice, raw Bounty and the 'Not-tella' balls. If you can pull yourself away from the desserts, they also do classic meat pies, veggie pies, plus a salmon pastie they've perfected over three decades and sell once a year at Easter!
After you've stocked up on goodies, why not head to Swadling Reserve Park for a picnic and a play? It's just a two-minute drive away.
Flour & Co.: 88 Toowoon Bay Road, Toowoon Bay; https://www.facebook.com/flourandcobakery
Daily Dough Co
This business is what Instagram was made for. The pastel pink-panelled countertop is lined with fluffy, glazed doughnut rings of pure delight.
The OG&M is spread with original glaze and scattered with mini M&Ms, and you'd be forgiven for calling it the OMG! The crème brulee is filled with vanilla bean custard and topped with crunchy toffee. The cookies and cream looks like an Oreo (and tastes like an Oreo), but this bad boy is a soft, fluffy doughnut spread with white chocolate ganache, dipped in crushed Oreos and drizzled with white chocolate.
These doughnuts (which are all made by hand) are a must-try if you like your desserts super sweet and super pretty!
Daily Dough Co has two stores. One in the grounds of the Wyong Milk Factory (grab yourself a box then head to the Milk Factory's playground – it has picnic tables and play equipment for the kids to burn off their sugar rushes), and one in the heart of Terrigal, overlooking the beach. You can also order online for pickup at either store, or get them delivered straight to your door.
Daily Dough Co: Wyong Store – 141 Alison Rd, Wyong. Terrigal Store – 92 The Esplanade, Terrigal; https://www.dailydoughco.com
Green Tangerine
There are a bunch of great cafes in Long Jetty, but for us, Green Tangerine stands out because of its on-site bakery that uses traditional French baking methods. Go for the delicious croissants (seriously some of the best we've ever had) and stay for the vibe, the people watching and the very Instagrammable mural on their outside wall. Green Tangerine also brews Little Marionette coffee, which pairs perfectly with their cronuts and waffles, and brings a touch of inner-Sydney to the Jetty's vibrant cafe scene.
Hot tip: On your way out, grab yourself a loaf of freshly baked artisan sourdough – so delicious with soup for dinner!
Hot tip 2: The Long Jetty Foreshore reserve and playground is nearby, too.
Green Tangerine: 393 The Entrance Road, Long Jetty; https://www.facebook.com/greentangerinelongjetty
Ken's Humble Pie Shop
Ken truly is a master pie maker who honours his craft by using fresh ingredients, slow cooked or roasted meats, and flaky pastry that honestly melts in your mouth. Fan favourite flavours include the classic chicken curry, plus the beef, cheese and bacon.
While Coasties and tourists alike flock to The Entrance for his savoury pies, his desserts are on point too. The sweets menu includes profiteroles that are made fresh daily and filled with crunchy toffee, as well as large lamingtons, zesty lemon citron tarts and apricot pies topped with cream.
Ken keeps it simple with the classics but does them oh-so well.
Ken's Humble Pie Shop: 32 Coral Street, The Entrance; http://www.kenshumblepie.com.au
Max Brenner
If you're looking for a fondue fix, this is the place to go. Chocolate lovers can also sip on icy choctails and chow down on choc-nut fudge brownies and white chocolate crumb cheesecake. Max Brenner is also known for their 'suckao' – a dense, concentrated shot of pure rich hot chocolate, which they call the espresso of chocolate drinks. All we know is that you'd be wise to skip dinner and go straight to dessert if you're planning to pay this chocolate bar a visit.
If your kids are active, take your treats to one of the Westfield Tuggerah play areas.
Max Brenner: Tuggerah Westfield, 50 Wyong Road, Tuggerah; https://maxbrenner.com
Bar Botanica
Inside an old mud-brick hut in the middle of Distillery Botanica's lush gardens, you'll find the best gelato in New South Wales (according to Gourmet Traveller 2020). If you've never had a scoop of Mr Goaty Gelato, you need to make a beeline to their garden cafe and gelato bar, pronto! Owners Dan and Julia, who made the move from Sydney in 2016, say that Mr Goaty is now a proud Coastie product that's made with locally sourced ingredients. And because they have an incredible fragrant garden on hand at Distillery Botanica, many of the flowers, fruits and botanicals end up in their gelato.
As for flavours, the Belgian chocolate may just blow your mind (it did ours!) and you can't go wrong with their Sicilian pistachio, honeycomb & lavender, vanilla bean and selection of refreshing sorbets. Bar Botanica has different flavours every week, so be sure to stop by regularly to taste test them all.
Bar Botanica: 25 Portsmouth Rd, Erina; https://barbotanica.com.au
Milky Lane
A visit to this newcomer in Terrigal is an experience in excess. Known up and down the east coast for their burgers, Milky Lane are also pros at over-the-top desserts, drinks and cocktails. Slide into a retro diner booth and order up. You can't go past their Deep Fried Golden Gaytime, which is everyone's favourite ice cream coated in crushed biscuits and cornflakes, deep fried then drizzled with maple syrup and Nutella. Your teeth may hurt but you'll be distracted by the awesome hip-hop art that adorns the walls and the urban music you'll be tapping your foot to the whole time you're there.
Milky Lane: 78 Terrigal Esplanade, Terrigal; https://milkylane.co
Billabong Patisserie
Sometimes you just want a good-old traditional neenish tart or sausage roll, and if this is your craving you can't go past Billabong Patisserie at East Gosford. The building has been a bakery for some 50 years, and the current owner/pastry chef Adrian Warwick has been pre-heating the oven for the past 12. Many customers have been coming here for years – lining up at the counter to order baked custard tarts, Continental vanilla slices and mini passionfruit cheesecakes. Their quiches – Florentine, Lorraine, and sundried tomato and mushroom – fly off the shelves as does their lamb, rosemary and shiraz pie.
Billabong Patisserie: 79 Victoria St, East Gosford; (02) 4325 3521
Bouffant
Bouffant is co-owned by Andrew Mansfield and Markus Kunz, the same duo behind East Gosford's much-loved Oomph café. In March 2020 they opened their first bakery in East Gosford's main shopping precinct. It was called The Bakery, and it quickly gained popularity when people saw they could buy a pastry there for less than $2!
They do this by creating a croissant pastry that they then use to create multiple treats. They still use quality ingredients and each croissant is still rolled out by hand, but they've worked out how they can skip some of the more time-consuming tasks in order to create a beautiful product fast – and at a price point that ensures they can deliver their "fluffy goodness" to all.
The concept took off, and in July 2020 they adopted the name Bouffant and opened a second shop in Gosford. Located in a historic sandstone building on Mann Street, the shop's pastel pink-panelled countertop is lined with almond croissants, Portuguese tarts, salted caramel-filled doughnuts and white chocolate-and-raspberry muffins. Pastel pink colours everything – from the pendant lights and splashback tiles to the coffee cups and plant pots – and renders it a space that's Insta-worthy in every sense.
They've now opened their third shop – in Terrigal – conveniently located right behind the Crowne Plaza.
PLUS, their Gosford branch is located just a hop skip up the road from the new Gosford Waterfront park.
Bouffant: Gosford Store – 38 Mann Street, Gosford | East Gosford Store – 101A Victoria Street, East Gosford | Terrigal Store – 6 Pine Tree Lane, Terrigal; https://www.bouffant.com.au
Bremen's Patisserie
It was The Flaming Ron pie that got Bremen's on the Today show, but it's his cherry strudel that's made his business a local-household name. Originally from Bremen, Germany, pastry chef Ronald Bruns opened his Umina patisserie 30 years ago and he's been pulling the crowd with his European recipes since. The apple crumble, chocolate eclairs, bee stings and black forest cake come highly praised, as does the coffee, which is roasted on site.
Curious about what's so good (or hot!) about The Flaming Ron? Well, it includes Trinidad "Scorpion" Butch T peppers, Naga Viper chilis and habenero peppers, and is known as the "world's hottest pie". Unless you're game (and willing to sign a legal waiver) we recommend you opt for the korma curry chicken or beef burgundy pie instead.
Bremen's Patisserie: 302 West St, Umina Beach; https://www.bremenpatisserie.com.au/
Cakes By Kyla
That shop in Gosford that always has people queueing out the front of it? Yep, that's Cakes By Kyla. These cupcakes are so popular that they sell out FAST, which is super impressive as they bake 300-400 of these tasty treats a day. With over 90 flavours to choose from, including lemon meringue, Ferrero Rocher, Monte Carlo and Caramilk, cupcake connoisseurs will be in heaven trying them all.
Traditional flavours are available daily. Kyla also comes up with her own unique flavours, and Cakies (a.k.a. Kyla's fans) are encouraged to watch her socials to see when they'll appear in-store.
Cakes By Kyla: 5/2 Watt Street, Gosford; https://www.cakesbykyla.com.au
Loaded Dough
We are extremely excited by all the dessert places opening in Terrigal, and Loaded Dough brings their very own magic to the mix. Their claim to fame is the Central Coast's first New York-style cookies, which are over-sized and oh-so gooey. There's the classic choc chip, irresistible Biscoff and their top-seller, Caramilk, just to name a few. Loaded Dough also whip up decadent loaded scones, loaded brownies and loaded sundaes. Are you sensing a theme here? If that's not enough, they stock cupcakes by Cakes By Kyla too.
This little shop opposite Terrigal Beach is quite popular, so prepare to go early and to line up.
Want to check out what else there is to do in Terrigal? Check out our feature on this popular beach-side suburb here: Things to do in Terrigal beach.
Loaded Dough: 3-1a Campbell Crescent, Terrigal; https://www.facebook.com/loadeddough1
Ludo's Gourmet Patisserie
Ludo's cakes are well renowned. The delice gateaux, hummingbird cake and lemon tart are delicious, but it's the jaffa cake covered in chocolate ganache, mini meringues and toasted flaked almonds that we can't help but order again and again. Ludo's tarts all make a fine dessert, but which one to pick? The French apple is classic; the chocolate soufflé divine. Quiches and pies lead the savoury line. The quiches are packed with smoked salmon or roast vegetables, and the pies are rich with beef Bourguignon, chunky steak, and cheese and bacon.
Grab your treats to go and take them to the Heazlett playground at Avoca oval.
Ludo's Gourmet Patisserie: 8 Cape Three Points Rd, Avoca Beach; https://www.ludos.com.au
San Churro
Tucked into a cosy corner of The Hive (Erina Fair's entertainment precinct), San Churro is a cosy little spot to treat yourself at after shopping. Their signature churros are made fresh to order using a vegan-friendly recipe, and there are nine different dip cup flavours to choose from (think dark chocolate, white chocolate, milk chocolate, Spanish caramel etc). They also do excellent hot chocolates (we recommend the Thick Spanish), plus a variety of tapas, toasties and pitas if savouries are more your jam.
San Churro: The Hive, Erina Fair Shopping Centre, Terrigal Drive, Erina; https://www.sanchurro.com
Sasa Sicilian Street Food
After working in bakeries in Sicily and Tuscany, wife-and-husband duo Orly and Daniele Del Castillo opened Sasa in Ettalong. Their Danish pastries are topped with nectarines and pistachio crumbs, their focaccia with olives and oregano, their sourdough pizze with pancetta and provolone cheese. Don't leave without a three-pack of cannoli to go. The ricotta cream flavours change daily and could be marsala and fig one day and espresso the next, and because they only pipe the cannoli to order, the shells are always deliciously crisp.
We recommend you grab your snacks to go and head for the Ettalong foreshore – there's a fabulous playground with ocean views.
Sasa Sicilian Street Food: 81/189 Ocean View Rd, Ettalong Beach; https://www.facebook.com/sasastreetfood/
Sundae Sesh
Next time you're on the Peninsula and have a hankering for ice cream, head to Sundae Sesh in Umina. It's a cute and colourful ice creamery that's a winner with kids and big kids alike. Go the toasted marshmallow in a waffle cone for a simple treat, or if you're after the ultimate indulgence, you might like to order a unicorn bowl (ice cream, lollies and a cone on top) or one of their signature sundaes. These include the Cereal Killer (smashed warm Pop Tarts, fruit loops, double cream and vanilla bean ice cream) and the Hey Shorty (smashed shortbread, vanilla milkshake ice cream, fresh strawberries and jam, Nutella and cream).
They have specials sundaes every Sunday too, so keep an eye on their Instagram to see what moreish creation will sweeten up your weekend.
This fantastic ice-creamery is located opposite Sounds on West: one of our favourite restaurants on the Coast, and another place you should add to your to-do list!
Sundae Sesh: 258 West Street, Umina Beach; https://www.instagram.com/sundaesesh
The Bon Pavilion
We were stoked when The Bon Pavilion opened its doors in Gosford in 2019 and even more so when we became acquainted with their Dropped Softie. Inspired by childhood memories, this dessert looks exactly how it sounds – a much-wanted ice cream that's been dropped after a few licks. Hey, we've all been there. Oh, and there are options! Dropped Softie flavours are based on classic biscuits and cakes like Wagon Wheel, Iced Vovo and Mint Slice. Mmm! Make sure you leave room after dinner for this one.
The Bon Pavilion: 159 Mann Street, Gosford; https://www.thebonpavilion.com.au
The Marshmallow Co.
If you're a Coastie and haven't discovered this place yet, you're in for a treat. The Marshmallow Co. in Wyong is located at the back of The Chapman Building across from Glee Coffee Roasters and Scout and Trader.
They sell giant cloud-like marshmallows, as well as other desserts and milkshakes to indulge in. The housemade brownie loaded with ice cream and drizzled in milk chocolate is especially noteworthy, and can be topped with whipped cream and a cherry for the ultimate dessert experience. Is your mouth watering yet?
The Frank Ballance Memorial playground is just around the corner, too.
The Marshmallow Co: Shop 10/14-16 Alison Road, Wyong; https://themarshmallow.co
Warnies Cafe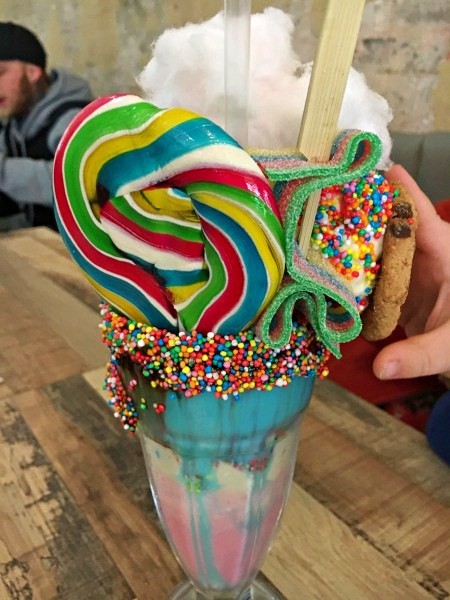 Warnies is famous in the north of the Coast, and well worth the trip if you're in the south. Why? Two words: crazy shakes. Their most popular is the Candyland, which is a strawberry milkshake topped with a giant swirl lollipop, bubblegum ice cream, sour strap, candy bracelet, cream, sprinkles, and don't forget the fairyfloss. If that's not epic enough, there are five other crazy shakes on the menu to delight the kids, yourself and your Instagram followers (these bad boys are seriously photogenic). Luckily, Warnies has a fab outdoor space and play equipment where little ones can run, climb and shake off their sugar highs.
We have a full review of Warnies Cafe as well as the Warnervale Station playground that you'll find opposite.
Warnies Cafe: 1/13 Warnervale Rd, Warnervale; https://www.warniescafe.com.au
Yogurberry
Frozen yoghurt enthusiasts, rejoice! There is still fro-yo on the Coast (after Yogurtland closed its doors nationwide this year). Located opposite the playground at The Entrance Foreshore, Yogurberry is an excellent place to take the kids after a big play sesh. Creating your own dessert here is a lot of fun, and an awesome way to try different flavour combinations. Mix and match strawberry, taro and chocolate brownie if you like! Or maybe you prefer passionfruit, mango and a dash of coconut? Then add your toppings – they have everything from fresh fruit to fruit loops.
More is definitely more at Yogurberry so keep in mind that when you get to the register, your icy cold masterpiece will be weighed and its cost will be calculated accordingly.
Yogurberry: Shop 97, The Entrance Road, The Entrance; https://www.yogurberry.com.au
---
This feature has been written by Playing in Puddles' team of writers, including Louise Meers, Alison McCann and Katie Stokes. Some entries included here were written by Playing in Puddles' editor Katie Stokes and first appeared in COAST magazine's Autumn 2020 issue.