Looking for a Central Coast Santa Photographer? You've come to the right place.
Santa photos are a wonderful annual tradition, and while 2020 will of course be a little different, the Central Coast's many talented photographers have come up with creative and beautiful ways to bring this tradition to you. This year, you'll find a sack full of options for where to get your santa photos and festive family snaps!
You can visit Santa on the beach where he'll happily race you on the sand or in the garden where he'll challenge you to a candy cane sword fight. Or, you can opt to forgo Santa – and the risk of tears – and instead have your snaps taken at a Christmas tree farm, or in a studio hung with mistletoe, or surrounded by baubles in the bush. These sets are so beautiful you'll likely want them to become your annual norm, rather than the exception.
The trickiest part is deciding which one to to…
---
Soul Story Photography Christmas Minis
Does a cosy fireplace, flickering candles and sparkling Christmas trees sound like your idea of Christmas Heaven? If so, then this gorgeous backdrop at the Soul Story Photography pop-up studio at The Foundry Cowork in Erina will make the perfect setting for your family's Christmas snaps this year!
Love the idea of an Aussie beach setting? Soul Story Photography's on-sand sessions have been so popular that they sold out their first dates and are now thinking they'll add some additional times. If you're interested in a gorgeous Summer beach snap, email Renee and let her know – if she has enough interest, she'll organise a date for another shoot!
Renee's Christmas Mini Sessions are all booked in advance so there'll be no waiting around in queues. Plus, to make sure that Central Coast families don't miss out, she'll be running sessions every Saturday between 7 November and 19 December!
Who: Soul Story Photography
Price: Sessions $150 for 15 minutes. Sessions include five high-resolution images that will be emailed to you one week after the shoot. Mini sessions are for up to 4 children.
When: Saturday 7, 14, 24, and 28 November and Saturday 5, 12 & 19 December. Opening times 9am – 5pm.
Location: The Foundry Cowork, Erina OR an on-location beach shot.
Contact: Call Renee on 0474 216 647 or email her on renee@soulstoryphotography.com.au.
---
Scene to Believe Santa at Lake Haven Centre

The magical Scene to Believe will be back taking your festive family snaps at Lake Haven Centre this November and they'll be operating all the way up to Christmas Eve so you've still got heaps of time!
Sensitive Santa sessions are available for little ones with unique needs or abilities. PLUS, families with furry friends who don't want to miss out can also book a special pet friendly session!
Look out for Virtual Santa!

ADDED BONUS: Keep your eye out for the special QR codes at Lake Haven Centre when you're next doing your shopping and have a go at taking your selfie with the very cool 'Virtual Santa'! For more information, visit the Lake Haven Centre website. We have a feeling the little ones are going to love this one!
---
Who: Scene to Believe at Lake Haven Centre
Price: Packages start at $23.95 + small booking fee.
When: Santa photo sessions are daily from 21 November 2020 – 24 December 2020. For sensitive Santa and pet photo times, visit here.
Location: Lake Haven Centre.
Contact: Lake Haven Centre 4392 7800.
---
Storyteller Photography Christmas Minis among the pines
Set in the Pines Picnic Area of Olney State Forest, these gorgeous 15-minute Christmas mini sessions by Storyteller Photography are ready to be snapped for the family photo album!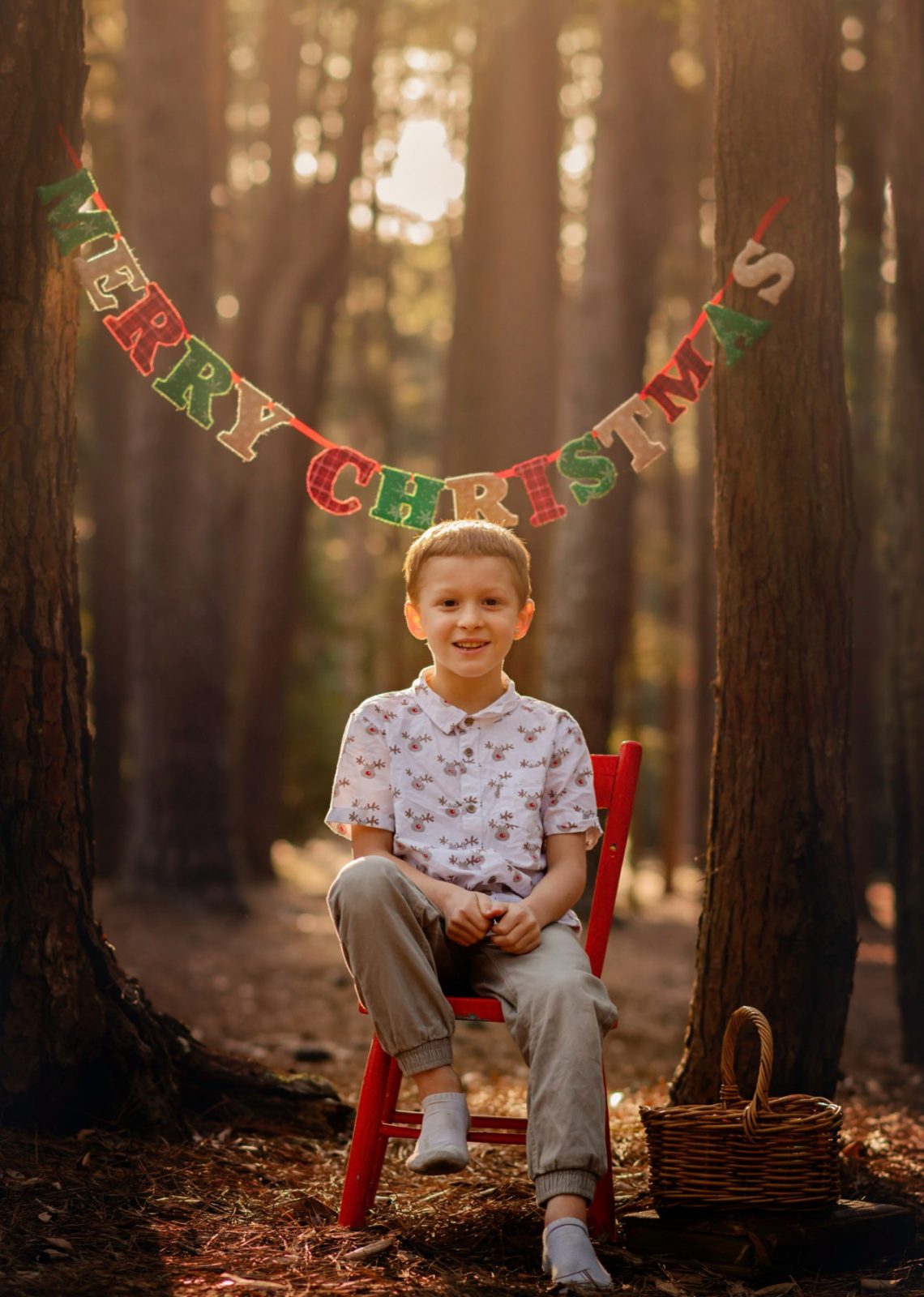 Little ones will love exploring the natural beauty of this spectacular outdoor location, while you'll get some magical pics of your cutest family members that will provide precious memories for years to come.
Who: Storyteller Photography
Price: Sessions $175 for 15 minutes. Sessions include five high-resolution digitally downloadable images. Prints can be ordered through the Storyteller Photography website, plus additional digital images can also be purchased. A $50 deposit is required at time of booking.
When: Saturday 7 and Saturday 21 November.
Location: The Pines Picnic Area, Olney State Forest.
Contact: Call Stephanie on 0407 466 443 or email her on storyteller.photography@outlook.com
---
Whiteman Photography Santa Photos and Festive Sessions
Santa photos have never been so much fun as you'll soon realise when you meet Santa Trevor during one of Whiteman Photography's 30 minute outdoor portrait sessions! Kids will have an absolute blast sword fighting with candy canes, dancing, and racing Santa on the beach – heck he'll even do the DAB!
The outdoor setting will give families the opportunity to have both beach photos and forest photos taken in the same session, giving you the option to choose your favourites for your Christmas cards this year.

They do festive studio sessions too
As well as the outdoor sessions, they'll also be running home studio mini sessions with two different sets to choose from!
This year, families can choose to have their pics taken in either a beautiful 'White Christmas' themed setting or in a cosy North Pole log cabin setting – or you're welcome to do both! Santa Trevor will also be at some of these sessions, with others being held solely for families.
Who: Whiteman Photography
Price: Studio sessions $60 for 10 minutes (price remains the same with or without Santa). These sessions include two high resolution digitally downloadable images , plus families can purchase extra images from the session if they choose. The 30 minute outdoor portrait sessions with Santa are $160. All of the photos from the gallery are included in the 30-minute session price.
When: Studio sessions with Santa: 7 & 14 November and 5 December | Studio sessions without Santa: 8, 15 & 22 November and 6 December| Outdoor 30 minute Santa sessions: 21 November and 12 December.
Location: Charmhaven
Contact: Call Scott and Jeni on 0466 496 767, email centralcoastsanta@hotmail.com or visit their Facebook page.
---
Natural Lights Photography festive photos in the bush
Nestled in the heart of Catherine Hill Bay on the North Central Coast is this gorgeous 'Winter Wonderland' style location – the perfect setting for this year's Christmas photos! For families wanting to venture the great outdoors for their annual festive snaps, Natural Lights Photography offer you the chance to capture real and honest moments amongst the magic of a backdrop, peppered with glitter and baubles!
For the perfect Christmas card photo, simply dig out your favourite red Christmas party dress, angel wings or twinkling Rudolph nose and head to Catherine Hill Bay where you'll find an enchanting scene just waiting to be explored.
Who: Natural Lights Photography
Cost: $249 for a 30 minute on location photoshoot. The package includes 7 digitally downloadable images, 3 matted gift images 5×7, all within a password protected gallery.
When: Available dates are 31 October, 1, 14, 15, 22, 23, 28, 29 November and 12 & 14 December.
Location: Catherine Hill Bay, Central Coast.
Contact: Ellen on 0429 997 864 or Danielle on 0410 117 328, email admin@nlphotography.com.au.
---
Mala Moon Photography Festive Mini Sessions

We know how difficult it is to get all kids facing the camera at the same time in the quest for that perfect family snap! That's why we love these Christmas mini sessions by Suzana at Mala Moon Photography. Suz invites families to avoid the stress of 'posing' for photos with their little ones this year and to simply head to a beautifully relaxed Central Coast location where she'll capture their most natural moments in a warm, cosy setting with touches of Christmas.

Get bang for your buck
What we also love about these sessions is that families are also given the opportunity to get some updated family snaps in addition to capturing their festive photos. This means you'll be paying just one price for your festive snaps AND your annual family photos in the one sitting!
These photos make beautiful gifts for friends and family, and they always book out, so get in quick so you don't miss out.
Who: Mala Moon Photography
Price: Sessions $190 for 20 minutes and can include up to five people (fur babies are also welcome!) These sessions include seven high-resolution digitally downloadable images. All the best photos will be uploaded to a private online gallery where you can choose your favourite seven and purchase more if they're all just too good!
When: Late afternoon and sunset sessions will be held in November.
Location: Long Jetty.
Contact: Call Suz on 0423 984 963 or email suz@malamoonphoto.com.au to enquire on available times.
---
Jessie Walker Photography – Christmas Mini Sessions
We always get exceptionally excited at this time of year, but what's even more exciting than Christmas itself is that Jessie Walker Photography will be running two Christmas Minis this year with two completely different settings!
Families wanting a rustic backdrop to their festive snaps can head to Wyong where they'll find a sea of Christmas trees just waiting for exploration. With such gorgeous surrounds, these mini sessions are guaranteed to yield photos that will take pride of place all year round.
Wanting a more traditional feel to your family Christmas photos? Perhaps something cosy and festive to print on this year's Christmas cards? Head to Jessie's gorgeous studio: a stunning grotto of twinkling stars and mistletoe that's just waiting for your beautiful family to bring its full magic to life.
Studio Sessions
Who: Jessie Walker Photography
Price: $150 for 10 high-resolution digital images.
When: 20 & 21 November and 5 & 6 December 2020. Times range from 9am – 4pm (1/2 hour sessions).
Location: Hamlyn Terrace.
Contact: Jessie Walker, 0434 011 225, contact@jessiewalkerphotography.com
UPDATE – October: The studio sessions are now sold out.
Tree Farm Sessions
Who: Jessie Walker Photography
Price: $100 for 5 high-resolution digital images.
When: 7, 8, 14, 15, 28 and 29 November 2020. Times range from 4.20pm-7pm (15-min sessions).
Location: Wyong Christian School.
Contact: Jessie Walker, 0434 011 225, contact@jessiewalkerphotography.com
UPDATE – October: The Tree Farm sessions are now sold out.
---
Local Favourites Not Going Ahead This Year
Santa on the Sand

Given the difficulty with restrictions, Santa on the Sand at Terrigal has made the difficult decision not to go ahead this year. With 50% of payments being is donated to St Vinnies to help local families in crisis, this really is a wonderful cause and we hope to see them again in 2021!
Stay up to date with their 2021 plans by visiting their Facebook page.
---
Santa on the Central Coast

Santa on the Central Coast has been taking gorgeous Santa snaps for many years and they've long been popular for their beach, bush and garden settings. Sadly Simone and Mel have made the difficult decision to not do Santa photos this year. Should the situation change between now and December, they will be posting updates to their Facebook page. Otherwise, they look forward to seeing you all in 2021!
---
Brilliant Santa on the Beach

For all of those people enquiring, the very special team behind Brilliant Santa on the Beach have let us know that they sadly won't be taking photos in 2020. Perhaps next year they'll return. We will be sure to let everyone know if they do. These guys donate all proceeds from the photoshoots to Aspect Central Coast School, so they're pretty spesh.
---
Don't let your friends miss out! Click below to share these gorgeous Christmas photo sessions with them.