Mince pies are in the supermarket, Christmas decorations are adorning shopfronts and Saint Nick is hanging in shopping centres across the Central Coast.
There are so many fantastic Christmas events to partake in this silly season – from Santa meets to carol evenings. If you love the merriment of the silly season, Playing in Puddles has you covered with all the festivities.
---
EV Carols, Erina
Everyone is invited to attend the EV Carols and carnival on Saturday 7 December. There will be jumping castles, face painting, plus challenges and games for the kids. Bring a picnic dinner or buy a sausage sanga and ice-cream from the food stalls. There will be two sessions of carols: the first at 4pm (perfect for little ones who tire early) and the second at 7.30pm. The carols will be held inside their tiered theatre, so they'll be able to go ahead no matter the weather. There won't be candles, but there will most certainly be glow sticks.
When: Saturday 7 December 2019. Carols start at 4pm and again at 7:30pm | Carnival from 5:30pm.
Location: EV Church, Erina, 331 Terrigal Drive, Erina.
More info: Click here.
Price: Free.
---
The Christmas Lights Spectacular, Hunter Valley Gardens
We know these lights aren't on the Central Coast, but they're close enough (and spectacular enough) to warrant inclusion in this list. The Hunter Valley Gardens' Christmas Lights Spectacular is the BIGGEST Christmas lights display in the southern hemisphere – how lucky are we that it's just a hop, skip from our doors!
There are Cinderella castles, Ice Age squirrels, giant teddy bears and scooter-riding penguins. Their Candyland is scattered with liquorice allsorts, jellybeans, gingerbread men and lollypops, while their Fairyland is home to Tinkerbell, My Little Ponies and a giant rocking horse. A pirate ship sails the lake and dinosaurs roam the hill. There's a nativity scene that tells the story of Christmas and a "12 Days of Christmas" area that encourages you to get your carol on.
NEW this year is a white Christmas scene complete with snow cave and snowflake-topped trees, a heart tunnel and a "Lovers' Corner" complete with mistletoe.
A visit to The Christmas Lights Spectacular is an annual tradition for our Playing in Puddles family. We absolutely love the beauty and magic of this event. We visited on opening weekend; click here to read our review of their 2019-2020 lights.
When: 8 November 2019 until 26 January 2020 (closed 25 December 2019). Gardens open daily 9am-4pm; lights open 5.30pm-9.45pm.
Location: The Hunter Valley Gardens, 2090 Broke Road, Pokolbin.
Tickets and more info: Click here.
Price: Adult $30; Child (4-15 yrs) $25; Child Under 4 Free; Family Pass (2 Adults + 1 Child) $79; Family Pass (2 Adults + 2 Children) $99; Extra Child on Family Pass $22. There are discounts for groups and other pricing options. Click below for more details.
---
A Luminous Christmas, The Entrance
A visit to The Entrance is a must this December with Central Coast Council installing some very special Christmas lights. Animated Christmas tales are being projected onto large overhead panels that you can walk under as part of a 30-day LED light show. In addition to the lights, schools and bands from around the Coast will perform on various nights throughout December.
Brought to you by the Central Coast Council.
When: A Luminous Christmas: Saturday 30 November 2019 until Monday 30 December 2019 (lights are on from 8pm-10pm each evening).
Location: Waterfront Plaza, The Entrance.
More info: Click here.
Price: Free.
---
Road to Bethlehem
We are super excited to share that the Road to Bethlehem is back after a two year break.
The Road to Bethlehem pageant is a drama tour portraying the story of the first Christmas. You'll see winged angels, the Three Wise Men bearing gifts, and Mary, Joseph and baby Jesus in the stable. It's a really special way to share the true meaning of Christmas with your kids, and to remind us all why we celebrate this day.
The tour starts inside the Jerusalem Market – where you'll find market stalls, live entertainment, a petting zoo, kids crafts (wood work and clay), face painting and more – all for free! The pop-up cafe will be selling felafels, curry, gozleme, salads, pancakes, donuts and more and there will be camel rides for $9. You can come for the tour, you can come for the markets, or you can come for both. It's a gold coin donation for everything.
The drama tour is free, but group sizes are limited to 80 people and a ticket is required. For each session, 40 tickets are available online and 40 at the event. To ensure you get your preferred time, it's best to pre-book them now online (UPDATE: a heap of the online time slots have already sold out, so get in quick).
When: Sunday 15, Monday 16 and Tuesday 17 December 2019. The gates open at 6.15pm and closes at 10pm; food finishes at 8.30pm. Drama tours commence every 10 minutes, 6.20pm-9pm. Each tour runs for approx 45 mins.
AUSLAN SESSION: There will be an Auslan interpretation of the Road to Bethlehem drama at 7pm on Sunday 15th December.
Location: Central Coast Adventist School, Karalta Lane, Erina.
Book tickets here: Click here.
More details: https://www.facebook.com/RoadToBethlehemCentralCoast/
Price: Entry and tour by gold coin donation.
---
Central Coast Carols, Gosford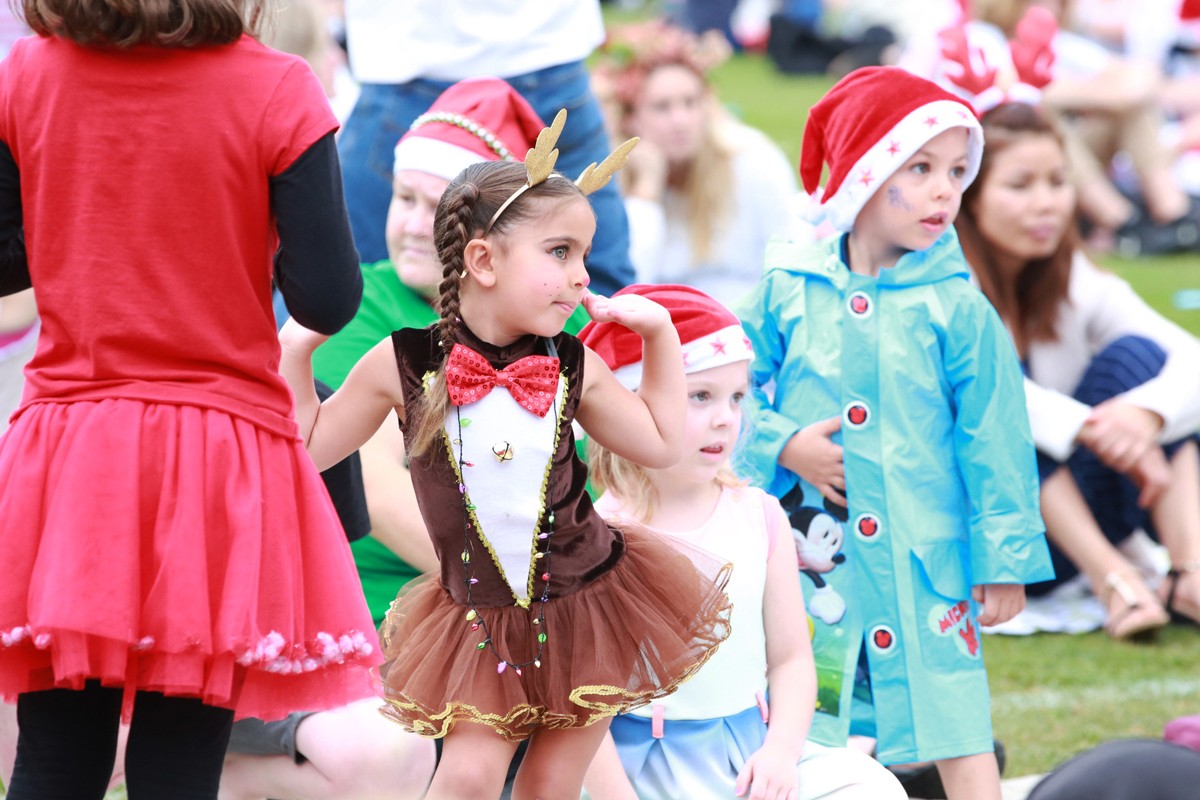 Former yellow Wiggle Sam Moran and six-time Aria award-winner Wendy Matthews head-lined last year's carols, and this year's Central Coast Carols evening is sure to be another stellar night of fun. Hosted by Star 104.5 radio presenters Rabbit and Julie Goodwin, all proceeds from these carols are donated to Cancer Council NSW Central Coast. Santa will be popping in to wish everyone a merry Christmas and The Jitterbugs and Nikki Webster will be there to entertain the kids.
UPDATE: Due to the fire ban and events occurring in our region there will be no fireworks this year.
When: Friday 20 December 2019, 5pm-9pm (gates open at 4pm).
Location: Central Coast Stadium, Gosford.
More info and tickets: www.centralcoastcarols.com.au
Price: Adult $10; youth $5 (5-17 years). All proceeds donated to Cancer Council NSW – Central Coast.
---
---
Christmas Under the Stars, Mingara
2019 winner of "The Voice" Diana Rouvas, former Hi-5 singer Nathan Foley and country singer Gina Jeffreys will be taking to the stage of the Coast's most popular carols this year. Mingara's Christmas Under the Stars regularly draws more than 15,000 people, and we have no doubt it'll attract a merry crowd again. A "Sesame Street" show and a visit from Saint Nick will keep kids well amused. You're welcome to BYO picnic or grab dinner from one of the many food trucks serving churros, gozleme, dumplings and crepes.
UPDATE: Due to the fire ban and events occurring in our region there will be no fireworks this year.
When: Sunday 22 December 2019, 5.30pm-9.30pm (gates open 4.30pm; fireworks 9.15pm).
Location: Mingara Regional Athletics Centre, Mingara Drive, Tumbi Umbi.
Tickets and more info: Tickets go on sale Monday 2 December. Tickets available here: www.mingara.com.au.  If there are tickets remaining they will be available at the gate on the night
Price: Adults $5, children 12 years and under are free (Child tickets are required and can be collected with adult purchase). Funds raised will go to the Salvation Army Oasis Youth Centre at Books In Homes.
---
Carols in the Park, The Entrance
Grab a rug and join family and friends for an evening of Christmas carols, entertainment, stalls and a fun Christmas-themed photo booth. There will be much carol singing plus a visit from Saint Nick and fireworks to close. Don't forget to drop by Waterfront Plaza to view A Luminous Christmas (the LED display switches on at 8pm – see our write-up above for more details).
Brought to you by the Central Coast Council.
When: Tuesday 24 December 2019, 6pm-9pm.
Location: Memorial Park, The Entrance.
More info: Click here.
Price: Free.
---
Late to the party? Bookmark these Christmas Events for next year…
Lighting of the Christmas Tree, Toukley
Get to Toukley for the annual Christmas celebrations on the Village Green! There will be live entertainment, free children's craft activities, food stalls and a visit from Santa. The sky will come alight when the Green's large Christmas tree is switched on.
Please visit Council's website for details on road closures, parking and public transport.
Presented by the Central Coast Council.
When: Friday 29 November 2019, 5pm-9pm.
Location: The Village Green, 11 Yaralla Rd, Toukley.
More info: Click here.
Price: Free.
---
Santa's arrival and Santa Parade, Westfield Tuggerah
Santa has been busy these past ten months erecting dolls houses and creating trucks, and now he's coming to Westfield Tuggerah to meet with your little ones. Be there to greet him at his special arrival parade.
Santa's ditched the sleigh for a board and is catching his first wave from the North Pole to the Central Coast on Saturday 9th November. He'll then be hitching a ride in an open-topped VW Kombi Van to Westfield Tuggerah where he'll be kicking off their annual Christmas Parade.
When: Saturday 9th November. Santa's arrival at Shelly Beach 9.45am | Santa's arrival at Westfield Tuggerah 10.30am.
Location: Santa will arrive at Westfield Tuggerah's Woolworths entrance at 10.30am to join in the parade. The parade will end at Santa's throne where he will be taking Santa photos.
More info: Click here.
Price: Free.
Christmas in Kibble Park, Gosford
UPDATE 21 November 9am | The Lighting of the Christmas Tree in Kibble Park, Gosford has sadly had to be cancelled. 🎄
Central Coast Council​ informed us this morning with the below message:
"Central Coast Council has cancelled the Christmas in Kibble Park event scheduled for this Saturday, 23 November 2019 due the current air quality conditions. Under the EPA ratings Central Coast air quality has sat between Very Poor and Hazardous this week due to smoke from bush fires west of the Central Coast and conditions are expected to stay at these levels well into next week. Council has a responsibility to help keep the community as safe as possible and under EPA guidelines we are advised to cut back or cancel outdoor activities to reduce potential impact to health. Council has made the decision to cancel Christmas in Kibble Park now to provide adequate notice for potential event attendees to change their plans and not venture out in the conditions. Council apologises for any inconvenience caused by these necessary changes."
The tree will still be up: The beautiful 9m high Christmas Tree will still be installed in Kibble Park on Friday 22 November, and each evening throughout December you'll be able to see its twinkling lights.
---
The Christmas Fair, Mount Penang Gardens
With more than 150 high-quality stalls selling everything from Christmas puds and gingerbread houses to Ts from local fashion house Drom and handmade dolls from the crew at Mop and Dolly , the annual Christmas Fair is the place to be for festive shoppers.
There's plenty for those simply looking for a day of outdoor fun too. The free kids area will excite with its face painting, Christmas-ornament and gingerbread making and mini jeep rides. Let Santa and the Switcharoo Circus crew take over the entertaining for a while as you enjoy lunch – think smoky BBQ kransky, Umina's Sounds on West shredded barbecued brisket and Diego's Donuts loaded with Oreo cookies and fudge sauce. And because it's Christmas you can enjoy a drop from the locals too – Six String beer and wine will be available from the licensed bar.
Want more? There will be vintage cars on display, a huge amusement ride zone, Little Kickers Interactive Football games, kids book readings, plus a live stage of revolving acts. It's guaranteed fun.
When: Sunday 1 December 2019, 9am-2pm.
Location: Mount Penang Gardens, Kangoo Rd, Somersby.
More info: Click here
Price: Gold coin entry.
Add a Christmas Event
Are you hosting a family-friendly Christmas event? You're very welcome to add it to the Playing in Puddles Events Calendar.
---
♥ Share this feature with your friends and invite them to join you in celebrating Christmas together. ↓