If you're looking for a truly special way to celebrate Christmas, we can't think of a more beautiful event than Hunter Valley Gardens' Christmas Lights Spectacular. A visit to The Christmas Lights Spectacular is an annual tradition for our Playing in Puddles family and every year it brings us an absolute tonne of joy.
The Christmas Lights Spectacular at the Hunter Valley Gardens has long held the gong for being the largest Christmas light display in the southern hemisphere! But this year they've somehow gone bigger and better again and added an incredible 1 million more lights! This means the total number of lights now on display is 4 million! Yep, you read that right! 4 million!
But it's not so much the number of lights on display that makes this event so special, but the quality, beauty and elegance of them. A walk through the Christmas lights Spectacular is like a walk through a Hollywood film Christmas set – it's whimsical, magical, and oh so graceful and refined. This is no cheap 'n' cheerful Christmas tack – no no, far from it. These sculptural lights are stunning and have been made to last and to impress in a way that brings goosebumps to the arms and "wows" to little mouths.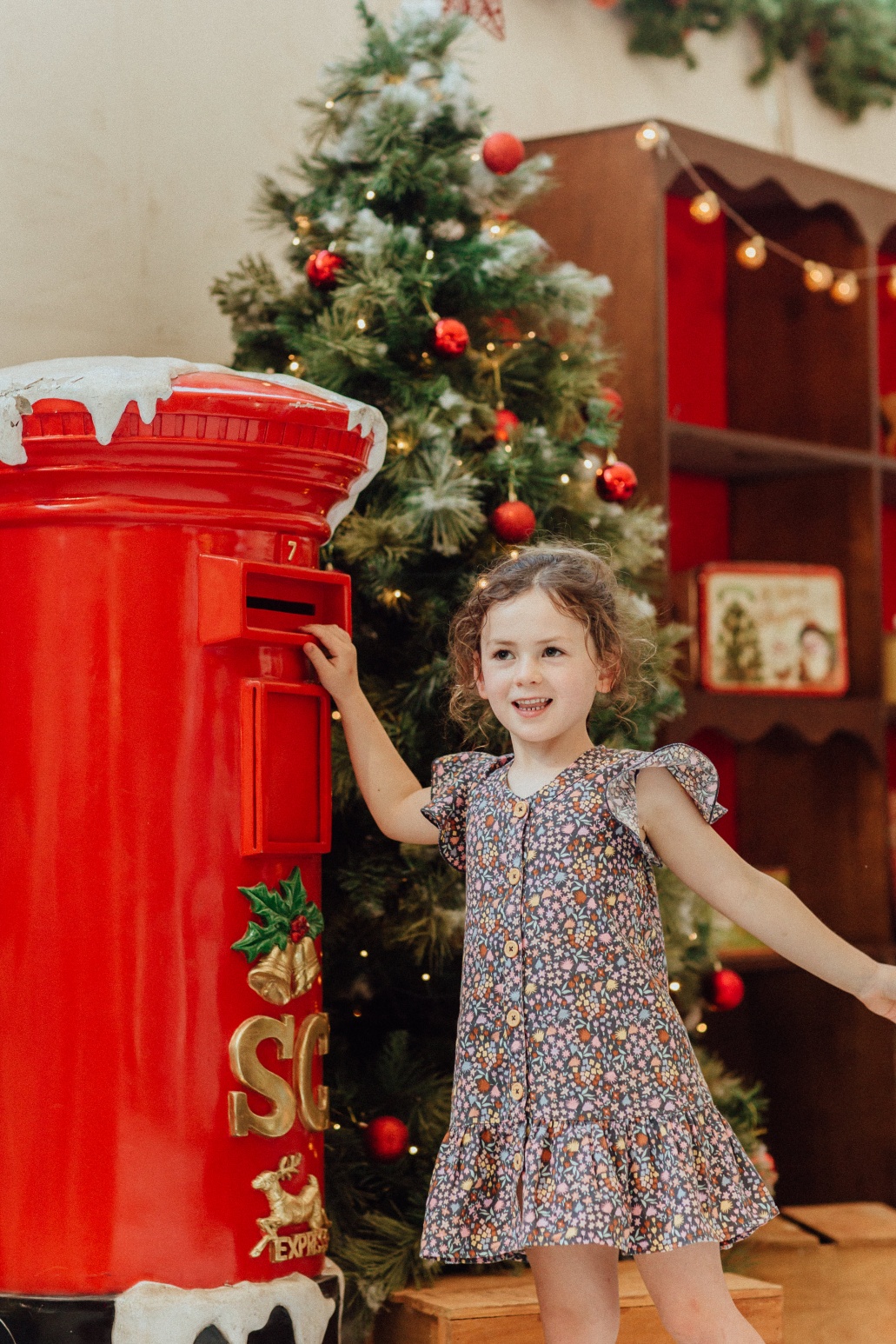 This year they've added an additional 1 million lights by way of 100 new sculptural lights! New sculptures include 1.8-metre-tall dandelions, 3-metre-tall butterflies, Mr & Mrs Claus, a 5-metre-tall snowman and a light-up classic Kombi van. There are also plenty of new walk-through installations that provide perfect photo opportunities, such as the Twinkle Tree Trail, Santa's Arch & Candy Cane Tunnel.
Plus, 2023 sees the return of stage shows to the Christmas Lights Spectacular. Enjoy Christmas-themed stage shows throughout November and December, plus a range of kids performances from 'Little Scallywagz', 'The Pretty Amazing Jono' and 'Bravissimo' in January.
A night at Hunter Valley Gardens Christmas Lights Spectacular is, without a doubt, our favourite way to celebrate the festive season. It's calming and beautiful and romantic, and a truly special way to celebrate the festive season with your family. We can't recommend it enough.
Scroll down to read more about this beautiful event, hear our tips and plan your own trip there this year.

This is the biggest Christmas Lights Display in the Southern Hemisphere!
For those who haven't been before, we should start by saying that this display is no ordinary Bunnings-bought lights-adorning-hedges-type affair. No, no, this is far bigger and better and way more impressive than that. The Hunter Valley Gardens' Christmas Lights Spectacular is the BIGGEST Christmas lights display in the southern hemisphere! And this year they've completely upped the ante – hanging more than 4 million lights!
Interact with more than 20 immersive displays!
Multiple new immersive walk-through installations have been erected over the last few years, making a visit here more memorable than ever. Sit on a GIANT chair, take your photo at the heart tunnel of love and walk through the belly of Snowy the giant snowman. Plus, one of our faves is the huge gold and red Christmas bauble – look up as you walk through to see thousands of twinkling lights!

Candyland is a pinata of fun
Their Candyland has been bumped up again this year from a scattering of sugar to a pinata of fun – with towers of liquorice allsorts, giant jelly jubes, chick-topped cupcakes, ice-cream sundaes, wrapped sweets, jellybeans, gingerbread men and lollypops aplenty.
Fairyland – a place of whimsy and magic
And for those who love their festive season sprinkled with whimsy and magic (who doesn't?), Fairyland is the place to head. It's home to Tinkerbell, My Little Ponies, a giant rocking horse, and myriad fairies, dragonflies and toadstools that look to have jumped straight from the pages of children's tales.

Plus, there's more…
There's a nativity scene that tells the story of Christmas and lights up an angel, baby Jesus, three wise men and more as the First Story is narrated. The "12 Days of Christmas" section encourages you to get your carol on, as the appropriate lights turn on with each verse of song. You'll see treasures from around the world, including the Taj Mahal, Sydney Harbour Bridge, Eiffel Tower and Big Ben. Plus lots of fun installations and recognisable characters, such as Winnie-the-Pooh, Scrat from "Ice Age", Cinderella's carriage, a giant penguin, a ginormous rainbow caterpillar and Santa in an airplane!

Don't miss Christmas World – Santa's Workshop and the Christmas Village display!
The lights are, of course, the pièce de résistance of this event, but there's so much more. One of our favourite areas is Santa's Workshop – a fantastical display of animatronic elves and reindeer that will turn even the grinchiest of grinches into believers.
Inside Santa's Workshop you'll also find "Tiny Town" – an entire city of Christmas villages that are animated and illuminated. Children skate across frozen ice rinks, ride horse-led sleighs, and enjoy spins on Ferris wheels and carousels. It's magical, and the more you look the more magic you find.
In this area you'll also find a special place where kids are invited to write a letter to Santa and post it in the "Magic Mailbox" for express delivery to the North Pole!
Have your photo taken with Santa!
Every evening until Christmas, Santa himself will be waiting in the igloo marquee to meet with children, hear about gift lists, and pose for Santa photos. Santa photos are available from Friday 3rd November until Christmas Eve.

Stage shows are back! Carollers are back! And don't forget the fireworks!
Enjoy Christmas-themed stage shows throughout November and December, plus a range of kids performances in January from 'Little Scallywagz', 'The Pretty Amazing Jono' and 'Bravissimo'. You can see the schedule of shows on the Hunter Valley Gardens' website here, so you don't miss out on your fave entertainers.
You'll also be well-entertained by roving magicians and larger-than-life festive characters. Plus, on New Year's Eve, the sky will be lit with a fireworks display (9pm).
Enjoy the carnival atmosphere and experience the Hunter Valley Gardens' five permanent rides!
The Gardens have five beautiful permanent rides open this festive season too, including a giant 35-metre super slide and 11m swing chair for daring thrill-seekers. In 2020 they introduced a new tea cup ride that invites you to enjoy a gentle twirl or crazy spin. The Ferris wheel lifts you 25m into the air and grants you a view over the gardens, nearby vineyards and wineries and the surrounding mountain ranges. But it's the traditional Venetian carousel, made in Italy to the Gardens' design specifications, that is a favourite of ours with its giraffes, lions, horses and elephants.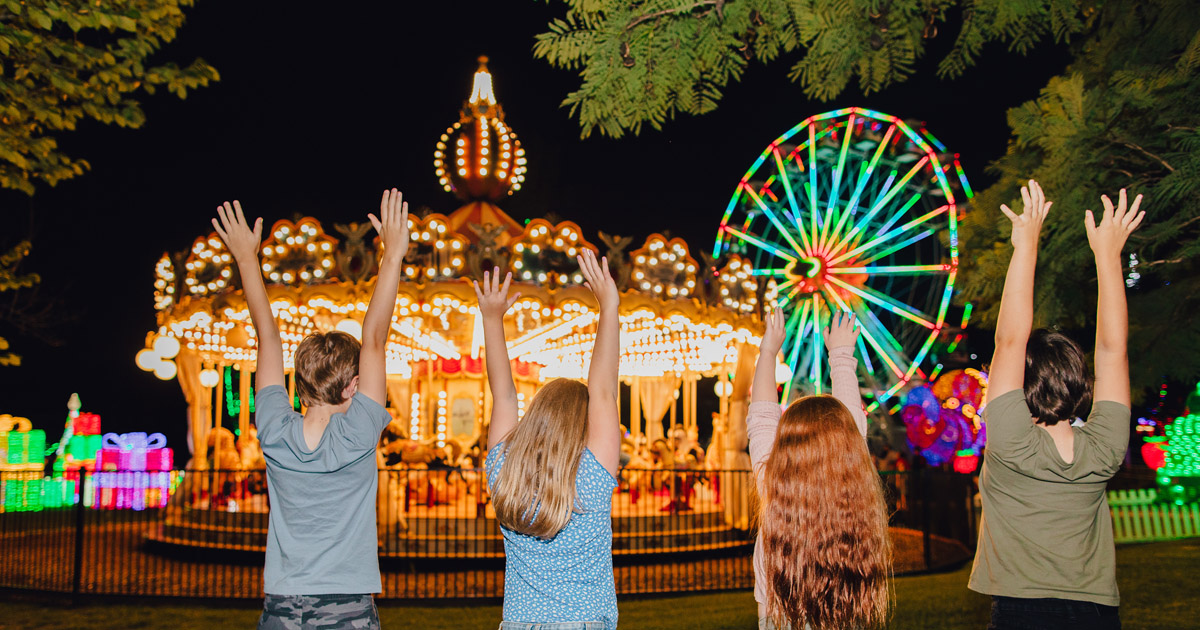 Food glorious food
You won't go hungry. The food stalls are well-priced and include tasty dishes that'll keep the whole fam-bam happy. You'll find Mexican burritos, Italian wood-fired pizza, Greek Souvlaki, hotdogs, nourish bowls, and tonnes more! You can even enjoy "adulting" with a wine or beer. Plus, there are plenty of "special treat" desserts, such as gelato, fairy floss, popcorn, and hot cinnamon doughnuts. The doughnut dude always gets our dollar bucks – they're winning.
Should you go? Heck yes!
We're so lucky to have the Christmas Lights Spectacular just a hop, skip, jump from the Central Coast. This event is so special – we really can't recommend it enough and the photos just don't do it justice. The size and scope and beauty of it can really only be appreciated once you've experienced it.
We highly recommend you add a visit this year to your Christmas list.
---
Plan your visit to the Hunter Valley Gardens' Christmas Lights Spectacular
When: Friday 3 November 2023 – Sunday 28 January 2024 (closed 25 December 2023).
Gardens open daily 9am-5pm; lights open 5.30pm-10.30pm (last entry 9pm). Rides are open from 6pm until 10pm.
Weather: If thunderstorms hit, the event may be called off until the storm passes. Weather updates will be posted on the Hunter Valley Gardens Facebook page.
Access: All of the paths within the Hunter Valley Gardens are stroller- and wheelchair-friendly.
Our Tips for visiting:
1) Bring jackets as it gets surprisingly chilly on an evening. We normally take beanies too.
2) If you have a child aged four or under, we recommend taking a stroller. As this is an evening activity, they do get sleepy, so save your arms and bring the stroller.
3) If you have kids aged five and under, visit in November. There are fewer people and the sun sets earlier, so they'll experience more of the lights while they're still awake.
4) There are toilets to the left just beyond the entry. Get all the kids to go to the loo as soon as you walk in and again at the very end of the night before you all pile back into the car. It works for our family and it saves you from having to do multiple trips to the bathroom all through the night.
5) Enjoy it! It's magical.
Location: The Hunter Valley Gardens, 2090 Broke Road, Pokolbin.
Phone: 02 4998 4000
Website: www.huntervalleygardens.com.au
Book your tickets to the Christmas Lights Spectacular!
Hunter Valley Gardens recommends tickets be purchased online prior to arrival. Admission charges apply. Amusement rides are user pay & height restrictions apply. Santa photos are an additional cost to Garden entry and are only available until 24 December 2023.
Christmas Lights Spectacular Entry | Adult $38; Child (4-15 yrs) $28; Children 3 and under Free; Family Pass (2 Adults + 1 Child) $88; Family Pass (2 Adults + 2 Children) $94; Extra Child on Family Pass (4-15 yrs) $27. Ride passes are an additional cost and are available at the ticket booth in the rides area in the Hunter Valley Gardens.
Day/Night Entry | in 2023, combination day/night tickets are also available, allowing guests to experience the best of both worlds with the entire Garden being open to explore during the day and then join the excitement of Christmas Lights Spectacular at night. Details are available on the website.
Rides Prices | Rides can be purchased singly for $6/person or purchase a Bonus Pack and get 6 rides for $30 ($6 off). Ride passes cannot be pre-purchased. They are available at the ticket booth at the rides area in the Hunter Valley Gardens.
Annual Passes | Planning on coming to the Gardens again and again? Their Annual Passes offer unlimited entry to the Hunter Valley Gardens and all of their events for 12 months, including their Snow Time in the Gardens, Mega Creatures, Amaze & Play and Giant Easter Egg Hunt events. It makes a great Christmas gift! To find out more about annual passes, visit the website,
Accommodation + Christmas Light Spectacular Entry Packages.
You can easily attend the Christmas Lights Spectacular from the Central Coast without the need for accommodation, but it also makes for a super lovely excuse for a night away.
You can get accommodation/entry packages at Mercure Hunter Valley and Harrigan's Hunter Valley.
---
♥ This event makes for such a special outing for your little ones in the lead-up to Christmas. Organise a group of friends or family to share in the magic with you. Click below to share this feature with them, and invite them along. ↓