It's getting hot hot hot! Summer is here and kids across the Central Coast are gearing up for the school holidays. We know this holiday's a big one, so we've found a heap of awesome things to entertain your kids – from water slides and kids shows to circus workshops and basketball camps.
Be sure to bookmark this page and check back regularly. We know of LOTS of groups/businesses who are still finalising their School Holiday events and we'll be announcing details here when they do.
---
Waterworld Central Doyalson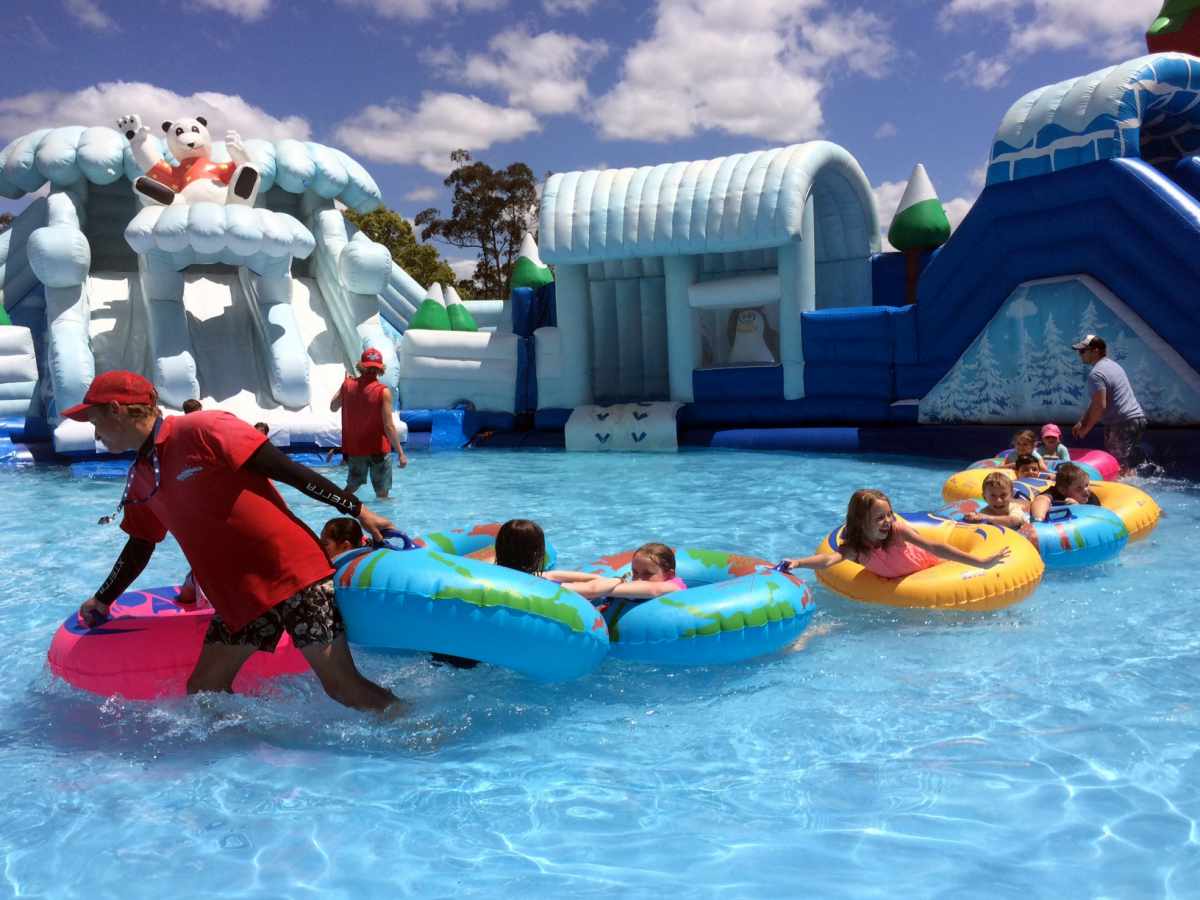 Get set to slip, slide and splash your way through Summer: Waterworld Central, Australia's first mobile water park, is returning to Doyalson!
This year, they're opening earlier (28 December), and they're erecting giant twin slides in their NEW Dinosaur Pool.
If your kids are up for adventure they can take to the myriad slides, walk on water in the zorb cylinders, and bounce around on the Snow World igloos. If chilling's more your thing, the wading pool is for you. All up, this awesome water park is home to a Dragon Pool, Snow World Pool, Dinosaur Pool, Wading Pool, Paddle Boats, Dino Slide, Epic Racer Slide, and Zorb Cylinder. It's most definitely the place to beat the heat this Summer.
Age group: All ages.
Where: The Doyalson-Wyee RSL (The Doylo), Pacific Hwy, Doyalson.
When: 28 December 2019-27th January 2020 (closed New Year's Day).
Cost: Free entry for spectators.
+ Little Dip 'n' Slip 2hr Pass $25 (Excludes Thrill Slides)
+ Extreme Splash 'n' Slider 2hr Pass $35 (ages 5+yrs. Includes Pool Slides and Thrill Slides – age, height, & weight restrictions apply)
+ Adult Chill 'n' Thrill 2hr Pass $25 (Pool access and Thrill Slides)
+ All Day Smasher $50 (Child or Adult, valid from 10am-4pm, normal age, height, & weight restrictions apply).
---
The Ukulele Kids Show at The Art House, Wyong
If music and audience participation is your thing, The Ukulele Kids Show by Woody's World is sure to get little ones excited as they play along to the story of Jasmina, a shy young girl at school who learns to express herself through music and unlock her musical potential.
With up to 100 ukuleles being handed out, the audience will be taking part in an imaginary, annual school concert and creating a performance all of their own!
When: Friday 17 January, 11am & 2pm | Saturday 18 January, 11am.
Where: The Art House, Wyong.
Cost: Adult $20, Child $15, Family Ticket $62.
Contact: 02 4335 1485
---
Daily Kids Club and Kids Activities, Crowne Plaza Hunter Valley
Did you know that the Crowne Plaza Hunter Valley runs a heap of fun kids activities every school holidays – and that they're open to everyone, not just hotel guests? Head there for a mini staycation or day trip and not only will the kids will be well entertained but parents can also take time out for themselves – a round of golf, a facial at the day spa, a quiet (and oh-so-rare) lunch for two at Crowne's award-winning Redsalt restaurant! You can pay for kids to join in individual activities, or pay $65 for your child to be cared for and entertained for the entire day!
These Summer holidays they have a heap of fun on offer:
The Inflatable Factory This indoor inflatable play zone includes an obstacle course, a Gladiator duel zone, multiple jumping castles, and a separate area for children under 6 years. | Saturday 28 December 2019 – Wednesday 8 January 2020 | From $10.
UV Glow Kids Dance Party Dance the night away and light up the d-floor with UV body paint. | Saturday 4 January | $15pp
The Magic Circus Magician Joel Howlett from JD's World of Magic brings magic, illusion, juggling and a giraffe unicycle finale to the stage. | Saturday 28 December | $15pp or $50 family (2 Adults and 2 Children)
Wild Australia Wildlife Show Meet some new furry Australian friends at this special wildlife show presented by Hunter Valley Zoo. | Wednesday 8 January and Saturday 25 January | $15pp or $50 family (2 Adults and 2 Children)
'Wizards and Witchcraft' Lego Interaction The team from BRICKS 4 KIDZ will help you build your own magical kingdom inspired by the world of Harry Potter! | Tuesday 14 January | $15pp or $50 family (2 Adults and 2 Children).
Plus they have workshops in Christmas crafts, plants, cooking, art, slime, pop rocks and more. Check their website for all the fun.
Age group: Kids Club is best suited to children aged 3-12.
Where: Crowne Plaza Hunter Valley, Lovedale.
Dates: Daily fun throughout the 2019-2020 Summer holidays.
---
Brass Monkeys at The Art House, Wyong
Coming to The Art House these summer school holidays is Brass Monkeys – a Circus Trick Tease production. Packed with live music, acrobatics, a zillion hula hoops and making the impossible possible, this show is perfect for little kids and grown-ups who like a big brass belly laugh!
Plus, for kids who'd like to test their own circus skills, the performers will be hosting a special workshop after the show. With a combination of acrobalance, tumbling, juggling and hula hooping – this workshop is perfect for kids aged 5-10 years. No experience necessary!
Performance: Thursday 9 – Saturday 11 January, 10am.
Workshop: Thursday 9 – Saturday 11 January, 12pm.
Workshop Ticket Cost: Workshop including performance $30 Book Here. Performance Only Cost: Adult $20, Child $15, Family Ticket $62.
Contact: 02 4335 1485
---
Christmas Lights Spectacular, Hunter Valley Gardens
Now boasting more than 3 million lights, The Hunter Valley Gardens' Christmas Lights Spectacular is the BIGGEST Christmas lights display in the southern hemisphere – and it's truly worthy of a visit these holidays!
NEW this year is a white Christmas scene with snow cave, polar bears and snowflake-topped trees, a giant walk-through snowman named Snowy, a magical castle, and a "Lovers' Corner" complete with mistletoe and heart tunnel.
There are Cinderella castles, Ice Age squirrels, giant teddy bears and scooter-riding penguins. Their Candyland is scattered with liquorice allsorts, jellybeans, gingerbread men and lollypops, while their Fairyland is home to Tinkerbell, My Little Ponies and a giant rocking horse. A pirate ship sails the lake and dinosaurs roam the hill. There's a nativity scene that tells the story of Christmas and a "12 Days of Christmas" area that encourages you to get your carol on.
A visit to The Christmas Lights Spectacular is an annual tradition for our Playing in Puddles family. We absolutely love the beauty and magic of this event. We visited on opening weekend; click here to read our review of their 2019-2020 lights.
When: 8 November 2019 until 26 January 2020 (closed 25 December 2019). Gardens open daily 9am-4pm; lights open 5.30pm-9.45pm.
Where: The Hunter Valley Gardens, 2090 Broke Road, Pokolbin.
Cost: Adult $30; Child (4-15 yrs) $25; Child Under 4 Free; Family Pass (2 Adults + 1 Child) $79; Family Pass (2 Adults + 2 Children) $99; Extra Child on Family Pass $22. There are discounts for groups and other pricing options.
---
Weet-Bix Kids Tryathlon, Woy Woy
Encourage your kids to get active, outdoors, and to give something new a TRY in 2020, by signing them up to the Central Coast Weet-Bix Kids TRYathlon!
Kids don't have to be super sporty to give this TRYathlon a go – this one is all about getting involved, having fun and giving it a TRY. TRYathletes can enter as an individual or have fun doing the course with a friend.
The Tryathlon is open to kids aged 7-15, and 6 year olds can participate in their NEW Splash & Dash Event on the same day.
Course length: 7-10 year olds 75m swim, 3km cycle and 500m run; 11-15 year olds 150m swim, 6km cycle and 1km run; 6 year old Splash & Dash 75m swim and 500m run.
When: Sunday 16 February 2020 at Woy Woy.
Where: Peninsula Leisure Centre & James Brown Oval, Woy Woy.
Cost: From $35.
---
Summerfest at EV Church, Erina
Summerfest is back at EV Church these school holidays and promises to provide a week's worth of fun for all ages – think games, drama, performances, water sports plus heaps more!
The daily schedule is split into two sessions according to age group: Summerfest Kids (Suitable for babies right up to kids in year 7): Whether your kids are 6 months old or 6 years old, your kids will be well entertained with storytelling, arts and crafts, singing and puppet shows. Plus the adults can drop the little ones off at the creche and enjoy a coffee at the on-site cafe where there'll be a number of talks from a series of guest speakers. Summerfest Nights (Specifically for teens): Fun designed with teenagers in mind, this evening event will keep older kids entertained. There'll be live music, a late night cafe, water sports, zorb balls and heaps more!
When: Monday 6 January – Friday 10 January 2020 | Kids/family sessions 9am-11.30am | Teens sessions 7pm-9.30pm.
Where: EV Church, Terrigal Drive Erina
Cost: Kids/family sessions $7 per child/day OR $13 per family/day | Teens sessions $2 entry on the door.
---
Alice in Wonderland by Gosford Musical Society, Laycock Street Theatre
Follow Alice as she embarks on her timeless adventure down the rabbit hole these summer school holidays. Suitable for all ages, your little ones will be kept gripped to their seats as they follow Alice's journey through Wonderland.
With creative costumes, a wonderful set, and a talented cast of over forty performers from Gosford Musical Society Juniors, you'll be singing along to all the Disney classics – "I'm Late", "The Un-birthday Song", "How D'ye Do and Shake Hands" and "Zip-A-Dee-Doo-Dah".
When: Tuesday 14 and Wednesday 15 January, 10.30am & 1.30pm | Thursday 16 – Saturday 18 January, 10.30am & 7.30pm.
Where: Laycock Street Community Theatre, Wyoming.
Cost: All tickets $27.
Contact: 02 4323 2300
---
School Holiday Camps, Breakers Basketball Stadium
For kids keen to brush up on their basketball skills, Breakers Basketball Stadium will be running SEVEN different School Holiday Camps these school holidays!
December Camps: There will be two camps throughout December which are ideal for kids who attend a school that breaks up early for the festive season! These will be run over two days and include morning tea, lunch and a full day of activity each day!
Camp 1: Thursday 12 and Friday the 13 December
Camp 2: Monday 16 and Tuesday 17 December.
January Camps: The January school holiday camps are all single day camps with the option of a half day enrolment (8am-12noon; $35) or a full day enrolment (8am-4pm; $50).
Shooting & Finishing Camp – Monday 6 January
Skills & Development Camp – Friday 10 January
Domestic Camp – Tuesday 14 January
Ball Handling & Fundamentals Camp – Thursday 16 January
3-on-3 & Multi Sports Camp – Monday 20 January
---
FREE Virtual Reality Experience at Lake Haven Centre
Kids will love immersing themselves in a series of Virtual Reality games at Lake Haven Centre these school holidays. They'll be able to ski in the mountains, play virtual basketball, experience VR boxing and have a go at racing on the VR bike! Games are suitable for children of all ages.
When: Monday 13 January to Friday 17 January 2020, 10am-2pm.
Where: Set up near Woolworths at Lake Haven Centre.
Cost: Free.
---
Bookmark this page. We know of LOTS of groups/businesses who are still finalising their School Holiday events… details will be announced here soon.
Looking for something that's on Today? Check out our event calendar.
For Christmas Carols and festive events, check out our "Top Christmas Events" feature here.