Daylight savings has ended, the leaves are falling and school is nearly out: time to start planning for the April holidays. Central Coast families, are you ready to be thoroughly entertained? From fireworks to Kung Fu Panda shows, petting zoos to obstacle courses, horse riding camps to robot workshops – there is so much fun to be had for kids on the Central Coast these holidays. Plus, some of them are FREE!
Fun family days out
Petting zoo and rides at The Hunter Valley Gardens
Want to experience two fabulous regional attractions in the one hit? The Hunter Valley Gardens is playing host to some furry, hairy and scaly friends from The Hunter Valley Zoo these school holidays. Each day, from 10am-2pm, you can meet, learn about and pat some of the residents of the Zoo. There will be rabbits, tortoises, baby alligators, guinea pigs, snakes and more, plus keeper talks at 11am and 1pm each day.
You can get creative decorating gingerbread men (and eating them: yum!) or colouring in at the art station. Or become an art work yourself by getting your face painted. All of this artistic fun is free.
The Hunter Valley train will be available to transport tired little ones around the grounds on weekends ($7 person; the timetable is available on the Hunter Valley Gardens website). 
As well as the chance to wander the beautiful grounds, the Gardens also boasts a 35-metre long, 12-metre high super slide, a Venetian carousel, a giant swing chair, ferris wheel and two large inflatable zones (one open to all ages and one restricted to the under 6 crowd). You can purchase an unlimited rides wristband for $15/person or purchase a single ride on the ferris wheel for $6/person (rides operate 10am-4pm daily).
Plus, to add to the carnival vibe, they'll have food marquees every day between 10am and 2pm.
When: 9am-5pm Saturday April 14 – Sunday April 29.
Access: All of the paths within Hunter Valley Gardens are stroller and wheelchair friendly.
Cost: Entry passes can be purchased online or at the entry gate. Online tickets do not restrict you to a specific date. Adult $30; Child (4-15 yrs) $20; Child Under 4 Free; Family Pass (2 Adults + 1 Child) $70; Family Pass (2 Adults + 2 Children) $85; Extra Child on Family Pass $20.
Where: The Hunter Valley Gardens, 2090 Broke Road, Pokolbin.
Age group: All ages.
Contact: 02 4998 4000, www.huntervalleygardens.com.au
---
The Central Coast Regional Show, Gosford
The annual regional show is on again. Kids will get a giggle in petting the guinea pigs, watching the fireworks, eating fairy floss and coming face to face with some unusual cat breeds and ginormous pumpkins.
A disclaimer: This isn't the Royal Easter Show. You won't find 10-foot vegetable displays, halls of cows or ferris wheels here, but it'll cease the "I'm bored" chants for at least a couple of hours.

Here's our pick of the fun on hand:
Kindifarm: Hand feed sheep and goats, bottle-feed calves and lambs, pet a guinea pig and snuggle a rabbit. Plus, you might be lucky enough to catch a sheep shearing or stock-whip-cracking demonstration. The Kindifarm will be open 10:30am-2:30pm Saturday and Sunday.
The Flipping Disc Dogz: These eight border collies will make your frisbee-catching skills look amateur. They'll be Trackside at 10am, 11.30am and 1pm on Saturday and 10.30am, 12pm, 1.30pm and 3pm on Sunday.
Fireworks: They're bright, loud and oh so sparkly. The fireworks will go off with a bang at Centre Arena 6pm Saturday.
Plus, of course, there'll be dodgem cars, laughing clowns, show bags, pony rides and fairy floss.
Tip: Pack a picnic lunch. Last year we found a lot of stick food (dagwood dogs, fairy floss and lolly pops), but not much else. Fingers crossed there are more options this year, but just in case…
Cost: Family Ticket (2 Adults & Children 5-15 yrs) $25; Adult $10; Concession/Child 5-15 yrs $8; Under 5 yrs Free.
Where: Gosford Showground. Enter via main turnstile on Showground Road or via Glennie Street Car Park turnstile, Gosford. There's a courtesy bus from Gosford Train Station.
When: Saturday 14th April 9am-6.30pm and Sunday 15th April 9am-4pm.
Age group: All ages.
Contact: www.centralcoastregionalshow.com.au
---
Take a farm tour, Kulnura
Join the family of Grace Springs Farm in their morning chores these school holidays. This morning tour gives families a lovely peek into everyday farm life. Watch their cow being milked and then help feed and water the chooks, cows and ducks (and, at times, calves, chicks and ducklings!) Pick produce from their market garden and purchase some of their pasture-raised eggs. Your kids will love it, and we have no doubt you'll love it too.
Cost: $16.50 per person. Children under 3 are free.
Where: Grace Springs Farm, Kulnura.
When: 21 April at 10am. If they get enough interest they will run an afternoon session also. Click here to make your booking.
Contact: 0425 258 699 or www.gracespringsfarm.net
---
Scale new heights at Pulse Climbing
Want to inspire your teen to new heights these holidays? Get them to the "Reel Rock 12" screening at Pulse Climbing, West Gosford, Saturday 14 April. There will be a BBQ at 6pm and the film will start at 7pm.
We recommend you get there even earlier and harness up for a climb, too.
Can't make it to the film, but still want to tackle the walls? Pulse Climbing is open for extended hours during the school holidays: 10am-10pm Monday-Friday; 10am-6pm Sat; 10am-4pm Sun and most public holidays.
Plus, did you know that on ANZAC Day all current and ex-service men and women can climb for free! Now that's the ANZAC spirit.
Click here to see the film trailor.
Where: Pulse Climbing, 8 Grieve Rd, West Gosford.
Contact: (02) 4339 2487, website.
---
Kids workshops and classes across the Central Coast
Build a robot with Robot Science
Have you ever built your own robot? Your kids can these school holidays with Robot Science. They're holding two-day workshops in which your kids will build, code and experiment with robots… and compete in challenges such as Robot Sumo (Google it, it's pretty funny).
There are two workshops:
+ Erina at Impact Gym: April 23-24 for children in years K-6; $160 (includes meals).
+ Bateau Bay: April 26-27 for children in years 3-8; $140 (includes meals).
Contact: 0406 896 612 or www.robotscience.com.au
---
Join the circus!
Juggling, spinning plates and flying on a trapeze – now they are some nifty tricks you don't pick up at school. But these holidays you can master them at Roundabout Circus in Wyoming. They're hosting heaps of circus workshops for kids of all ages (and adults too). Classes range from 40 minutes to all day and start at just $15!
Here's a little taste of the fun on offer:

Kinder classes: 2-4 year olds and parents (grandies and nannies very welcome too). Explore circus games and activities together – it makes for a great alternative to your normal play date. $15 for 40 min class. April 20th and 27th at 9.30am.
Manipulation Madness: 5-12 year olds. Kids, impress your friends with some neat circus tricks, such as juggling, hula hooping, spinning plates and more. The class will be divided into age groups. $25 for 90 minute class. April 24 at 9am.
Full day circus camp: 7-12 year olds. It doesn't get much cooler than this: learn aerial skills and then perform all you've learnt at the end of the day! $85 for the full day. 18th and 19th April at 9am.
Family Circus: All ages. Have a laugh as you master some circus tricks together. Parent and child team $30 ($10 for each additional child) for 90 minute class. 17 April at 1.30pm.
Click here to see the complete timetable of  ALL classes. Click on the class you're interested in to learn more about each workshop.
Where: Roundabout Circus, Unit 1, 2 Evan Close, Wyoming.
Contact: 0423 324 407 or www.roundaboutcircus.com
---
Adventure to the max at Glenworth Valley
This is the ULTMATE adrenaline-hyped boredom-buster school holiday camp! Kids will have an absolute blast playing laser skirmish, kayaking on the river and either horse riding or quad biking (the choice is theirs) in this awesome "Adventure Max" full-day camp. Move over kids, we want to sign up: this looks like way too much fun. Plus, it's great value at just $140/child (a massive saving of $205 off the usual price if activities booked separately). Click here for more details.
❤ Want an idea of the fun at hand? Playing in Puddles went quad-biking at Glenworth Valley earlier this year. We got muddy and had a ball. Click here to read our review.
Cost: $140/child.
When: 17th and 19th April.
Age: 12+
Where: Glenworth Valley.
Contact: (02) 4375 1222, http://glenworth.com.au
---
 Soccer Camps at The Football Grounds, Erina
Don't miss this one-off chance to train with one of Australia's BEST small group coaches @joner1on1footballtraining. Whether you're child is new to soccer or a bit of a pro, Joner 1on1 will help them improve in all elements of the game. They'll work on skills, drills, technique, strategies and fitness… and they'll have a lot of fun doing it. We reckon they'll sleep very well following.
Where: The Football Grounds, 224 Penrose Crescent, Erina.
When: Saturday 21 April 2pm-3.15pm (U8 to U11) and 3.30pm- 4.45pm (U12 to U15).
Age group: 7-14 year olds.
Cost: $60 per child
Contact: 0404 444 742. Online Rego Link via their website – click here.
Want more? The Football Grounds are also running a 3-day soccer camp these school holidays for kids who play in the under 12 – under 14 year squads. It costs $280 for the three days and runs from the 18th-20th April, 8am-12pm each day. Click here for more details and to register.
---
NEW 3-Day Horse Riding Camp, Glenworth Valley
Horse riding, toasted marshmallows and games around the camp fire: that's the Autumn school holidays done right!
These April holidays Glenworth Valley is running a new 3-day overnight horse riding camp for children aged 9-16. Participants will enjoy three full days of riding with games and activities beside the campfire each evening. They'll meet new friends, learn new riding skills, take part in a riding lesson and trail ride, muster a herd of cattle through the Valley and learn about grooming, horse care and Glenworth Valley's horse breeding program. The final day is a fun-filled day of competition at the Gymkhana. I wonder if we can sneak in as an adult? This sounds like fun.
Cost: $550 per child. Includes full supervision and meals.
When: Monday 16 – Wednesday 18 April 2018.
Age: Suitable for children aged 9-16 with some prior riding experience.
Where: Glenworth Valley.
Contact: (02) 4375 1222, http://glenworth.com.au
PLUS: Glenworth Valley will also be running a number of half- and full-day riding camps throughout the school holidays. They have camps that cater to beginners who may be saddling up for the first time through to very experienced riders. Depending on the ability, age and interests of students, the day will involve learning to trot, canter or even jump, and a guided trail ride through the valley. The camps are loads of fun and a great way to get your kids outdoors these school holidays.
Junior Beginner half-day camps (5-7 year olds) $95/child. (16th, 18th and 20th April.)

Beginner one-day camps (7-16 year olds) $140/child. (17th and 19th April.)
Intermediate one-day camps (7-16 year olds) $140/child. (19th April for level 1 and 20th April for level 2.)
Where: Glenworth Valley.
Contact: (02) 4375 1222, http://glenworth.com.au
---
Multi-sport holiday fun
Got an active one? Each Tuesday and Thursday these April holidays the kids can literally bounce off the walls at Kincumber Indoor Sports. It's just $30/child for a day of rock climbing, soccer, dodgeball, volleyball and more. We bet they'll sleep well that night.
This is a supervised day suitable for 5-15 year olds. Lunch can be provided for an additional sum: $3 for a sausage sandwich or $5 for nuggets and chips.
When: 17th, 19th, 24th and 26th April, 9am-3pm.
Where: Kincumber Indoor Sports, 19 Cochrone St, Kincumber.
Cost: $30/child.
Contact: Call 02 4368 3197 to book. Here's their website.
---
🌳Looking for a park that's shaded, fenced and has BBQs? Click here to read Playing in Puddles' park reviews.
---
Art classes at Gosford Regional Gallery
There is a tonne of art classes on offer for mini Picassos these school holidays. Here's a snap shot to pique your interest.
Create your own Cartoon Character: Learn how to draw and create Marvel's next super hero.
Ages: 6-14. Cost: $25. Wednesday 25 April, 10.30am-12.30pm.
Expressionists Portraits: Learn how to convey emotions and storytelling into your portraiture.
Ages: 6-14. Cost: $25. Wednesday 25 April, 1.30am-3.30pm.
Colourful Weaving: Students will learn to weave with colourful, textured fabric and decorate with beads to create a wall hanging.
Ages: 6-14. Cost: $25. Thursday 26 April, 10.30am-12.30pm.
Babushka Painting: Paint a series of five Russian dolls and learn about the history and culture of this Russian tradition.
Ages: 6-14. Cost: $25. Thursday 26 April, 1.30am-3.30pm.
It's all in the Detail: Paint leaves with oil crayons and watercolours.
Ages: 6-14. Cost: $25. Friday 27 April, 10.30am-12.30pm.
Where: Gosford Regional Gallery, 36 Webb Street, East Gosford.
Contact: 43047550. Places are limited, so bookings are essential: Book here. ❤︎ Tell them you heard about them on Playing in Puddles ❤︎
---
Classes that calm – Bearfoot Yoga across the Coast
Looking for a class that'll slow your kids down rather than hype them up? Bearfoot Yoga for Kids is now running classes across the Central Coast – you'll find them in Holgate, Umina, Toukley, Avoca and Long Jetty. They are running a heap of school holiday classes for children aged 4-12.
Yoga Adventures: Yoga activities, games, story telling and a relaxation routine. Kids will depart feeling refreshed and calm.
Yoga and Mandala courses: Children will relax and stretch in a 45-minute yoga session and then learn how to create mandalas with local artist @NaomiClaireArt.

Yoga and craft courses: A fun-filled yoga and craft workshop in which children can make a teepee for their bedroom.

Click here to see dates and more details of all of their events. 
Contact: 0434 470 779 or kathryn@bearfootyoga.com.au  ❤ Tell them Playing in Puddles sent you.
---
---
Is your child celebrating a birthday these holidays?
Book your party at Laserblast Charmhaven during the break and you'll get an extra game FREE! Click here for more details.
---
---
Free fun across the Central Coast these school holidays
Kung Fu Panda and DJ Jazzy hit up The Entrance
Central Coast Council has a host of fun, FREE acts lined up to hit the Memorial Park stage these school holidays. Plus there will be the carnival rides, the mini train and the daily pelican feeding at 3.30pm. And don't forget about the playgrounds on offer, too. Read Playing in Puddles' write-up on the playgrounds here.
Magic and puppet shows at Waterfront Plaza: Tuesday 17 April 10am-12pm. Monday 23 April 10am-12pm
Kung Fu Panda live on the Memorial Park stage: Tuesday 24 April, Thursday 26 April and Friday 27 April 10am-10.30am, 11am-11.30am and 12pm-12.30pm.
DJ Jazzy live on the Memorial Park stage: Thursday 19 April 1pm-3pm and 4pm-6pm. Friday 10am-12pm and 1pm-3pm/
Where: Waterfront Plaza and Memorial Park, The Entrance.
---
Storytime at Gosford Regional Gallery
Enjoy the calm of storytime and craft-making in the Gardens' Japanese tea house.
❤︎ Plus, feed the fish, take in some art and enjoy the mini kids area. Click here to read Playing in Puddles' review of the Gardens for more details.
Cost: Free.
Where: Gosford Regional Gallery, 36 Webb Street, East Gosford.
When: Wednesday 18 April, 10.30am-11.30am.
Age group: 3-6 year olds. Children must be accompanied by an adult.
Contact: 43047550. ❤︎ Tell them you heard about them on Playing in Puddles ❤︎
---
Juggle your way into World Circus Day, Wyoming
Did you know that 2018 is the 250th anniversary of modern Circus? Neither did we! But it's a good thing it is, because Roundabout Circus are putting on a fantabulous day of FREE circus activities to celebrate the occasion. There will be hula hoop, poi and juggling workshops as well as aerial sessions.

In the evening the teachers of Roundabout Circus (and some of their students) will show you how it's really done. Entry to the performance is a suggested $10 donation. Doors will open at 6:30 for a 7pm Show.
Where: Roundabout Circus, Unit 1, 2 Evan Close, Wyoming.
When: Saturday 21 April 10.30am-2pm for free workshops. Plus a $10 performance at 6.30pm.
Contact: 0423 324 407 or www.roundaboutcircus.com
---
❤ Are you hosting a fun holiday event for Central Coast families? We love hearing about new businesses and services. Please send us an email – info@playinginpuddles.com.au
---
Get wet. Go wild. It's all on at Canton Beach.
There will be a giant water slide, an obstacle course, a balloon fairy and face painting at Canton Beach in celebration of NSW Youth Week on Saturday 21st April. And it's all FREE! Register at the info tent on the day to get your entry wristband.
When: Saturday 21 April 12pm-4pm.
Where: Canton Beach Foreshore.
---
Free jumping castle and extended hours at Kids World play centre, Erina
There will be a FREE circus-themed jumping castle inflated in the Impact foyer (perfectly positioned next to the cafe – hello coffee) 11am-1pm every week day of the holidays.
Plus, Kids World will be open for an extra hour of fun over the April school holidays. On week days from the 16th to the 27th the play centre will close at 4pm. If you have a tot who naps at midday this will be very welcome news, as it means you can fit in an afternoon visit. Don't forget your socks!
❤︎ Playing in Puddles has spent many hours playing at Impact. Click here to read our review of the play centre.
Where: Impact Centre, 19 Chetwynd Rd, Erina.
Tips: Socks must be worn in Kidsworld at all times and are available for purchase at reception if required.
Contact: 0243 676 767 or www.impactc.me/erina-play-centre
---
Hunter Valley Steam Fest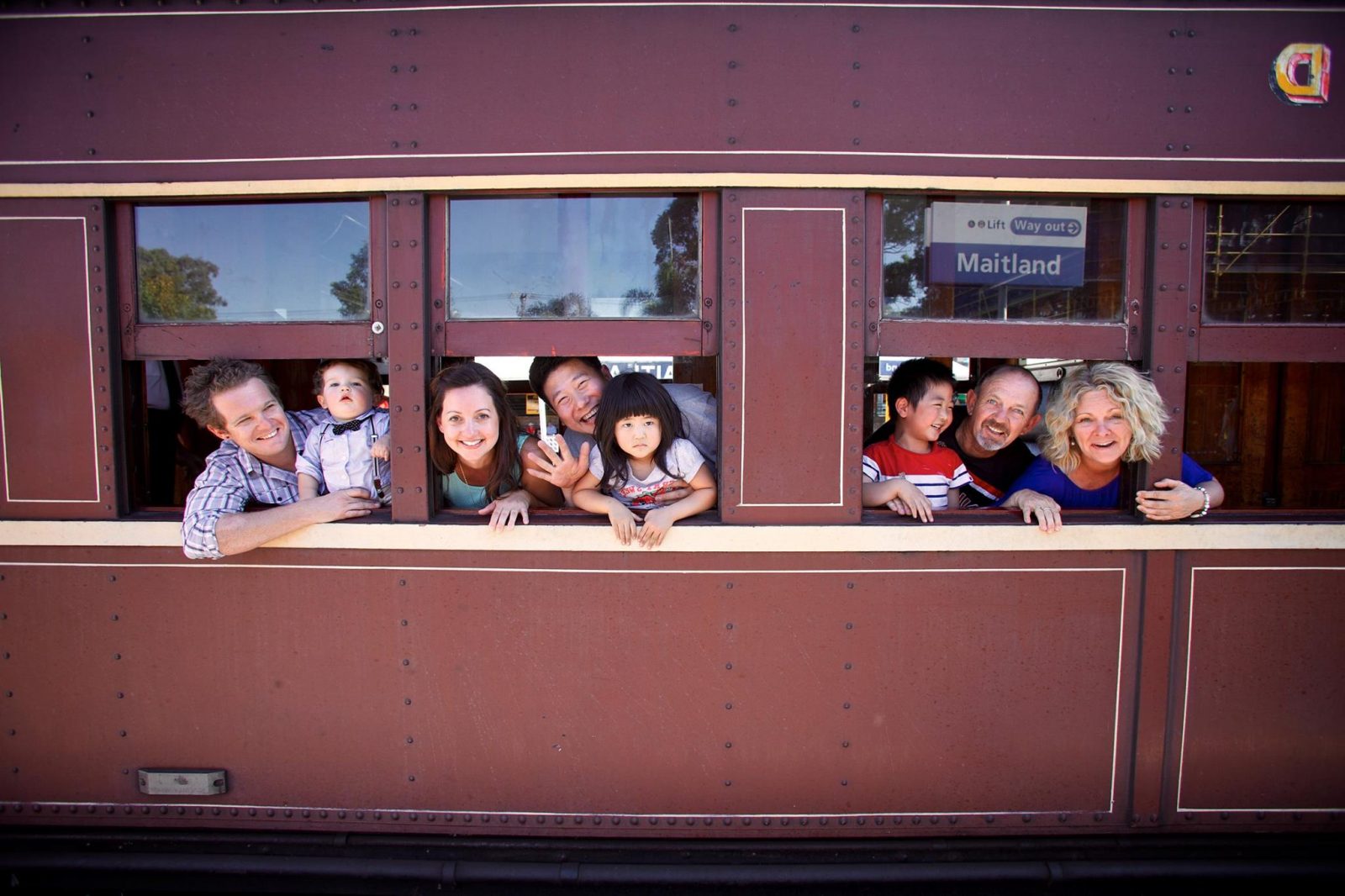 Ride a steam train. Or a camel. Or a 1920's car at Hunter Valley Steamfest. Grandparents, grab your grandies – this is an event for young and old.
Cost: Entry is FREE; train journeys start at $10 and are best purchased in advance. Click here for more details and to book your train seats: https://www.steamfest.com.au/
When: 14 & 15 April, 9am-5pm.
Where: Maitland Station, Central Maitland.
---
Peter Rabbit live on stage, Tuggerah
Peter Rabbit's jumping from the big screen and onto the stage these school holidays at Westfield Tuggerah. If you're a fan of this rascally rabbit and his cheeky adventures, get down to Westfield Tuggerah for a day of fun.
The official Sony Pictures "Peter Rabbit Live Shows" will be performed in Centre Court at 11am and 1pm, with a meet and greet session at 12pm. Tie it in with a screening of the new "Peter Rabbit" film at Event Cinemas, and you have a hopping day out.
When: Monday 16 April – Friday 20 April. Shows at 11am and 1pm daily, with a meet and greet at 12pm daily.
Where: Westfield Tuggerah, 50 Wyong Rd, Tuggerah.
Cost: Free for the live show and meet and greet. The cinema screening is ticketed.
---
❤Want more daily fun? Check out Playing in Puddles' reviews of local attractions, kid-friendly cafes, play centres and parks here.
---