If your family likes finding seashells, skipping stones and sliding down sand dunes, then this is the bushwalk for you! The Moonee Beach Trail winds through the bush before leading down to a beach that's full of surprises.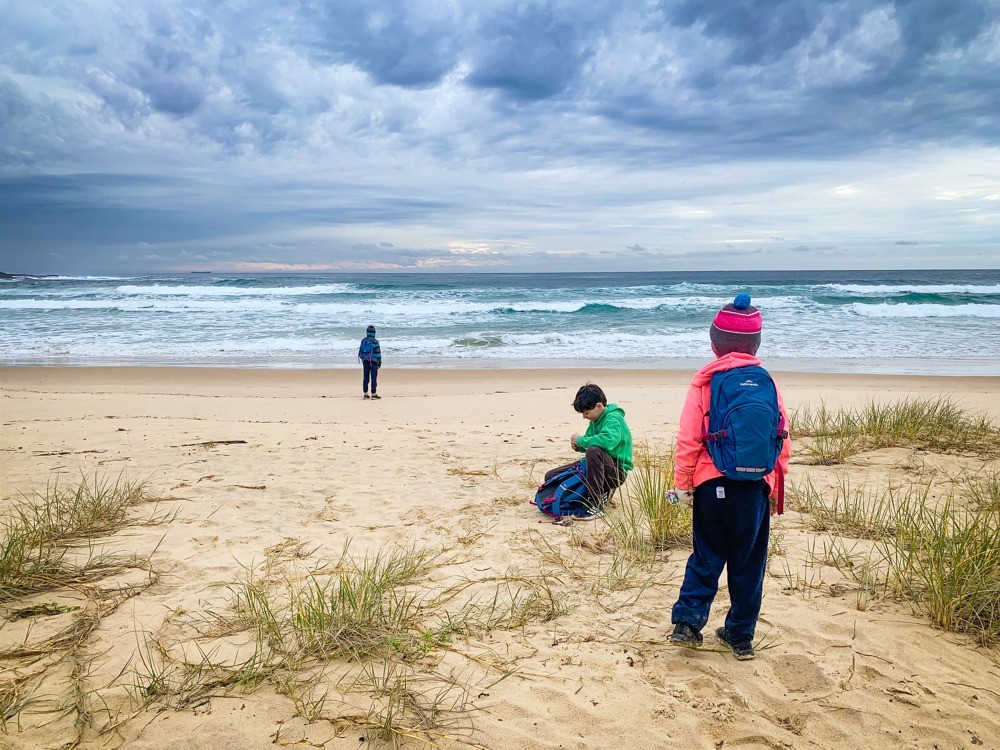 The trail is part of the Munmorah State Conservation Area, at the very northern end of the Central Coast.
The first half of the walk is flat and wide. Ahead are views over the suburb of Catherine Hill Bay, and before too long you'll see glimpses of the ocean to your right. Keep an eye out for animal tracks in the sandy path as you walk – our kids were thrilled to spot some wallaby footprints when we visited.
The path then narrows and heads down towards Moonee Beach. This section is bumpier and can get muddy. When you get to an intersection, head right, and before too long you'll be hitting the sand.
Follow the beach to the south until you reach a sheltered section of water away from the waves. It's surrounded by rocks, and the sand is covered in pebbles. Here you can skim stones across the water, find crabs hiding in the sand, and admire the many seashells  washed up along the shore (we've never seen so many in one place!). There's sand dunes to explore, and you might even spot an eagle winging its way across the sky.
Enjoy a dip if the weather's warm, then walk back the way you came in. As this is a NSW National Parks and Wildlife area, you do need to leave behind anything you find on the beach or trail, so our beautiful native ecosystems are protected.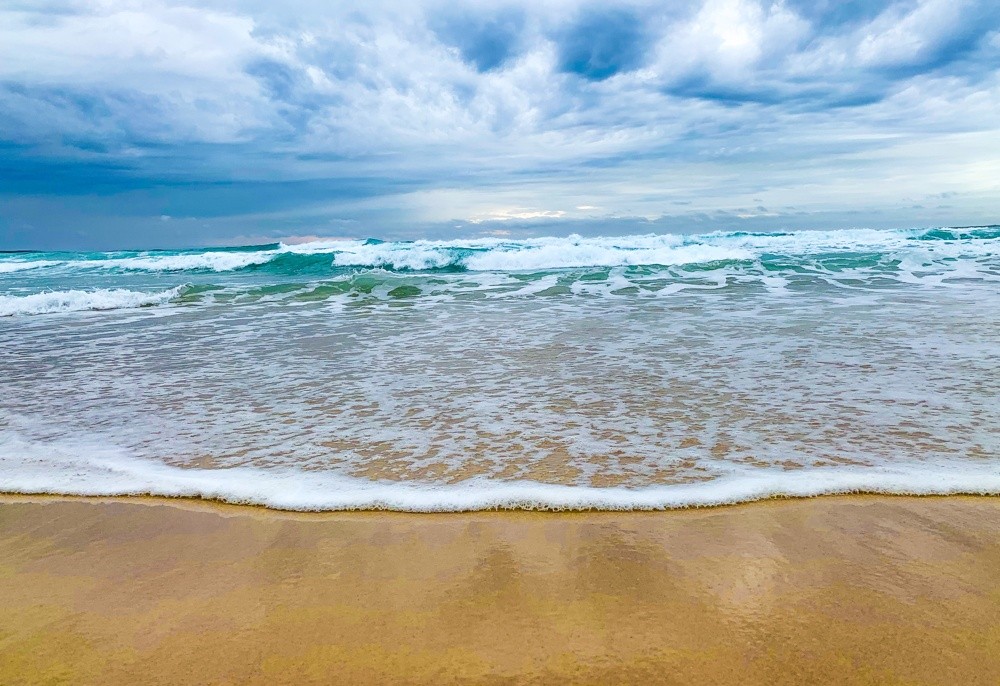 It's mostly uphill on the way back, so make sure you save some energy for it! Smaller kids might need some assistance to get back up the hill.
Camping near Moonee Beach
There are some popular camping spots nearby – check out the National Parks website for details.
How to get to Moonee Beach Trail
From the Pacific Highway, enter the State Conservation Area via Blue Wren Drive. Turn left onto Campbell Drive and follow it until it turns into a dirt road (about 4km). This is Snapper Point Road. In about 250m, there's a sandy parking bay on the left. The trail starts here, behind a metal gate.
Moonee Beach Trail Information
Accessibility: The track is easy to walk and would be suitable for kids aged 4 and up, although smaller legs may tire on the way back. The path does get boggy and narrow, so it's not really suitable for strollers.
Safety: Mobile phone reception can be patchy in this area, and the beach is not patrolled. NSW National Parks and Wildlife Service have beach safety tips available at https://www.nationalparks.nsw.gov.au/safety/water-activities/beaches
Cost: Parking in Munmorah State Conservation Area is $8 per vehicle per day. Pay at the booth on your way in, or head to Frazer Beach carpark (which is within the Conservation Area) to pay if the booth is closed.
Amenities: There are no toilets or tap water available at the track. However the Frazer Beach campground, a short drive away, does have toilets, a cold shower and free BBQs available.
Distance: 4.5km return. Allow 1.5 hours for the walk, plus time to relax and explore the beach.
Location: Snapper Point Road, Munmorah State Conservation Area. It's open 5.30am-9pm during daylight savings, and 5.30am-6pm the rest of the year.
More info: Find out more on the National parks website.
Header Image ©Alison McCann for Playing in Puddles
---
Written By: ALISON MCCANN
Contributor
Alison is a busy local mum who enjoys exploring the Coast's spectacular natural spaces. You'll often find her out on a bush trail with her husband and three kids. With a background in media production, communication and marketing, she loves sharing stories about the wonderful region we get to call home.
---