Umina locals and visitors from surrounding suburbs will be delighted when they stumble across this little pocket of fun. The quiet location of Lentara Road in Umina became home to this newly built playground in July 2020 and little explorers are stoked!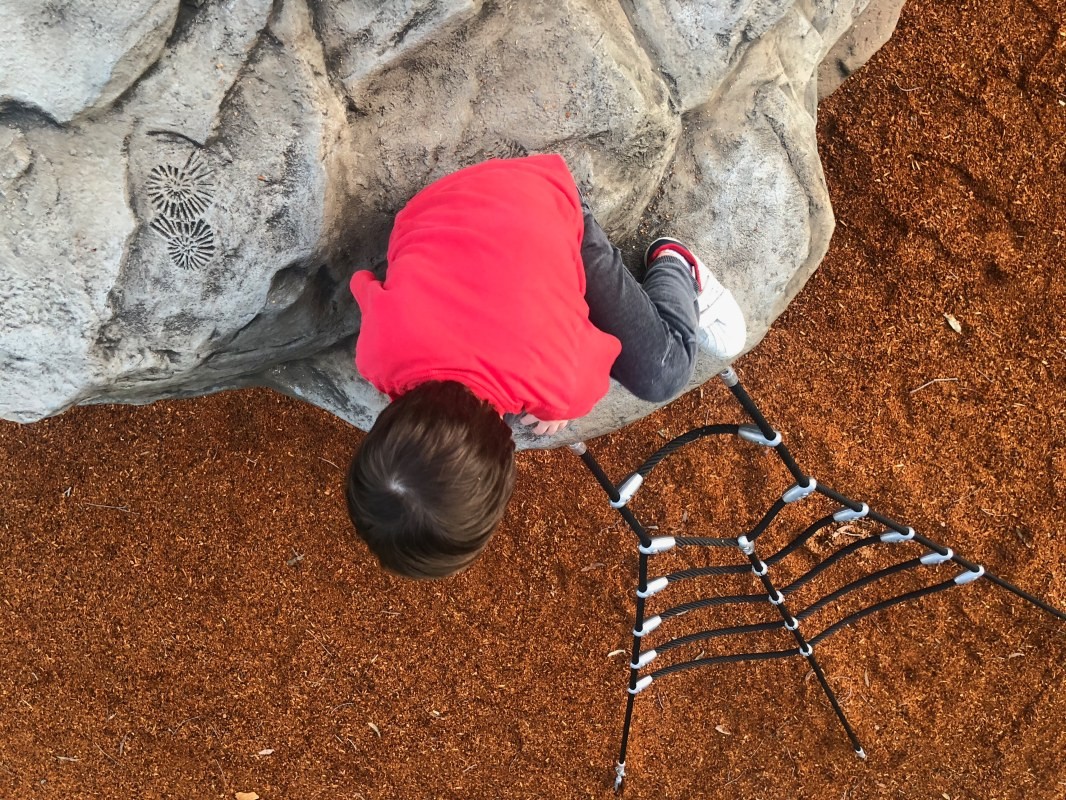 The park is small in size yet big in character, with lots of little features that make this play space wonderfully unique. Little adventurers can put those rock climbing skills to the test as they navigate their way to the top of the park's big climbing rock. Or if they're still a little wobbly, there are two rope ladders which make this task that little bit easier!
Find the Hidden Fossils
Mini archaeologists can skip the mountaineering and spend their time discovering all the hidden fossils embedded in the rock. Parents will enjoy turning this into a game as kids count how many they can find. Playing in Puddles are happy to provide parents with a little cheat – there are 17, just don't tell the kids!
The swings, with both a toddler seat and a backless seat will be enough to lure every kid in as they make their way home from school. Young tots will also enjoy practicing their balance as they hop, skip and jump across a set of mini toadstools.
The large grassed area under the trees is just asking for mother's groups to throw down a rug and enjoy a picnic of morning tea as their little ones explore the quirks of this sweet little park.
Lentara Road Playground, Umina
Ages: Toddlers, preschoolers and young primary school kids.
Fenced: Partially. The park is also set back from a quiet street but if you have a runner, be mindful!
Toilets: No.
Shade: The playground sits beneath mature trees that provide shade at different times of the day.
Parking: Street parking.
Location: 19 Lentara Road, Umina Beach
Want more playgrounds? There are a heap in Umina. Click here to find other parks nearby on our map.
Header Image ©Playing in Puddles.