Looking for wholesome family fun this June long weekend? You're in for a treat. Central Coast farmers are opening their gates and welcoming you into their paddocks in celebration of the annual Central Coast Harvest Festival.
You can pick oranges in Kulnura, pet goats in Glenworth Valley, shake pecans from the tree in Somersby and dig potatoes from the ground at Wyong Creek. There are cow-milking demonstrations to watch, chicks to cuddle, eggs to collect and ponies to ride.
We've spoken with the farmers and perused the program to share with you what we believe will be the Harvest Festival's best family-friendly events in 2019.
But first, a tip: don't delay buying tickets. We've already snapped a few up, and the rest are sure to go super quick.
So here, in no particular order, are our favourite events…
---
The Food Farm experience, Wyong Creek
If you're looking for a hands-on experience, this is it. You'll harvest potatoes straight from the ground to take home, milk a cow, collect eggs from the pasture-raised chickens, meet friendly pigs and beef cows, hold baby chicks and get toasty by the campfire while enjoying a cup of tea from the billy. A picnic "taste of the farm" lunch with the likes of warm potato salad, Bolognese and gourmet sausages (made from the Food Farm's grass-fed and finished beef) will be on offer, and there will be produce available for you to take home. This is hands-on farm touring at its best, so wear gumboots, garden gloves and consider a change of clothes – you are going to get muddy!
Local farmers Hannah and Tim produce grass-fed beef, lamb, chicken, eggs and veggies from their paddocks at Wyong Creek. They farm sustainably and ethically and during this farm experience, Hannah says, they'll share how they farm in a manner that "honours the animal, the soil, the environment and you as part of the Food Farm family".
DATES: Saturday 8 June and Sunday 9 June (tours at 9am, 11am and 1pm; 3pm tours sold out).
LOCATION: 216 Yarramalong road, Wyong Creek (see map below).
COST: $85 for a family of five or $30/person. Kids under 3 are Free!; lunch & refreshments included.
WEBSITE: www.thefoodfarm.com.au
BOOKINGS: Click here to book.
---
Day on the Farm at Eastcoast Beverages, Kulnura
Eastcoast Beverages is throwing open both their orchard gates and factory doors, so you can experience a Day on the Farm on Sunday 9 June.
This third-generation, family owned fruit juice and spring water company is giving you a rare chance to pick sweet juicy oranges straight from their trees. Eastcoast staff will guide groups through their orchards every hour – there's no charge for this; you simply pay for what you pick. And then you can get munching, juicing and slurping later. This year – should the weather play nicely – you'll also be able to jump aboard a buggy and take a tour of the farm (tickets for this can be purchased on the day).
Plus they've pulled together a tonne of local businesses, food trucks and entertainers to bring you a fun day out. There will be live music, burgers from The Hungry Traveller, wine from Fires Creek and the kids will be spoilt for fun with free face painting, a roving magician and circus-skills workshops from Party Chameleon and Switcharoo Circus.
DATE: 10am-4pm, Sunday 9 June.
LOCATION: Eastcoast Beverages, 993 George Downes Dr, Kulnura (see map below).
COST: Free entry. Orange picking is free; just pay for what you pick. Please note that their much-loved factory tours have now sold out, so there's no need to book.
WEBSITE: eastcoastbeverages.com.au
---
Glenworth Grazing Food & Wine Festival, Glenworth Valley
Love the idea of honeycomb and lavender gelato and pulled pork burgers? Get to the Glenworth Grazing festival this June long weekend. This fabulous premier food and wine festival is one for the whole family.
Kids will love the free jumping castles and petting farm. Plus they'll have pony rides and laser skirmish for just $5! Parents, you'll love the licensed outdoor bar and boutique market stalls selling handmade homewares. And everyone will love the live music, gourmet food stalls and day amid the sunshine and eucalypts.
DATES: 11am-4.30pm, Saturday 9 June and Sunday 10 June.
LOCATION: Glenworth Valley Outdoor Adventures, 69 Cooks Rd, Glenworth Valley (see map below).
COST: Free entry. $5 pony rides and laser skirmish for the kids! No need to book; just tick the link below to show you're interested.
WEBSITE: Glenworth Grazing
---
Grace Springs Farm Tours, Kulnura
At Grace Springs Farm you can cuddle the chooks, pat the calves, and harvest and taste produce picked straight from the market garden. You'll watch a cow being milked, visit the bee hives and enjoy a country-style tea of homemade scones, sponge cake or a yummy slice. Grace Springs Farm produces grass-fed and grass-finished beef, pastured eggs, pastured chicken, pastured muscovy duck, vegetables, garlic and honey, and two years ago owner Virginia Mall started running regular farm tours. The tours are run on select dates throughout the year, so if you can't make it to Harvest Weekend you can try for another date or even put in a request for a private group tour.
DATES: Saturday 8 June and Sunday 9 June. Tours run twice daily (9.30am-11.30am and 2pm-4pm). Bookings essential.
LOCATION: Grace Springs Farm, 1128 George Downes Dr, Kulnura (see map below).
COST: Tickets are $16.50 per person 2 years & over.
WEBSITE & BOOKINGS: gracespringsfarm.net
---
Play FootGolf at Mangrove Mountain Memorial Club & Golf Course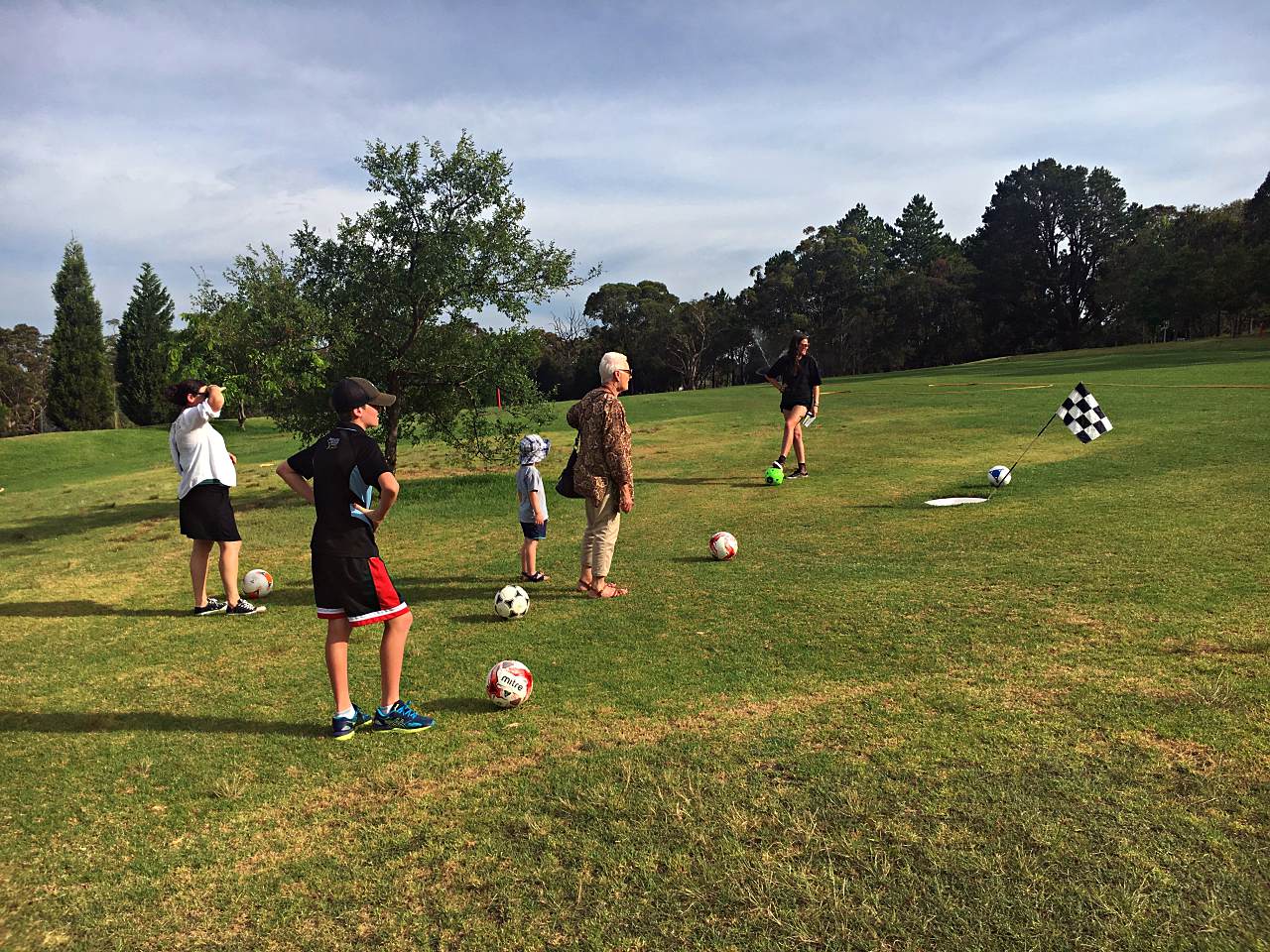 Book in for a game of FootGolf over the June long weekend and everyone will get FREE ball hire. Mangrove Mountain Memorial Club and Golf Course is running this special deal – and a locally sourced blackboard menu – as part of the Harvest Festival celebrations.
Not sure what FootGolf is? It is as it sounds: a game that combines the fun of soccer and golf! The aim is to walk a golf course and to kick a soccer ball into nine specially designed holes in as few kicks as possible. We were promised that FootGolf was a game the whole family would enjoy, so we tested it out and took the ENTIRE family. We had toddlers, kids, teens, adults and grandparents come along, and we ALL had an awesome time. Click here to read our review.
DATES: FootGolf is available after 3pm Saturday 9 June, all day Sunday 10 June and after 10am Monday 11 June.
LOCATION: Mangrove Mountain Memorial Club, 18 Hallards Rd, Central Mangrove (see map below).
COST: FootGolf is $11 for adults and $6 for kids. Free ball hire during Harvest Festival (normally $5 each).
WEBSITE & BOOKINGS: mmmclub.com.au
---
Pick Your Own Pecans, Somersby
The Pecan Lady is opening her orchard over the Harvest Festival long weekend and inviting you to forage for nuts fallen fresh from the trees. Bring a bucket to fill and enjoy a picnic under the canopy.
DATES: 9am-4pm Saturday 8, Sunday 9, and Monday 10 June.
LOCATION: The Pecan Lady, 30 Ulinga Rd, Somersby (see map below).
COST: Free entry. Pay for what you pick. No need to book.
WEBSITE: www.pecanlady.com.au
---
Be the parent in the know. Subscribe to Playing in Puddles' newsletter to discover the Best of the Central Coast for Kids!
---
Harvest Festival locations
♥ Invite a friend to join in on the fun. ↓