A NEW, super-sized playground has come to Green Point's Sun Valley Reserve and to say we're VERY excited about this one would be an understatement!
To give you an idea of the type of adventure you can expect to find, this brand-spanking-new 'Regional Playspace' gives Umina's Peninsula Recreation Precinct a run for its money in terms of size AND thrill-factor – which is a big call!
Located on Sun Valley Road opposite Coles Green Point, the new $1.8 million redevelopment project from NSW Government and Central Coast Council replaces the old basketball court and boasts a bunch of new features. We're talking play equipment, park furniture, barbecues, connective pathways, landscaping, fencing – the works. Plus there's been a fantastic upgrade to the existing amenities building, basketball court and car park.
The park is divided into sections and there's something for everyone
Among the modern, new play equipment is a double flying fox – something you'll rarely find and that's guaranteed to add "next-level" excitement for competitive kids who love a good race! The ride has a huge platform where kids wait out their turn, and this doubles as a great shelter for sandpit builders below.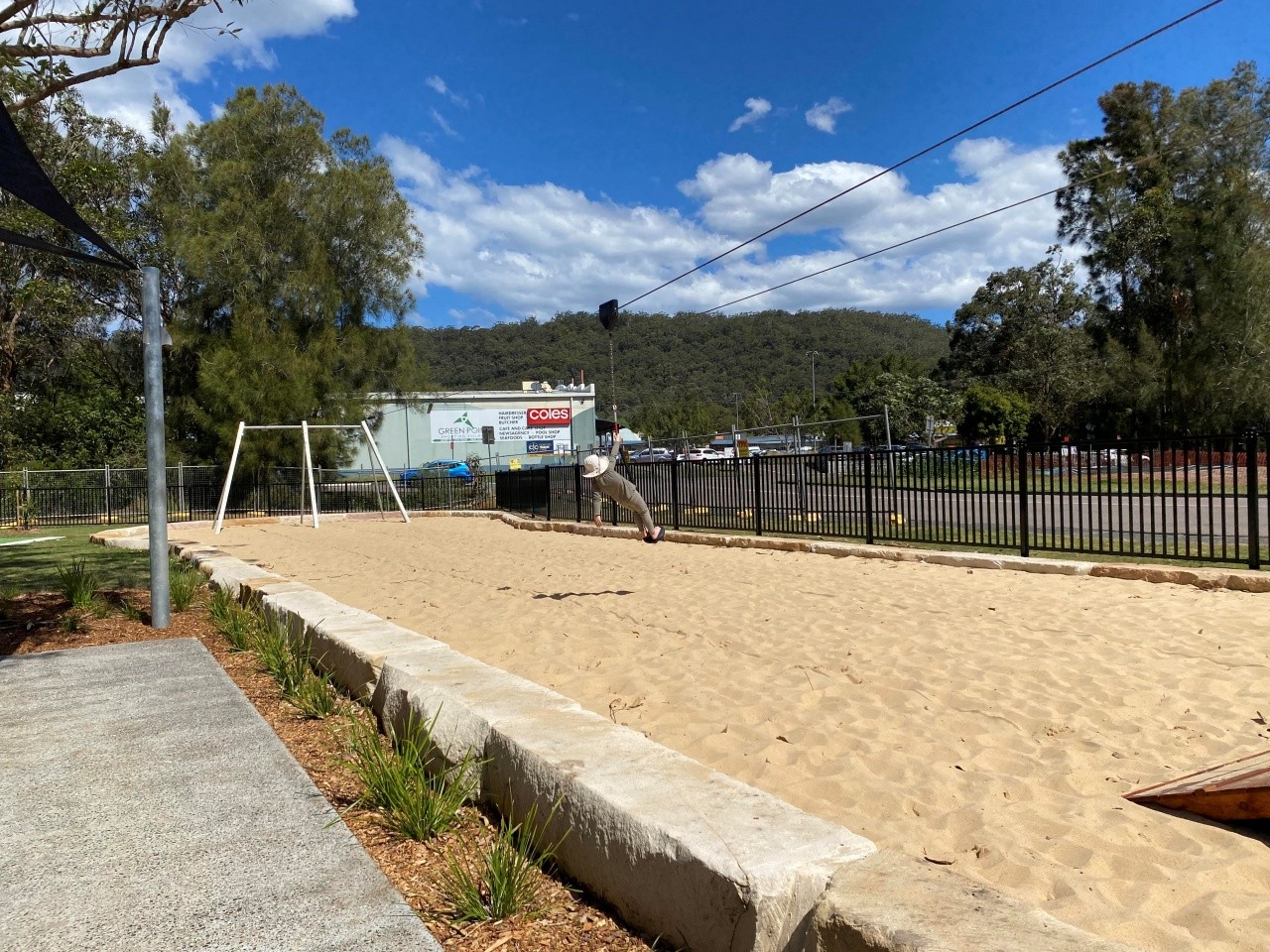 There are two sets of swings that include two bucket swings for tiny tots, a regular swing, and a wheelchair swing. There's also a stand-alone inclusive group swing for kids to pile together for a push!
The huge rope climbing tower offers older kids a decent challenge and features cool, spider-web net platforms that they can perch on once they reach the top. Then it's just a case of navigating their way back down again so any young champions who've reached the peak may need a little guidance upon descent!
There's also a smaller structure with four suspended spider-web nets that little ones can clamber up to via a mini rope ladder. The nets are then connected to each other by ropes and bridges, which encourage young children to wobble across from one net to the next and to practice their balancing skills.
In this same section is an in-ground roundabout for kids to hop aboard and see how many spins it takes before they start to get dizzy!
There's a sports area with basketball, netball and ping pong!
The pristinely bright new basketball and netball courts are a significant upgrade to the former facility, with two netball circles and 2 full marked-out basketball courts. Though we did notice the basketball rings haven't been installed yet (only the backboards), but the netball hoops are ready to rock 'n' roll.
In the same area is a brand-new, shaded ping-pong table so be sure to bring your own rackets for hours of backwards and forwards fun!
A nature play space provides kids with a challenge and lets them practice their balance
A winding pathway meanders its way through the various sections of the park, which provides a fabulous way for kids to explore their surroundings or to ride bikes and scooters. They'll even come across an obstacle course of timber logs and beams in the fun nature play space where they can practice their balance as they hop from one piece of play equipment to the next.
Sensory play
There are some fun sensory inclusions in this playround that we've not seen elsewhere on the Coast. A free-standing mirror will be the source of many giggles – look at one side and you'll appear tall and skinny and head to the other side to appear short and round. There are two wooden poles decorated with different carvings that are great for children who like tactile items. Plus sensory objects that create noise – a series of metal drums that create fun sounds as you dance across them, as well as an upright xylophone.
The seniors area is perfect for kids from 8 months to 80!
There's an excellent addition to the new park that offers absolutely anyone the chance to practice their balance and dexterity. With low incline ramps, wobble bars, rope bridges, and puzzles, this area will be a favourite for young kids and for seniors who want to stay active.
This park is perfect for parties!
Sun Valley Park provides another excellent location for picnics, kids' birthday parties, and family gatherings, as it boasts two lots of two undercover barbecues, multiple seating areas, and plenty of bench seating. There's even a large picnic table that is quite low to the ground and perfect for a group of kids with little legs!
This new park is a total game-changer for Central Coast locals and we can't wait to see it buzzing with activity over the coming months!
---
Sun Valley Park, Green Point
Facilities: Amenities block with 3 unisex ambulant toilets and a unisex toilet RH parent room with kids and adult toilet included – though sadly no change table. There are also water bubblers and barbecues.
Shade: The park is mostly shaded with shade cloths and mature gum trees.
Fencing: There is fencing all the way around – wahoo!
Parking: The park has a designated car park.
Location: Sun Valley Road, Green Point (opposite Coles).
While you're in the area, why not check out Green Point Foreshore Reserve or the Bayside Drive Reserve Playground too!
Header Image ©Playing in Puddles
---