You know you're in for a good time when the seat you're straddling costs $4000! Add a menu prepared by Cameron Cansdell that includes beef cheek pie and Valrhona chocolate lamingtons and you know you've found something really special in Saddles restaurant.
Opened in late May, Saddles is our new go-to for child-friendly dining at a grown-up venue. The elegant décor makes it the perfect space to celebrate Mother's Day or your Grandfather's birthday, but their menu prices invite you to also make it a regular brunch spot or long, lazy lunch option.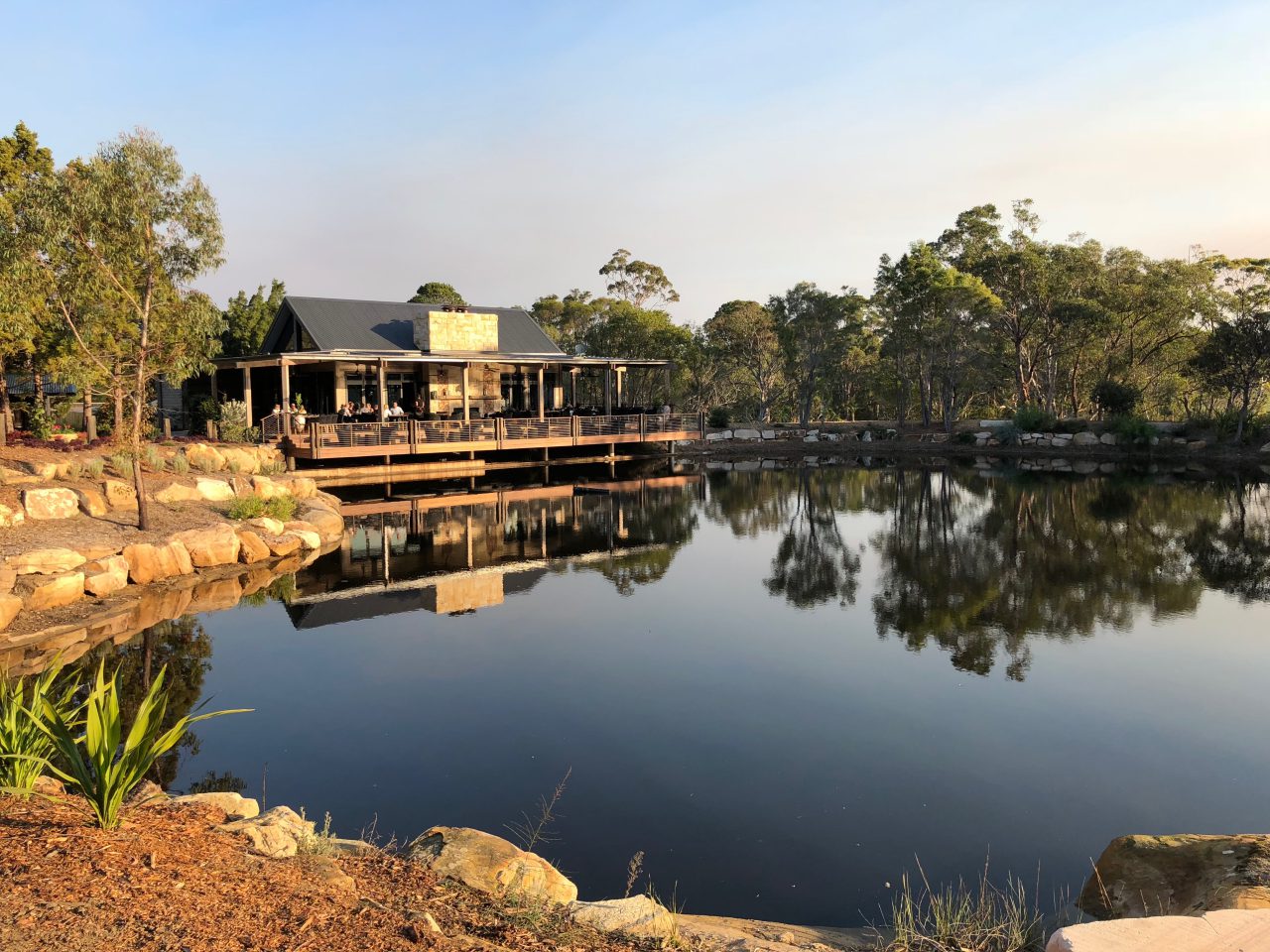 Before we launch into the specifics, we know you all have one burning question: is it child-friendly? The answer is yes. You won't find a box of toys, but your kids will love going for a "ride" on the bespoke bar-stool saddles – each made from hand-tooled leather and hand-engraved silver by Heath Harris of Hawkesbury River Saddlery. There might not be a playground, but there's a path lined with magnolias, camellias, rosemary and tibouchinas that wraps around the dam, which invites children to explore and practice a little rock skimming as they wait for their meal.
They also cover the nuts and bolts of happy family dining: they have high chairs, large seats that easily fit an adult and toddler, and a large deck with ample room between tables so that your kids can move around and be a little boisterous without bothering neighbouring diners.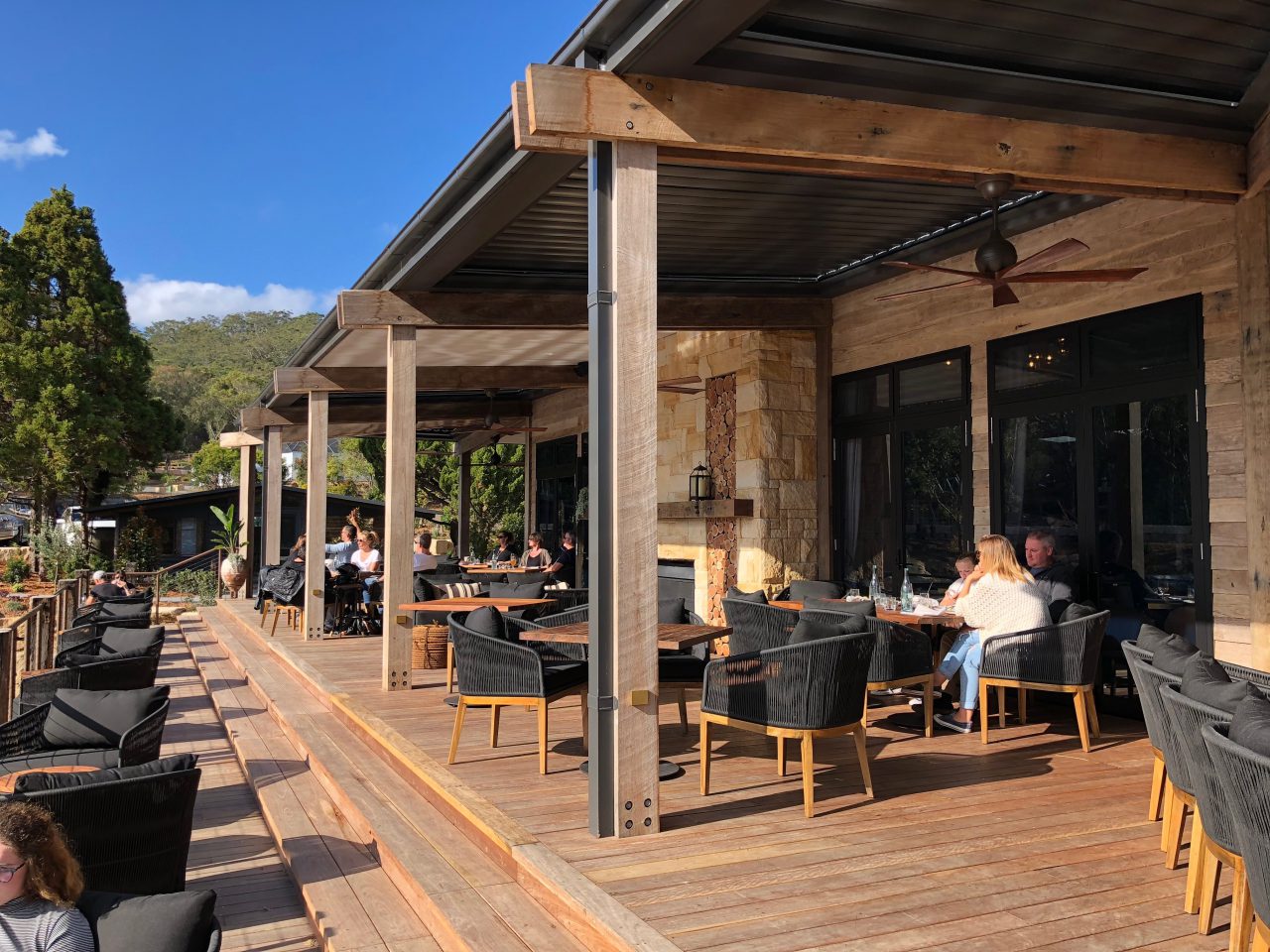 When you arrive at Saddles you'll be struck by its elegance and quality craftsmanship. Linen curtains are recessed into an Ironbark beam and held back by double-jointed brass bits. The brass-scalloped bar is topped with leathered granite. The wall-mounted cast iron bathroom sinks have a stainless steel rim. The gorgeous brass pendant lights that hang from the eight metre-high ceiling are custom made. The longhorn chairs come from John Singleton's house!
The whole space exudes a sense of history, but this is a clever trick. The Ironbark panelling and bannisters have been acid-washed to give this purpose-built 2018 space the appearance of being aged and distressed. John Singleton bought the 10-hectare property in July 2016 with plans to open a restaurant because, he says, "as a local, I wanted somewhere I could enjoy an unpretentious meal that doesn't scrimp on quality."
Cameron and Hayley Cansdell – of Bombini at Avoca and Fish Dining at Gosford waterfront – are the chef/host team in charge of delivering that quality, and they're doing a damned fine job.
The seasonal menu is split into small plates and large plates, and the charcuterie board makes a happy start. A handmade La Paloma dinner plate is loaded with Pyengana cloth-bound aged cheddar, pickled beetroot, housemade rye sourdough and a fig and quince preserve (made in-house and available for purchase in the bakehouse). The stars of the plate are the smallgoods. The pork and fennel salami is made by the Saddles team at Pinos Dolce Vita (a seventh-generation, family-run butcher in Kogarah) while the duck terrine is made on site with bunya nuts picked from a local property.
A friend raves that Saddles' Roast murray cod is the best fish they've eaten. Ever! We feel compelled to take their advice. The fish is topped with a fennel, almond and sourdough crumb and sits on a bed of sugar snap peas, pea tendrils, eschalots and sea urchin. It's light and delicious.
We wouldn't normally order the pie – not when there's grass-fed rump cap and roast Little Hill Farm chicken also on the menu. But it's hard to beat the homely comfort of a pie when the clouds grey and temperature drops, so we do. And thank goodness we do. The grass-fed beef cheeks, Swiss brown mushrooms, pearl onions and Shiraz are slow cooked for two hours before going in the case – a short crust bottom and puff pastry top. The meat is pull-apart goodness, the flavour is rich, the pastry flakes and crumbles and holds its filling intact. The pie shares its plate with wilted spinach and a spoon of mashed potato that's been whipped into lightness with butter and cream. It's so good we order it again on our second visit.
Dessert also points to Cansdell's skills as a deft baker. The vanilla and yuzu slice is a delicate balance of flaky pastry and tangy cream, and the lamingtons up expectations with raspberry cream and Valrhona chocolate. Our favourite, though, is the pastry of the day – an almond and quince tart.
Children aren't forgotten. They can choose between a housemade pork and fennel sausage roll, a housemade beef pie (with no onion or mushroom – these chefs understand fussy eaters), fish with potato scallops (a seriously awesome move away from the standard fish 'n' chips) or steak and scallops. If there are any leftovers (which we're betting there won't be) you'll be fighting off your partner to finish them.
We haven't yet made it for breakfast, but the menu encourages a visit soon. We're already mulling over whether to order the porridge with banana, coconut and panella sugar or the spiced French toast with honey, crème fraîche and berries. Their coffee is a house blend roasted by local Lisarow coffee roasters, Evolution Specialty.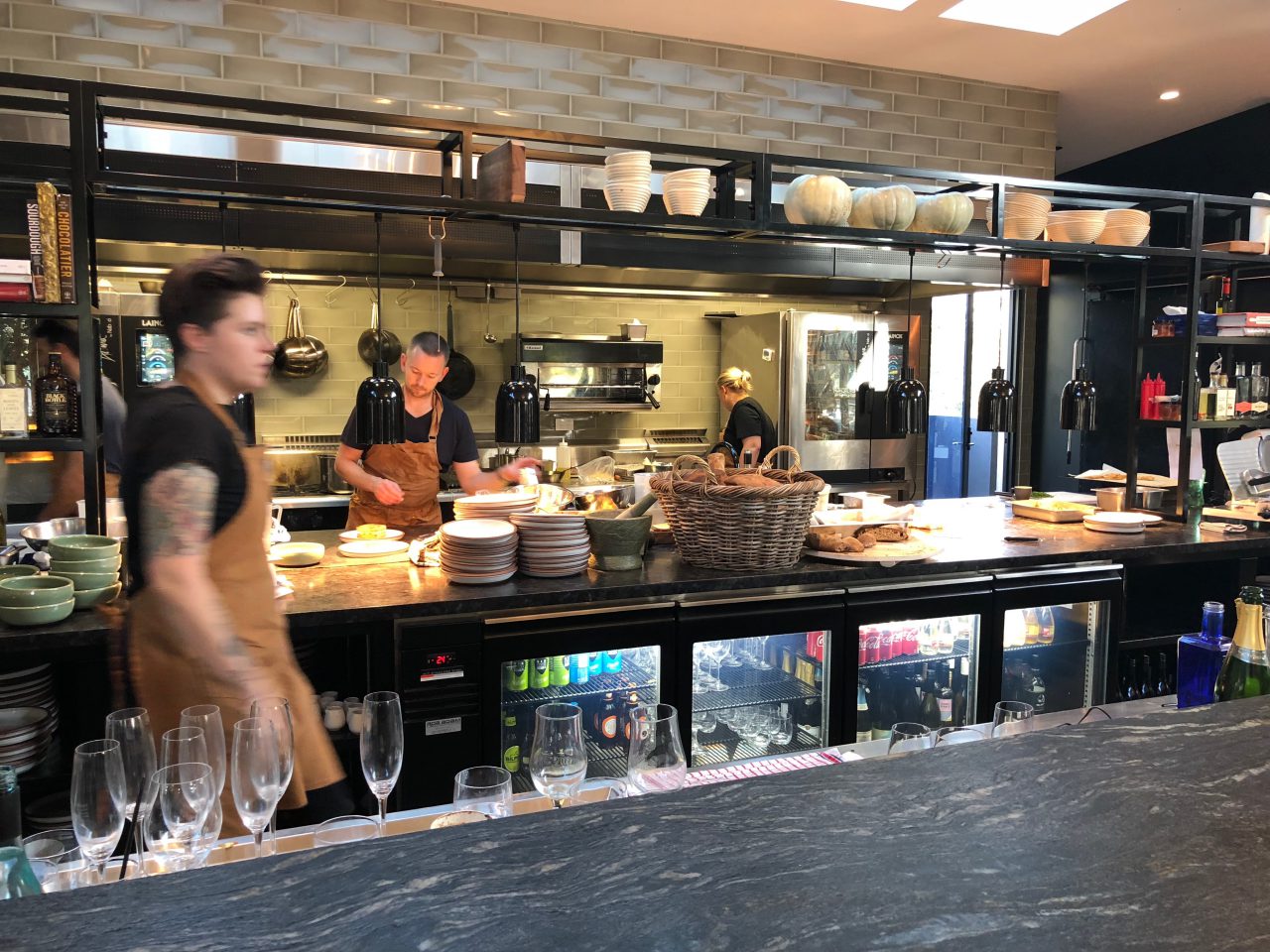 Saddles is the type of establishment that begs the question, "Do we tell everyone about this place or keep it to ourselves?"
We like it. We like it a lot. In fact, we just might make another reservation now.
Saddles Restaurant at Mount White, Central Coast
Facilities: Disabled toilet and access. There is no change table at the moment, but the restaurant is looking to buy one.
Please be aware: the restaurant's deck has a bannister so your little ones won't fall in the dam. The surrounding gardens and dam are not fenced.
Menu Prices: breakfast $6-$22; lunch and dinner small plates $20-$24; large plates $21-$36; desserts $6 or four for $20.
Kids Menu: breakfast $10; lunch and dinner $15.
On-site Bakehouse: Housemade breads, pies, sausage rolls and pastries are available for people to take away. The store is also stocked with La Paloma tableware, cheese, local honey, charcuterie and site-made compotes, pickles and jams. Picnic perfection.
Address: 20 Ashbrookes Road, Mount White.
Phone: 02 4370 1152
Open: Saturday-Thursday 8am-5pm; Friday 8am-8pm.
Website: saddlesmtwhite.com.au