Found smack-bang on the waterfront, the new park upgrade at Dalnott Reserve is a hidden beauty that offers gorgeous views across Tuggerah Lake.
The playground can't be seen from the road, and if you didn't happen to see the Reserve's sign you wouldn't even know it was there. This is one of those places that we think locals will love, as there'll surely be days you get it all to yourself.
Entry to the playground is via stairs or a ramp. If you have a pram, make sure you enter via Marks road as the ramp is very steep (scroll down for further details).
The playground is best suited to preschoolers and older children, as it has lots of climbing rope nets, a rock climbing wall and a fireman pole.
The slippery dip is nice and high and overlooks Tuggerah Lake. There is a group swing alongside a standard swing and a 4-way spinner. Younger children will enjoy a game of tic tac toe and climbing through the windy tunnel.
There are plenty of trees providing shade throughout the day and a grassy area beside the reserve.
Dalnott Reserve is a quiet park and it would be a beautiful place to enjoy a picnic with the kids. Take a bucket and spade, or throw in some cossies for some water play as well.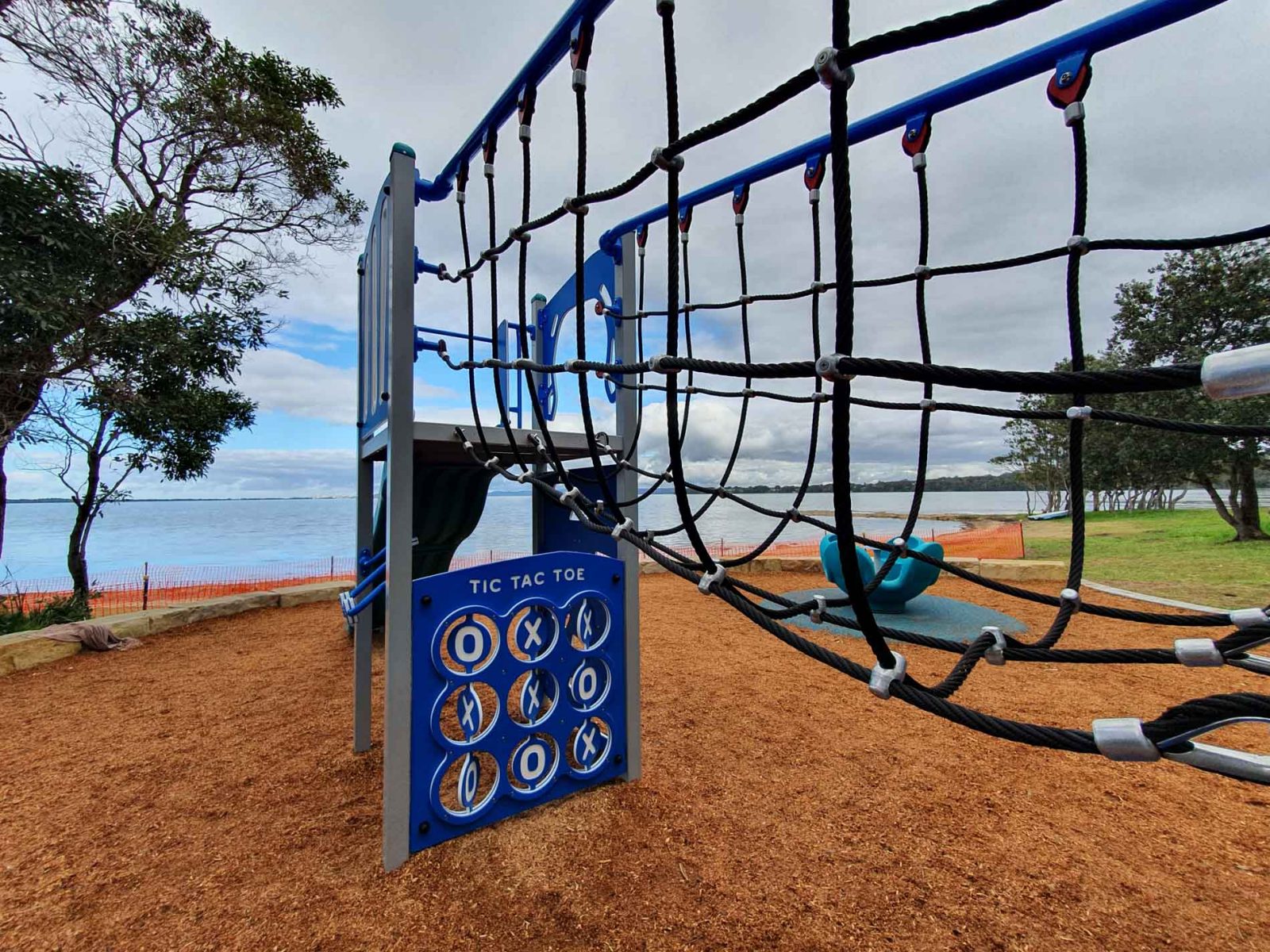 There are no toilets, sadly, but there are plenty of places for a kid to do a sneaky bush wee.
Dalnott Reserve (Pipeclay Point Park), Gorokan
Park Name: Dalnott Reserve Park, also known as Pipeclay Point Park
Ages: Preschoolers and primary school kids.
Fenced: This park is not fenced and is on the reserve close to water.
Groundcover: Wood chip & softfall.
Toilets: No
Other facilities: A picnic table.
Shade: Plenty of fully grown trees shade this park.
Parking: Street parking on Dalnott Road. Entry to the park is via steps and not suitable for a pram. The council have placed a sign stating that if you have a pram to enter via Marks Road – Cnr Howelston Road. There is a small parking lot there and you can easily walk there with a pram on the grassy reserve.
Location: Corner Dalnott Road and Arlunya Ave, Gorokan.
Header Image ©Lauren Tierney for Playing in Puddles