A rainbow and pot of gold appeared in Gorokan last week, and many mini a leprechaun has flocked to it! Hugely popular with the locals already, this new district playspace ticks so many boxes for kids and families. It's fully fenced (yippee), the playground is covered in shade cloth (yeeha), there's equipment for kids young and old, AND there's a double-storey rainbow slide that shoots kids off the end and incites fits of giggles!
Your kids' eyes will pop out of their little heads as they approach the vibrantly coloured play equipment which not only includes the super fast double slides, but a whole array of fun obstacles and structures.
Equipment for toddlers
Toddlers will delight in climbing the ramp and bridge, playing the find-the-pairs and tic-tac-toe games and tackling the rock climbing wall. We know that the large double slide can be a little daunting for young ones, but park designers have thought of that too and have included a mini slide better suited to tiny tots.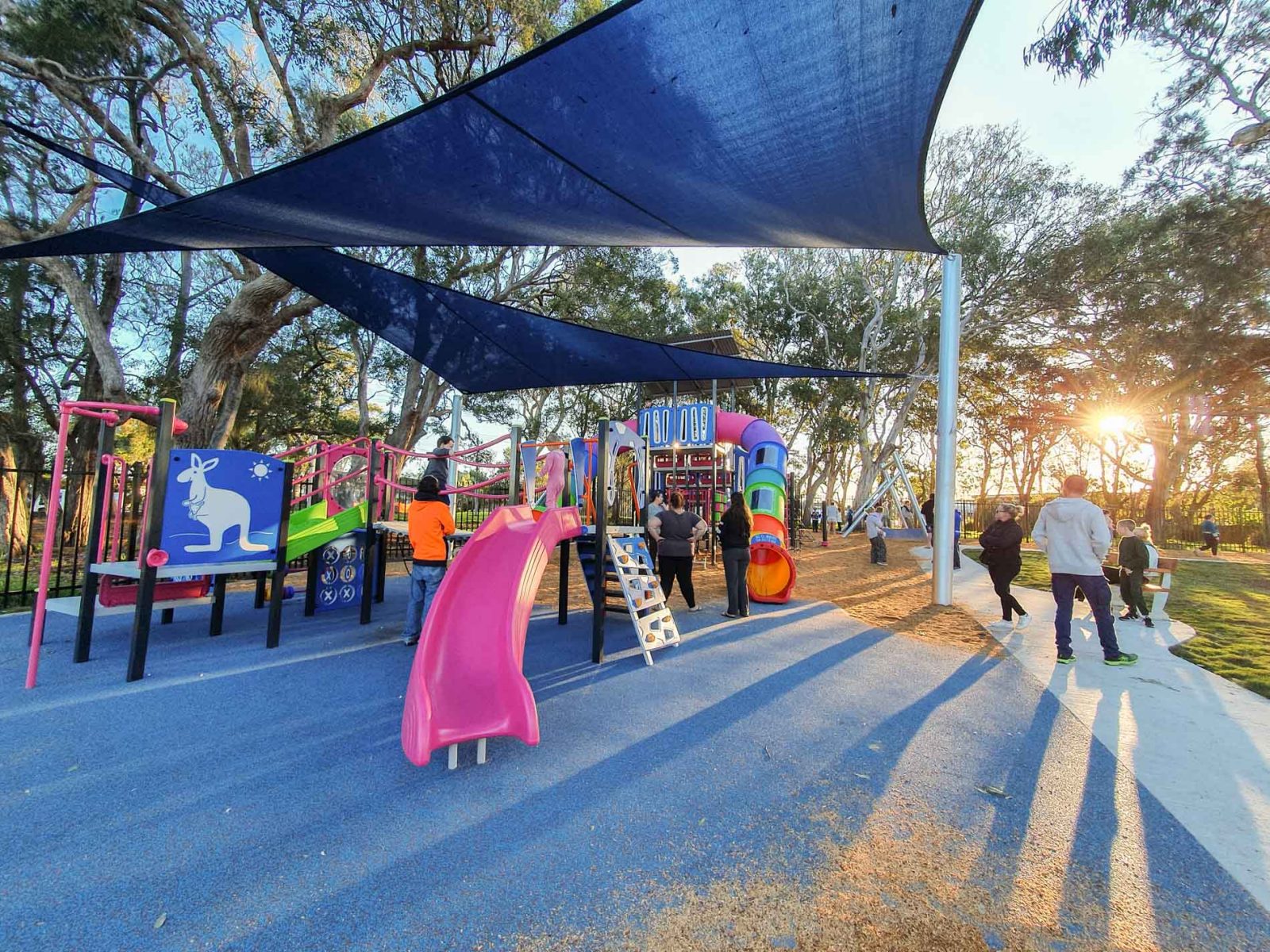 Equipment for kids aged 5+
Older children can take on the challenge of the many climbing nets or fireman's pole and then pick up some speed on the flying fox!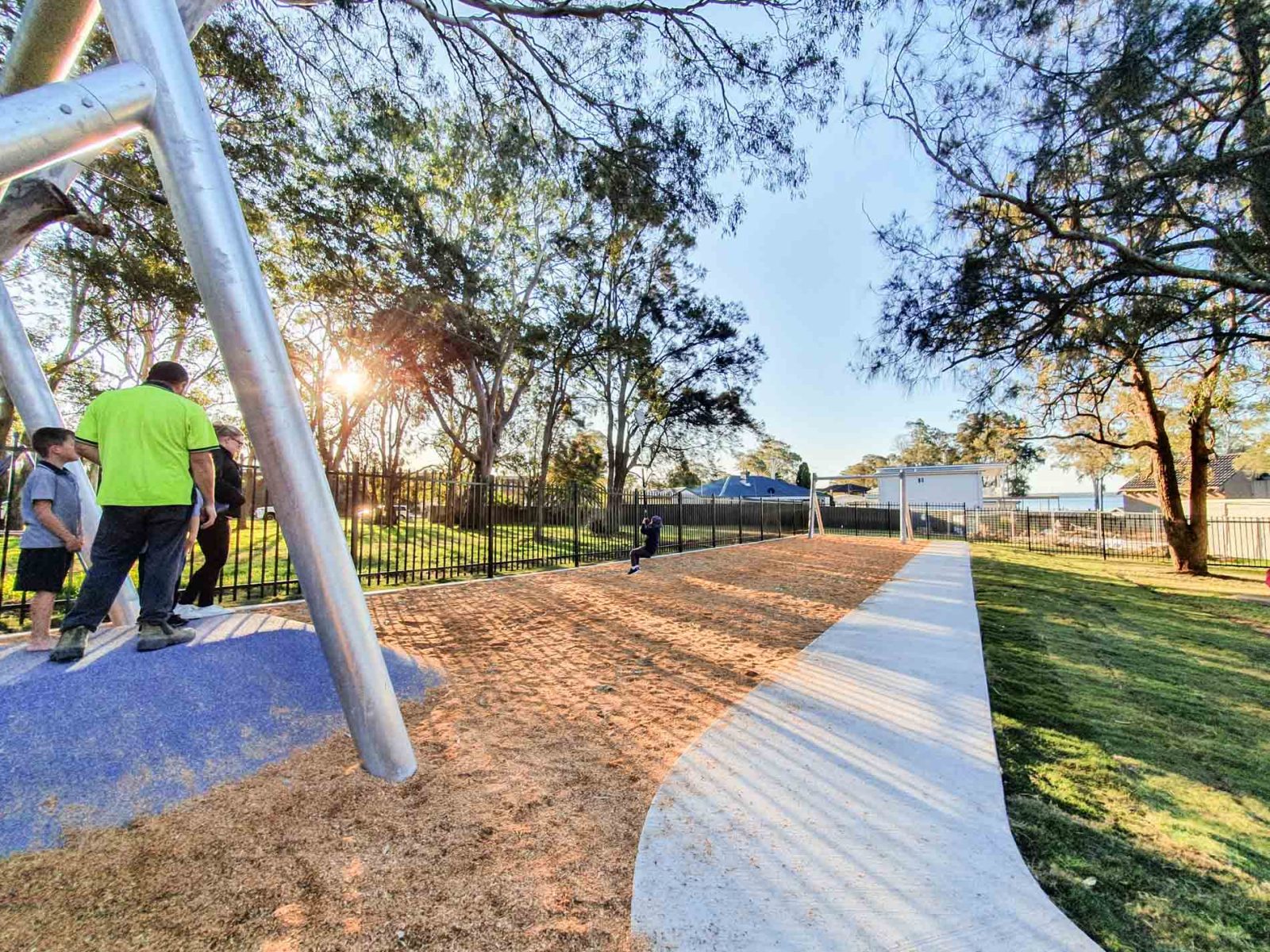 Other equipment
There's a group swing that will please kids of all ages as well as a toddler swing and standard swing – all set inside the fenced area of the playground. For the adults, there's a new exercise equipment station just outside the fenced area.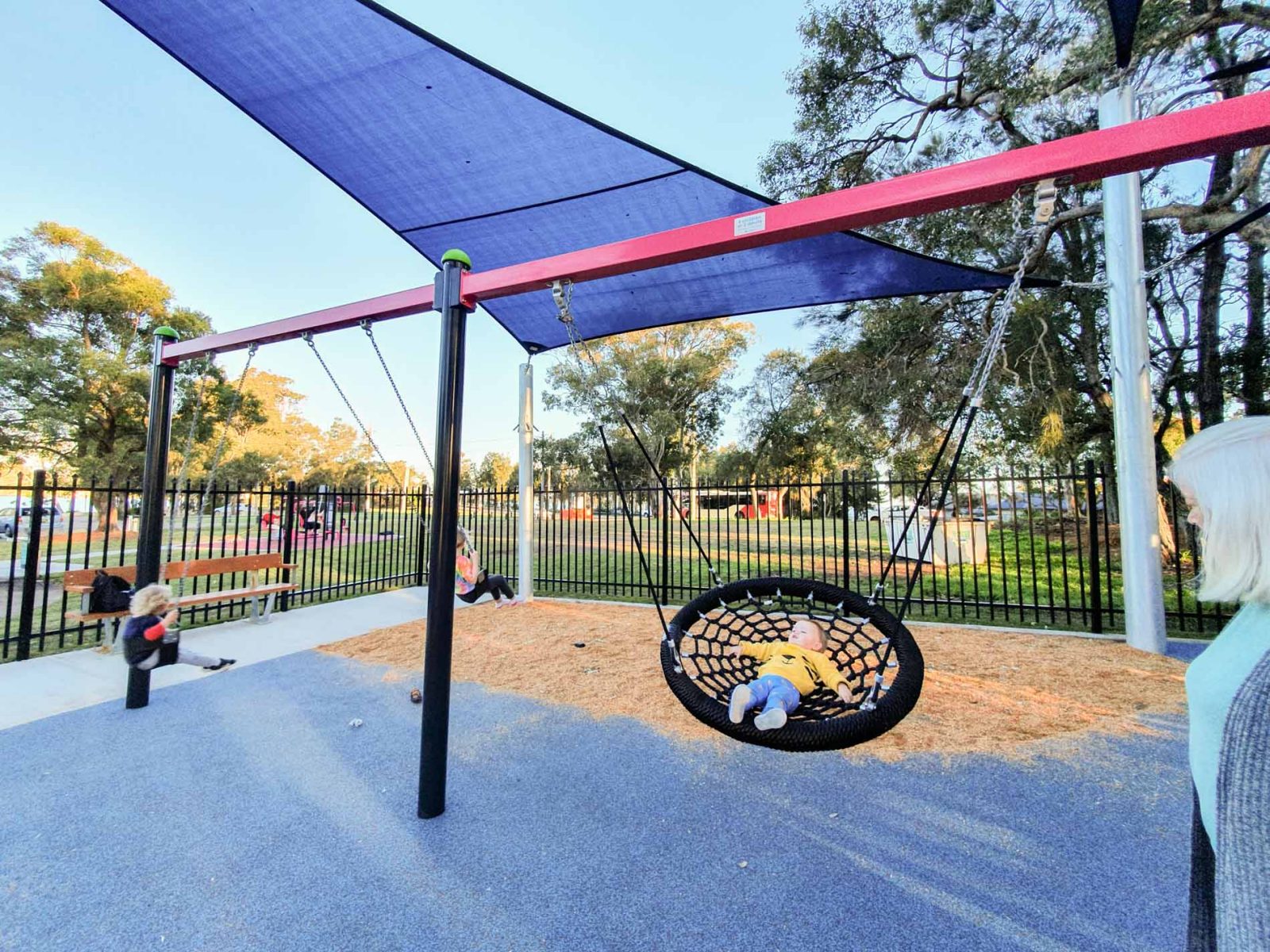 The playground facilities make it perfect for a kids party
Inside the fenced part of the park is a fairly large grassy area that's great for picnicking with small children, plus there are a few bench seats dotted around the playground for perching on while the kids play. Just outside the playground is a large covered BBQ area with plenty of tables making this a great spot for a day trip or hosting a birthday party.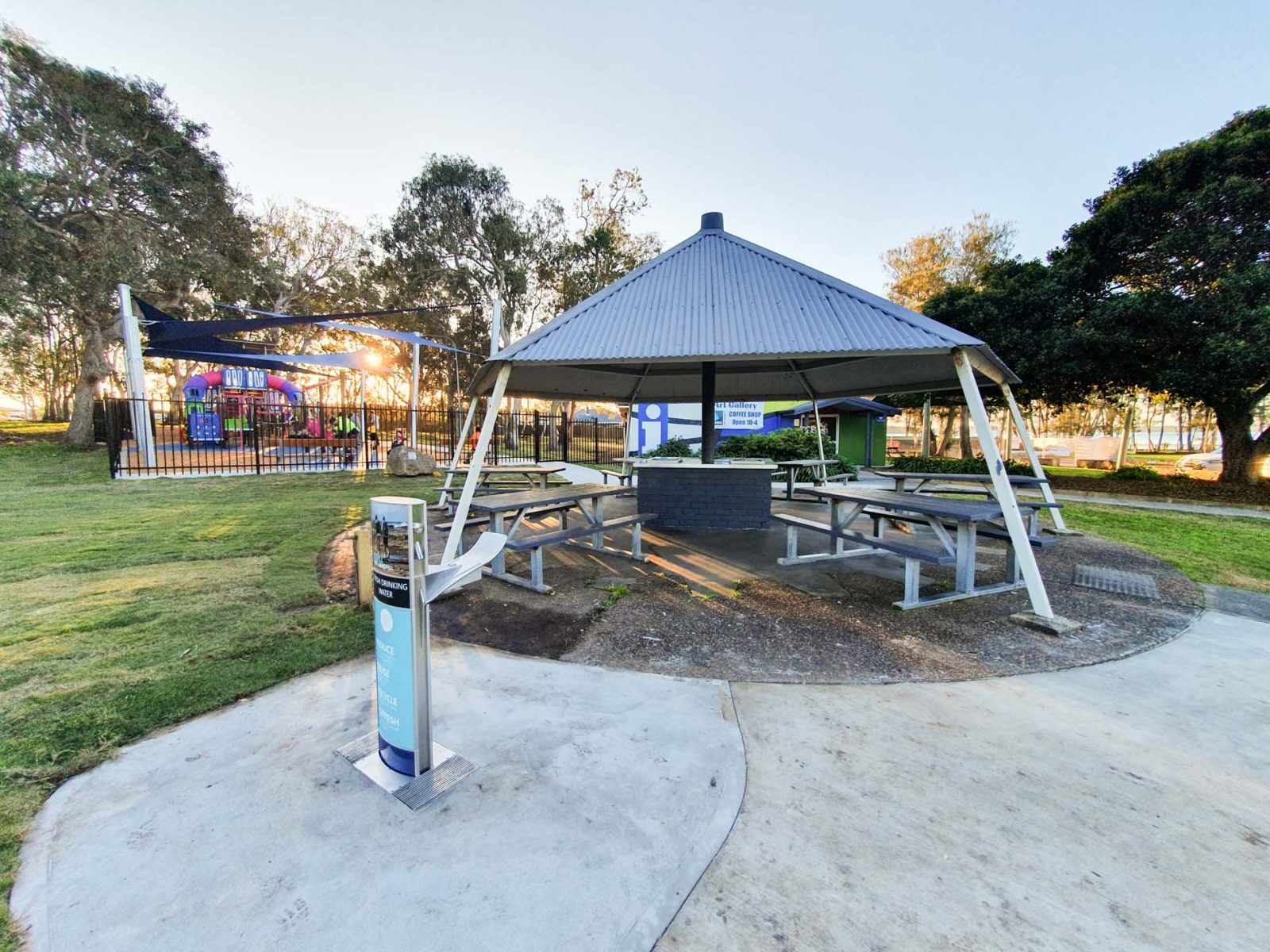 Wallarah Point Peace Park is located right on the water's edge of Tuggerah Lake (close to Gorokan boat ramp), which gives this playground extra stars for setting. With the attraction of the mega playground, it's fantastic amenities and it's peaceful scenery, it's a place you'll want to visit again and again… and again!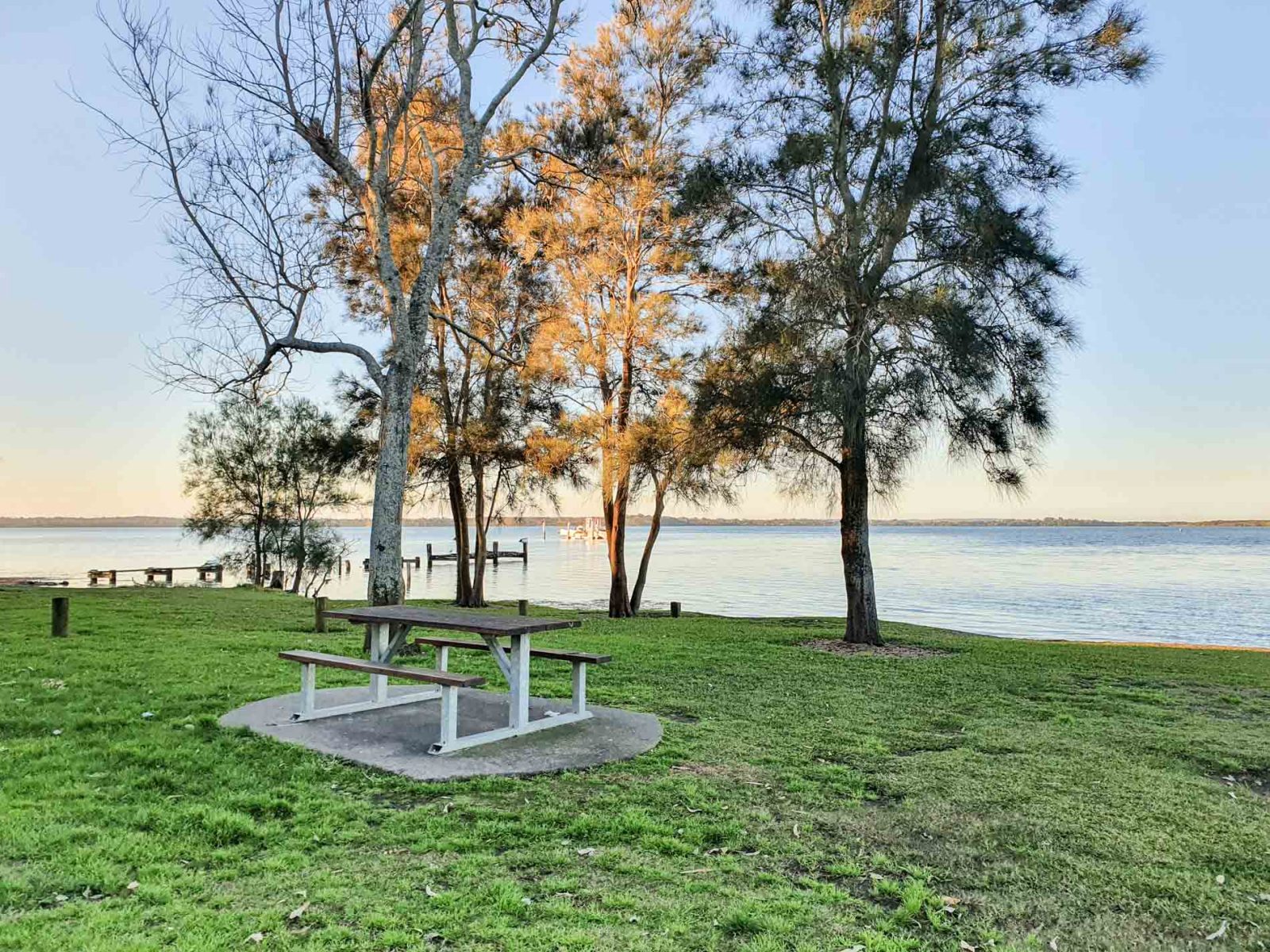 Wallarah Point Peace Park, Gorokan
Park Name: Wallarah Point Peace Park (aka the park near Toukley Bridge).
Ages: From toddlers to older kids – fun for everyone!
Fenced: Yes! Woohoo!
Groundcover: Wood chip and softfall
Toilets: Yes – located outside the fenced area beside the gallery.
Other facilities: Covered BBQ area with 6 picnic tables, bench seating around the playground, water bubbler, bins, outdoor exercise equipment.
Shade: There is shade cloth over the playground and also natural shade from the nearby trees.
Parking: Dedicated parking, just watch the little ones as there's usually plenty of cars about.
Location: 1 The Corso, Gorokan. It's the park on the left hand side of Toukley bridge if you're going from Gorokan to Toukley.
Click here to find other parks nearby: https://playinginpuddles.com.au/map/
Header Image ©Lauren Tierney for Playing in Puddles