Family photographers don't get much more on point than Jessie Walker – a Central Coast-based photographer with an eye for sentimental detail and a flair for natural beauty. Jessie captures the majesty of life's meaningful moments, right from the excitement of your engagement and wedding day through to the tender years of pregnancy, the few weeks after meeting your newborn for the first time, and the milestones your family reaches as it grows.
Jessie's Doing Festive Family Photos!
With Christmas only a couple of months away, Jessie will be taking bookings for her super special Christmas Mini sessions from Wednesday 1 September 2021! In keeping with her natural style, families wanting a rustic backdrop to their annual festive snaps this year can take to the gorgeous setting of Kulnura Christmas Tree Farm and come away with photos that will take pride of place all year round! Or if you'd prefer a more traditional setting, head to Jessie's gorgeous studio where you can choose from a Scandinavian style setting or for the first time ever, one of her BRAND-NEW Hot Cocoa Sitter Sessions!
---
Christmas Minis Session Details
Kulnura Christmas Tree Farm
When: November 14, 20 & 27 | From 5pm – 7:30pm.
Inclusions: 10 min sessions | $210 | 12 images.
---
Hamlyn Terrace Studio: Scandinavian Setting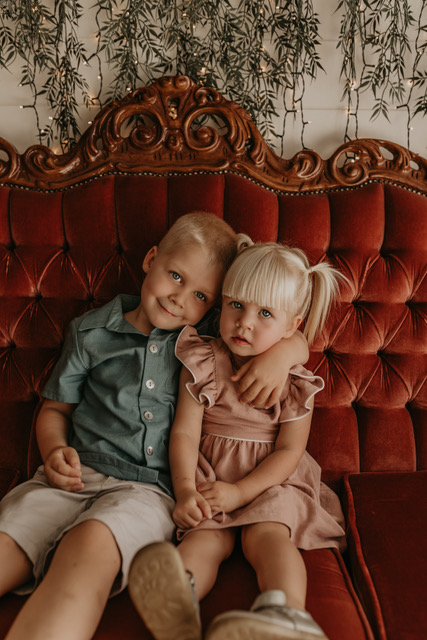 When: November 20 & 21 (Only 8 sessions available) | From 10am – 3pm.
Inclusions: 1/2hr sessions | $250 | 14 images | Client Closet available for use.
Details: Setup will be green and white (Scandinavian style – trees, baskets, brown paper wrapping, wooden bench seat). NOTE: Images are from 2020 Christmas Minis sessions – 2021 images are coming soon!
---
Hamlyn Terrace Studio: Hot Cocoa Sitter Sessions
When: November 13 (Only 7 sessions available) | From 9am – 3pm.
Inclusions: 1/2hr sessions | $180 | 7 images.
Details: Picture a snow scene, gingerbread house lane, and a giant hot cocoa mug with an oversized straw, marshmallows and a cute little shower cap! Your child must be able to confidently sit and stand independently. NOTE: This is a brand new session and we're eagerly awaiting images from Jessie which we'll share with you as soon as they land!
Bookings for all Christmas Mini sessions will be open from 1 September on Jessie's Facebook group.
All sessions will be fully refunded if restrictions prevent the Christmas Mini sessions from going ahead. Or if you'd prefer, you can put the cost of your session towards a family session in 2022.
---
Learn to take your own maternity or newborn photos with this FREE guide!
For those who've worked with Jessie, or who've simply caught a glimpse of her fabulous newborn or maternity photos, it's clear to see that she puts her heart and soul into capturing your special moments from behind the lens.
However, given the current climate of a lockdown and being unable to continue with those special, 'in-person' sessions at this time, Jessie has created a FREE, downloadable "Guide to Maternity and Newborn Photos" so that no mama misses out on capturing this special time with their families. You'll learn about pose directions, what to wear, angles and lighting, along with a heap of practical tips to help you capture those special memories in your own home and with your mobile phone!
So if you're expecting a baby or have a newborn in tow, check out this awesome 'how-to' guide where you'll pick up some new skills, create your very own photoshoot and have a heap of fun, all from the comfort of your own home!
---
Maternity Photography
For those mamas experiencing it right now, pregnancy can feel like it lasts a lifetime, But it won't be long until your new baby is in your arms and the once familiar stages of each trimester have started to fade. That's why capturing these moments can be oh-so-precious, not only for you to look back on, but for your child to cherish as they grow older.
Jessie offers soon-to-be mums a choice of having their maternity images taken throughout the day at her studio in Hamlyn Terrace, or you can opt for an outdoor session at sunset – simply divine.
Package Inclusions: This wonderful package includes full access to Jessie's unique client closet (see more details on this below), and a minimum of 30 downloadable images.
Cost: $500 (or combine this with a newborn session for $850 – that's a saving of $250)!
Tip: Maternity sessions are best done at around 30 weeks, however, book early as Jessie is fully booked up to 6 months ahead.
---

Newborn Sessions
Jessie's newborn photoshoot sessions take place at her very cosy home studio based in Hamlyn Terrace where you and your tiny bundle will have access to her adorable client closet – all props and wraps included. Plus, partners and other children are welcome too!
Package Inclusions: This package includes full access to Jessie's client closet and a minimum of 30 downloadable images.
Cost: $600 (or combine this with a maternity session for $850 – that's a saving of $250)!
Tip: Newborn sessions are best done in the first two weeks, but any time is fine as we all know adjusting to newborn life sometimes isn't black and white!
---

A Choice of Gorgeous Clothing from Jessie's Client Closet
A signature component of Jessie's offering is her amazing client closet – a collection of beautiful clothing that you can wear for your session. Women and children can choose from a selection of gorgeous, free-flowing clothing that'll make your images look like the ones you swoon about on Instagram. The added bonus? You don't have to worry about keeping your outfit clean of baby chuck and messy hands!
Use of Jessie's client closet is included with all booked sessions and while menswear isn't available YET, it's something Jessie will be working on – once she stops buying ALL the dresses!
Contact: Call Jessie on 0434 011 225 or email [email protected].
Website: Visit the Jessie Walker Photography website to see more of Jessie's work or to book your session.
Header Image: Jessie Walker Photography
---
Written By: MANDY EKMAN
Content Producer & Social Media Manager
Mandy started her media career at a digital media agency in London, before relocating to Sydney in 2008. Over the past 11 years, Mandy has gained a wide range of experience across bought, owned and earned digital media channels and after moving to the Central Coast with her husband and three kids in 2017, is really excited to be part of the Playing in Puddles team.
---
---