Easter is an exciting time of year for young children and just because the usual bigger events have been cancelled this year, doesn't mean the fun has to stop!
We've compiled a list of some awesomely creative and fun activities that will not only keep the kids happy and entertained during a time where they're spending lots of time at home, but that will also get mums and dads involved and bring the whole family together!
Happy Easter!
---
1. Make Your Own Decorative Easter Eggs
We're all having to look for ways to keep our little ones entertained this Easter and what better way than to get them painting and decorating their very own Easter Eggs! 'Home Stories A to Z' have compiled 25 awesomely unique Easter Egg ideas along with corresponding tutorials that will get the family creativity flowing. In the absence of family gatherings, children can personalise their very own Easter Eggs to give as gifts to Mums, Dads, Brothers or Sisters!
---
2. Have a Family Easter Hat Parade
Just because school's out early this Autumn, doesn't mean Easter hat parades need to be completely cancelled! Every year, kids get super excited about making their very own Easter bonnets and showing them off to their buddies and family members – so this year, why not host your very own, intimate Easter hat parade! Kids can rifle through the arts and crafts box, Mum can dig out the scissors and Dad can form a collection of recycling items that will make the perfect bunny ears! Once everyone has made their own bonnet, you can take it in turns to show them off on a catwalk made out of laid out bed sheets – the winner gets a chocolate egg!
For inspiration, check out these awesome '17 Easter Bonnet Ideas' from Mum's Grapevine.
---
3. Have an Egg and Spoon Race
This one is a great idea for families with a competitive streak! If you can sacrifice a wooden spoon or two, get the kids decorating them with any paint you can find in your craft box. Then decorate some eggs to match! Watch the kids race Dad to the bottom of the garden as they try not to drop their eggs – splat!
For creative ideas, check out Uncommon Designs here!
---
4. Bake Easter Egg Cookies
Baking is something kids love to get involved in – especially when the end result is sugary and sweet! These Easter cookies look the bees knees and it's guaranteed the little ones will think so too. So grab them a chair, give them a wooden spoon and let them get messy in the kitchen as they whip you up an Easter storm!
This cookie recipe from Kidspot uses basic baking ingredients that you should be able to dig out of your pantry without having to visit the supermarket. Happy decorating!
---
5. Make Easter Popcorn
You had us at popcorn! This Easter popcorn recipe from The Organised Housewife looks so delicious and is guaranteed to put a smile on little faces. With white chocolate, sprinkles and M&Ms, this is a treat they'll be Facetiming their friends about!
---
6. Make Toilet Paper Roll Bunnies
Toilet paper is a hot commodity at the moment and with a bit of luck, you'll have one or two of the roll tubes laying around at home! These cute Toilet Paper Roll Bunnies from The Best Ideas for Kids make adorable Easter decorations or can double up as Easter treat holders if you pop a bottom on them!
---
7. Organise Your Own Easter Egg Hunt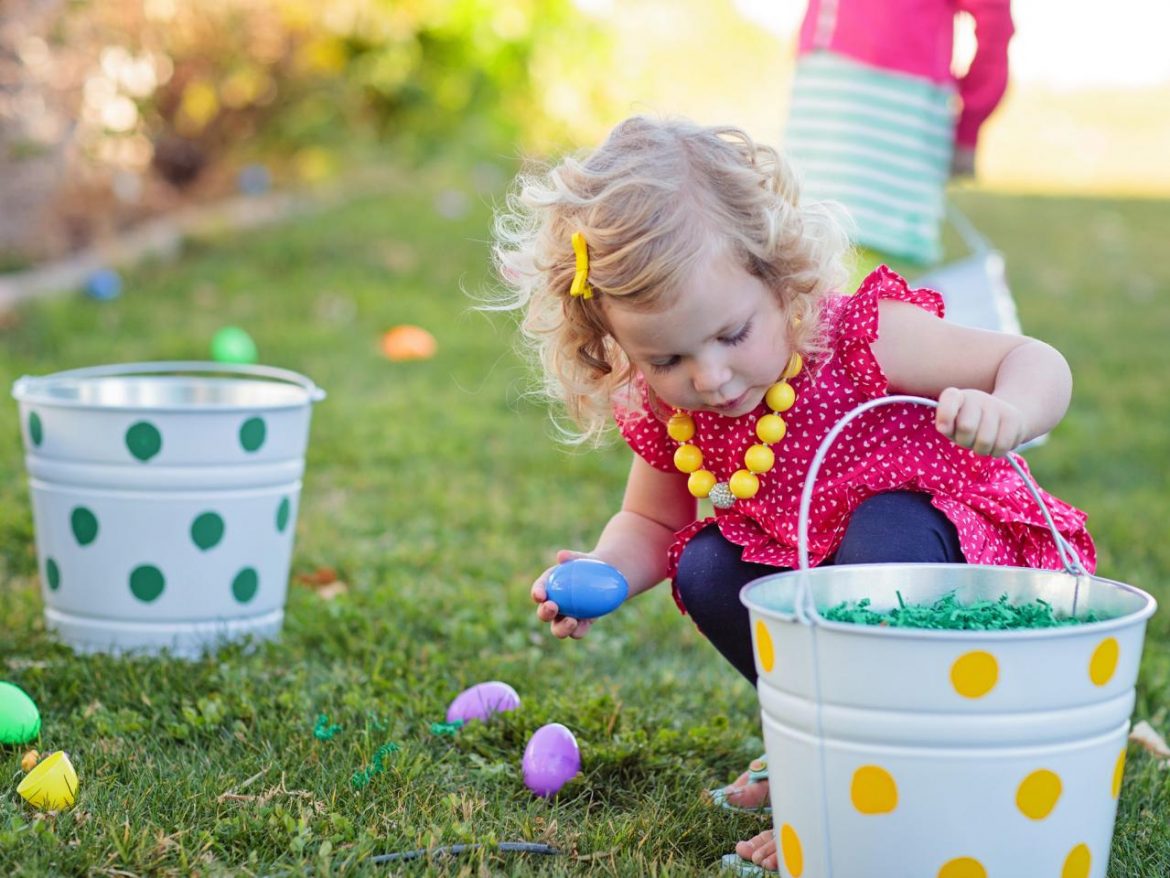 An Easter egg hunt at home can be as simple or as complex as your energy levels allow after all that home-schooling! Whether you're simply scattering chocolatey treats around your garden for toddlers to stumble across or creating a scavenger hunt that even adults will find challenging, this is one activity that promises to set the scene for an exciting Easter weekend!
Check out these cool Easter Egg Hunt Tips and Ideas from The Organised Housewife and start planning your Easter weekend Eggstravaganza!
---
8. Make Your Own Easter Bunny Basket
If you're planning an Easter egg hunt in your backyard, then why not go the whole hog and have the kids making their own Easter baskets beforehand? These cute little bunny baskets from Mermablog are made from household basics and will keep the kids entertained for hours!
---
9. Make Clothes Peg Bunnies
Clothes pegs can be found in the laundry cupboard or on the washing line of most households so if you have a few to spare, let the kids go wild creating their own clothes peg Easter bunnies! These Clothespin Bunnies by One Little Project are awesomely simple yet heaps of fun and will keep the kids busy while you have a much deserved coffee break!
---
10. Make Easter Chocolate Nests
For budding chefs and 'mummy's helpers', these little Chocolate Nests are a great first recipe to try out! They're quick, simple and there's no baking required, making them perfect for kids who are gaining some independence in the kitchen!