In this unprecedented time many of us are trying to find activities that limit our contact with others, and here on the Central Coast we're blessed with myriad secret spaces and hidden locations that can be explored and enjoyed – often without seeing anyone else.
Here are some of our favourite places on the Central Coast to escape and explore.
---
Kanning Cave Walk and Kincumba Mountain
Kincumba Mountain is a fabulous place to explore. At the large picnic area at the top of the hill you'll find a mud-brick building (available for hire for gatherings), free BBQ facilities, shelters and public toilets. There's ample grass spaces for kids to kick a ball or play tip, as well as Honeman's Rock (aka Honeyman's Rock) – a large is a large 60m-long and 30m-wide rocky outcrop that just begs exploration.
The nearby Kanning Cave Walk is one of our favourite family hikes as it's an easy 1km track that crosses bridges and passes multiple sandstone caves. The largest cave is a sacred woman's birthing place for the Darkinjung People.
Location: Kincumba Mountain Reserve, Kincumber.
For more info, visit the WildWalks website.
---
Mount Penang Gardens
The eight-hectare Mount Penang Gardens is home to more than 1000 native plants, including Coastal wattles, banksias and grevilleas as well as fountains, ponds and a 35-metre cantilevered steel footbridge. You can feed the ducks, wander the gardens, play a game of soccer, and view the Wondabyne Sculptures – massive artworks carved from Gosford sandstone.
Cost: Free.
Open: Daily 9:30am – 4:30pm (wiuth the exception of Christmas Day, Boxing Day, New Years Day, Good Friday and special event days when they are closed).
Location: Parklands Road, Mt Penang Parklands, Kariong.
For more info, visit their website or call (02) 4340 1002.
---
Bulgandry Art Site Aboriginal Place
In Brisbane Water National Park you'll find the Bulgandry Art Site Aboriginal Place – a special landscape of well-preserved Aboriginal engravings. The site is just a short walk from the car park – perfect for little legs – and the raised boardwalk surrounding the site offers walkers (both big and little) a good vantage from which to view the centuries-old rock art. Kids love finding and pointing out the engravings of fish, wallabies, a dolphin and a man.
Location: Bulgandry Rd, Kariong (off Woy Woy Rd).
For more info, visit the National Parks website.
---
Play FootGolf at Mangrove Mountain
+ UPDATE: 24 March. The gold course is open but club closed. Please contact the club to see if you can still play.
Set on the expansive Mangrove Mountain golf course, FootGolf can be played with as many or as few people as you like. The game combines the fun of soccer and golf – the aim being to kick a soccer ball into nine specially designed holes in as few kicks as possible. It's great fun, and is something the family can play and enjoy together.
Playing in Puddles had a kick. Click here to read our review of the fun.
Cost: A game of nine holes of FootGolf is $6 for children under 16, $11 for adults and $5 for ball hire (you can bring your own soccer ball if you like).
Location: Mangrove Mountain Memorial Club & Golf Course, 18 Hallards Rd, Central Mangrove.
For more info, visit Mangrove Mountain Memorial Club & Golf Course's website or call 0243 731 129.
---
Central Coast Community Gardens
There are a number of community gardens across the Central Coast where you can help tend to veggie patches, explore the meandering paths, turn the soil and let young ones smell lavender, mint and basil.
The Kariong Eco Garden is a favourite of ours with its "Fairy" stepping stones and bush surrounds, as is Woy Woy, which is a wonderful space for kids with its mud kitchen and planted boat. You'll also find gardens at Bateau Bay, Berkeley Vale, East Gosford, Narara, Green Point, Gwandalan, Kincumber, Point Clare, San Remo and Wyoming.
For more info, visit the Central Coast Council website.
---
Somersby Falls
Somersby Falls is one of those often-overlooked areas that people talk about visiting but never quite get to, and when you do finally visit you kick yourself for not visiting sooner as it really is magic.
There are two waterfalls – both accessed via the steep (and often slippery) 500m-return Somersby Falls Walking Track. Following rain, water cascades down the rocks creating pools of water and much laughter from children splashing and dancing beneath.
There are free barbecue facilities and toilets at the Somersby Falls picnic area – just near the car park – which makes it a great space for lunch.
Location: End of Somersby Falls Rd, Somersby.
---
The Girrakool Loop Track
The 2km Girrakool Loop Track is an easy walk that takes you past an Indigenous engraving site, cascading waterfalls and some pretty lookouts. It's a short hike with lots of changing terrain, so it maintains the interest of little walkers.
Location: Girrakool Picnic Area, Somersby.
For more info, visit the National Parks site.
---
Rockpool explorations across the Central Coast
Our kids love exploring rockpools – bucket in hand and eyes at the ready. With 41 beaches on the Central Coast there are so many rock platforms to explore, but here are two of our favourites.
Terrigal: The southern end of Terrigal has a tiny ocean pool that's home to myriad crabs, periwinkles, fish and the odd octopus. If you dart around the front of the fish 'n' chip shop at Terrigal Haven you'll find hundreds and thousands of crabs hiding under the rocks. Just be aware of the tides, so you don't get stuck.
Bateau Bay: The Bateau Bay Beach rock shelf is home to nodiwinks, brittle stars and waratah anemone. There are sea slugs to spy, star fish to find and sea squirts to push on and giggle at.
Click here to read our feature outlining our "Top 8 Central Coast beaches and rockpools for families".
---
Bushwalk through the Bouddi National Park
The Bouddi National Park is home to countless bushwalks, but the most popular and arguably most stunning is the 8km Bouddi Coastal Walk from Putty to MacMasters. The first 3km stretch from Putty Beach to Maitland Bay offers walkers the most reward, as the boardwalk hugs the coastline and offers uninterrupted views of the ocean.
Location: Putty Beach.
For more info, visit the National Parks site.
---
NOW CLOSED – The Edogawa Commemorative Garden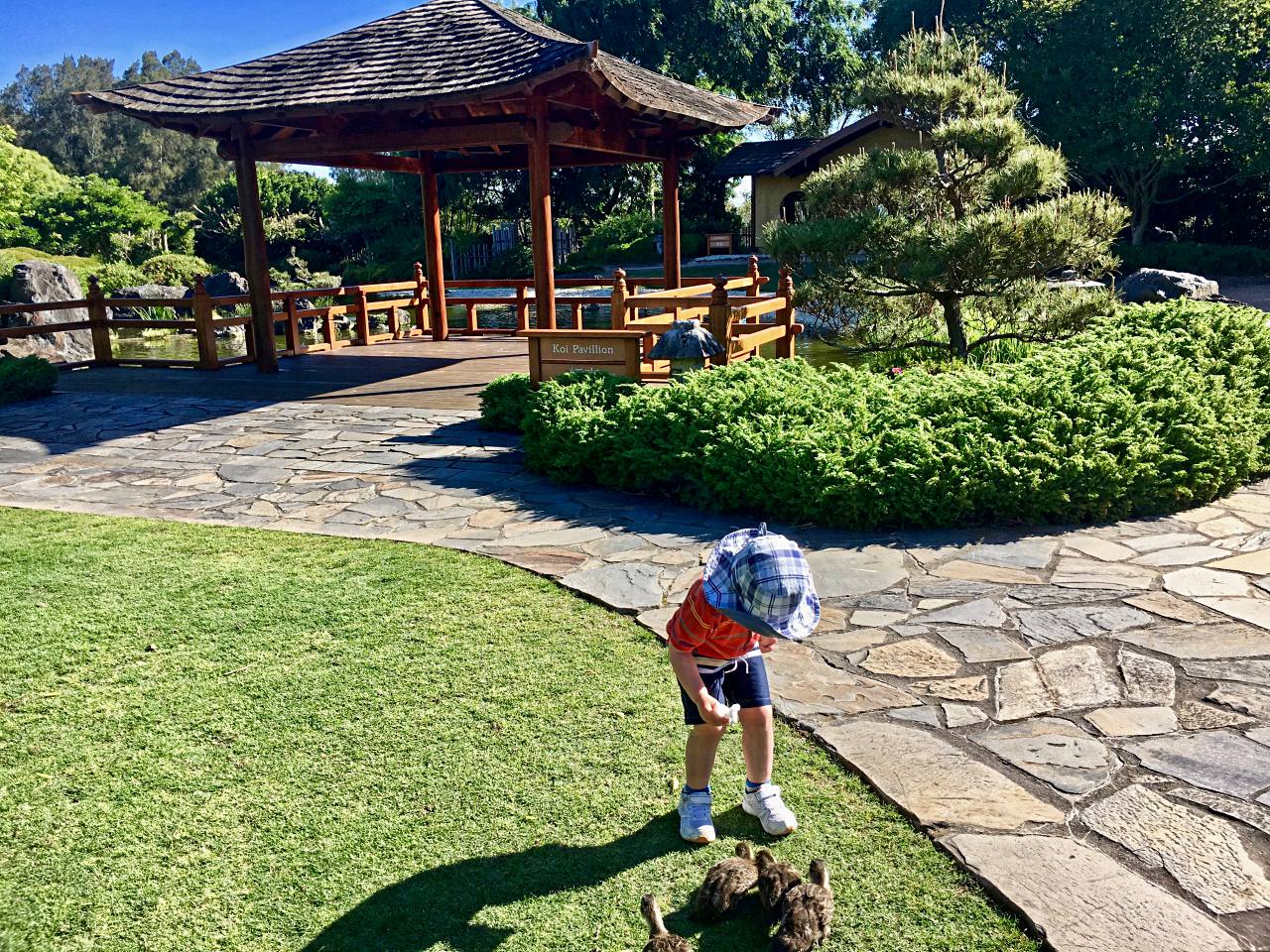 + UPDATE: 24 March. The Gallery and Garden has been closed until further notice.
The Japanese Gardens, as it's locally known, is a 4,000m2 area of meandering paths, wooden bridges and koi-filled ponds. Purchase a bag of fish food for $2 from the gallery shop and let the colourful koi and resident ducklings take over the entertaining for a little while. There's a small children's play area in the gardens, too, and of course the adjoining gallery, which often holds free exhibitions.
Cost: Free!
Read Playing in Puddles' review for opening times and further details.
Location: 36 Webb Street, East Gosford.
---
The Coast Walking Track, Wyrrabalong National Park
The Coast Walking Track through Wyrrabalong National Park offers spectacular ocean views as it traverses the cliff tops between Bateau Bay Beach and Crackneck Lookout. This walk offers great vantages for whale watching from May to August.
Location: Start at the Bateau Bay Picnic Area.
For more info, visit the Wildwalks website.
---
Glenworth Valley's Running of the Horses
Glenworth Valley's iconic Running Of The Horses is a daily event in which some 200 horses are mustered out of the riding yards and across the river to other pasture. This event occurs every afternoon at about 4.30pm; however, the time and location varies daily, so it's best to check with staff on the day for all details. You're welcome to come to the Valley any time to watch this event, and it won't cost you a cent!
Cost: Free.
Read Playing in Puddles' review for further details.
Location: 69 Cooks Road, Glenworth Valley.
---
Katandra Reserve
Tucked away off Holgate's Wattle Tree Road is Katandra Reserve – a beautiful section of bushland with easy and moderate walking tracks. The Katandra Reserve Explorer route is a 5.3km circuit that takes in all the area's highlights, including Seymour Pond, St Johns lookout and the popular strangler figs. If you're short on time, a return walk to the strangler figs is 2km and takes only an hour.
Location: Katandra Rd, Holgate.
For more info, visit the Wildwalks website.