With restrictions easing, a tonne of fabulous galleries, zoos and attractions have now opened their doors! We've found a heap of spaces that have already opened across the Central Coast, Newcastle/Hunter, Sydney and Lake Macquarie area, as well as places that plan to open up in the coming weeks. Read on to start planning your next family adventure.
---
Central Coast Indoor Play Centres & Leisure Centres
---
Kincumber Indoor Sports and Play Time: Open Now

Kincumber Indoor Sports and Play Time has been spruced up and is ready for little explorers to burn off lots of energy! The awesome Play Time area is packed with huge inflatables, cubbies, ride-ons and toys – just perfect for little tots and children under seven. Plus, there's a cafe serving coffee and a variety of hot and cold snacks conveniently positioned right next to the play equipment!
Play Time has re-opened and resumed its daily hours of 9am – 3pm. Playing in Puddles visited – check out our review here.
---
Flip Out Trampoline Arena Gosford: Open Now

If you've got kids bouncing off the walls then Flip Out Gosford is the remedy! Kitted out with two Olympic trampolines, a wall runner, foam pit and an under-10s trampoline area, the super-fun Flip Out arena in Gosford is the perfect place for kids to go wild. Mother's groups will love their term time, daily Play Groups where kids under six will be entertained with puzzles, colouring and Play-Doh as well as lots of bouncing fun – plus there's coffee available at the on-site cafe!
Playing in Puddles visited – check out our review here!
---
Council Leisure Centres and Swimming Pools: Limited Services Open Now
While leisure and play swimming and Learn to Swim lessons are not yet permitted, Central Coast Council's local recreation centres have started to open up offering selected services for exercise. See below for details:
Centre
Gym
Creche
Group
Fitness
Pools for
Lap Swimming
Leisure &
Play Swimming
Learn to
Swim
Casual
Sports
Change
Rooms
24 Hr
Gym
Peninsula Leisure Centre
Woy Woy – OPEN
Yes
Limited
Numbers
Limited
Numbers
Limited
Numbers
Not Permitted
From 22 June
Basketball
Limited Numbers
TBA
Lake Haven Recreation Centre – OPEN
Yes
Limited
Numbers
Limited
Numbers
–
–
From 22 June
Basketball/
Squash
Limited Numbers
–
Gosford Olympic Pool – OPEN
–
–
–
Limited
Numbers
Not Permitted
From 22 June
–
Limited Numbers
–
Niagara Park Stadium – OPEN
–
–
–
–
–
–
Bookings for Casual Programs
–
–
Toukley Aquatic Centre – OPEN
–
–
–
Limited
Numbers
Not Permitted
From 22 June
–
–
–
---
Virtual Reality at The Entrance: Open Now

Kids don't have to be a technical whizz to get a breathtaking and transformative experience at the Central Coast Virtual Reality studio. Whether your kids are into horror, outer space, cute baby dragons or the zombie apocalypse, this awesome studio at The Entrance offers heaps of experiences catering to all tastes!
CCVR are currently open Thursday – Sunday from 10am – 6pm and every day during the school holidays. Total maximum capacity restrictions apply with two people sharing a station at any one time. To pre-book, visit their website.
---
Monkey Mania, Gosford: Opening 1 July
Another great wet weather option is Monkey Mania in Gosford (situated inside Central Coast Leagues Club). Inside you'll find a three-storey soft-fall play zone filled with slides and obstacles – there's even a wind-activated foam ball arena! If that's not enough to run the kids ragged, they'll also find a jumping castle, a race-car track and a designated area for the under-fives featuring a cubby house, mini slides, foam animals to bounce on and wall activity panels. Plus coffee, cakes and lunch are available from the on-site cafe!
Monkey Mania will be re-opening their doors from Wednesday 1 July and will be open every day of the school holidays!
---
Art Barn Plaster Painting, Gosford: Open Now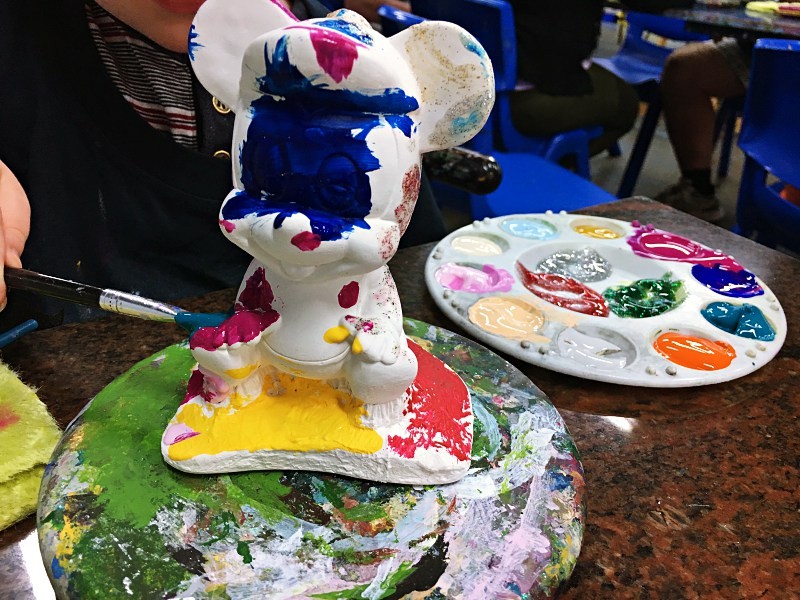 Art Barn Plaster Painting in Gosford is the perfect alternative to play centres on a rainy day! Children will "ooh" and "aah" over the great selection of figurines to choose from – will they pick a Disney character, superhero, fairy or truck? They'll each get their own palette of paints, brushes and a paint apron to explore their artistic side decorating these cute ornaments – plus The Art Barn is open every day so it's a great option for a Mother's Group weekday catch up or a family weekend activity.
---
Active Adventures on the Central Coast
---
Glenworth Valley Outdoor Adventures: Open Now

If you've been feeling deprived of adventure over recent weeks, you'll be excited to hear that Glenworth Valley Outdoor Adventures is now open for horse riding and their popular outdoor activities! Sessions are currently capped at a maximum of 10 guests to ensure the health and safety of staff and guests so make sure you book prior to visiting. Bookings can be made online or by calling 4375 1222.
PLUS, the camp ground is also now open along with their lovely self-contained cabins which are available for short stays.
For more information on how Glenworth Valley are taking precautions to keep their staff and guests safe, visit their website.
Playing in Puddles visited – check out our feature here!
---
Treetops Adventure Park: Open Now

If you're planning your next family adventure, Treetops Adventure Park in Ourimbah should be next on your list! Families with very young children can experience Net World, a network of interconnected spaces where they'll bounce around while enjoying a heap of fun games with gigantic inflatable balls! For children aged three and over, there's a lot of fun to be had at one of their self-guided rope courses. Or for slightly older children who'd like to test their sense of adventure, there's the vertical challenge or their LONG zip line that will get the adrenaline pumping!
Plus, you can get 20% OFF by using the code ADVENTURE (Code valid until 03/07/2020). To pre-book your tickets and make the most of this deal, visit their website.
---
Mangrove Mountain Memorial Club and Golf Course: Open Now for FootGolf

If you've never tried FootGolf, now's the time to give it a go! Rally the family together for an afternoon of healthy competition as Mum, Dad, Grandma and Grandpa attempt to kick a football into nine specially designed holes in as few kicks as possible! This is an activity suited to little (and big) kids of all ages and is the perfect way to build up an appetite before grabbing a chicken schnitty at the Club's bistro afterwards.
Playing in Puddles visited – check out our review here!
---
Slam Factory: Open Now

Calling all skateboarders, scooter riders, BMX and mountain bike riders, roller bladers, roller skaters and anyone who loves to roll on wheels – Australia's longest-running indoor skate park Slam Factory in Tuggerah re-opens to riders of all abilities from Saturday 13 June! There's also a cool shop where you can purchase protective gear, apparel and all types of boards, scooters, bikes and accessories – plus if you spend in the shop, you will receive FREE skatepark entry!
Due to current social distancing restrictions, only 40 riders are allowed per session with one spectator for every rider so it's important to pre-book your spot to avoid disappointment. Session times are currently two hours on weekends and three hours on weekdays. To view the timetable or book your spot, visit the Slam Factory website.
---
Pulse Climbing Central Coast: Open Now
Got active tweens or teens? Pulse Climbing at West Gosford is an indoor bouldering and rock climbing facility that promises to challenge kids both mentally and physically. Children as young as five can join in the fun, with the climbing walls ranging from the basic beginner level to "super-hard climbs for the hard-core".
A number of measures have been taken to ensure the safety of visitors and staff at Pulse Climbing. Please read a summary of these changes here before heading in for a climb.
Playing in Puddles visited – check out our review here.
---
Clip 'N Climb Central Coast: Open Now

The vibrantly themed Clip 'N Climb arena in Gosford is an exciting space where kids can challenge themselves in a fully supervised environment. With 28 different climbing walls, kids will have fun racing each other as they make their way to the top, jump off, glide down and start their next climb all over again! Clip 'N Climb is suitable for children aged six and above – no experience is necessary.
To secure your spot, be sure to pre-book!
---
Kartatak Raceway Tuggerah: Open Now

The Central Coast's only indoor Go-Karting track is now open to the public with social distancing rules in place and only 6 karts operating at any one time. Less than 500 metres from Westfield Tuggerah and Tuggerah train station, Kartatak Raceway is easily accessible and ready to fulfill your thrill-seeking needs! This exciting venue has karts for juniors and seniors as well as double karts so there's something for the whole family!
Click here to learn how they're operating during COVID-19.
---
Laser Tag Mania, Gosford: Opening 1 July
Located inside the Central Coast Leagues Club at Gosford, Laser Tag Mania offers a state of the art laser tag game that is bound to excite the whole family! Kids, teens and adults can head along 7 days a week for a casual game of laser tag before grabbing a bite to eat at one of the many dining options within the club! Plus, you can get a discount on the entry price if you're also visiting Monkey Mania which is right next door!
Laser Tag Mania is open every day throughout the school holidays. Bookings are essential.
---
Australian Warrior Fitness: Open Now
Got kids doing forward-rolls off the sofa and somersaults across the coffee table? You may have a mini ninja on your hands! Australian Warrior Fitness in North Gosford are open for regular term-time ninja training classes, school holiday clinics and for "Open Play" sessions for kids aged 12-16 – just what your budding warriors need to burn off that energy! Whatever their fitness level, AWF caters for beginners right up to elite champions.
---
Obstacle Course Racing School, Tuggerah: Open Now
The incredible custom-built space at Obstacle Course Racing School in Tuggerah is equipped to provide a variety of fitness sessions and ninja training to kids aged 3 – 80! Children will strengthen their bodies through climbing, improve their balance and cardio fitness and enhance motor skills and coordination – all while having fun and doing something different!
Term-time classes are available for mini ninjas and school-aged children, plus they run a fun and affordable school holiday program for kids wanting to challenge themselves and try something new. Bookings are essential so make sure you reserve your spot!
---
Central Coast Animal Attractions, Farm Tours and Zoos
---
The Australian Reptile Park: Open Now

The Australian Reptile Park has reopened! Visitors can now head along to pat the kangaroos, watch the crocodiles being fed and see the lizards out for their regular walk! Guests to the park will also get to take part in their new Interactive Keeper Stations where they'll interact with some of the park's amazing animals and learn more about them.
For all information on how the Australian Reptile Park is taking extra precautions to keep visitors, staff and animals safe, please visit the website.
Finally, a special thanks to Tim and all of the Australian Reptile Park team for all of their wonderful educational animal videos throughout iso. They were brilliant, and truly helped many parents get through some tricky homeschooling days. We can't wait to now come and visit you again in person!
---
Australia Walkabout Wildlife Park: Open Now

NOW OPEN! The Australian Walkabout Wildlife Park in Calga is now open for visitors! Guests to the park can spend the day with some of Australia's favourite animals including koalas, kangaroos, wombats, wallabies and heaps more!
Set on 80 acres of land, there's heaps of space to make social distancing easy for visitors. For further details on safety measures being taken at the park, visit their website.
---
Grace Springs Farm: Open for Private tours of up to 8 people

While their regular tours aren't yet operating, you can book a private Grace Springs Farm tour for 8 people. Watch the cows be milked, cuddle the chicks, collect the eggs and pull veg straight from the patch. Playing in Puddles' visited; click here to read our review.
---
Amazement Farm & Fun Park: Re-opening 4 July

From 4 July, little ones will once again be able to see the goats, donkeys and bunny rabbits at the Amazement Farm and Fun Park at Wyong Creek. Families can explore the multiple hedge mazes, bird sanctuary, giant board games, kids playground and The Big Barn Cafe, plus heaps more!
Visit their website for more details.
---
Family Day-Trips from the Central Coast
---
Hunter Valley Gardens: Open Now

Meet Humpty Dumpty, roll down the hill with Jack and Jill, and have tea with Alice, Tweedle Dee and the Mad Hatter!
We're so delighted to announce that the wonderful Hunter Valley Gardens is re-opening to visitors! If you've not visited this magical outdoor space before, now's the time! With their gorgeous Storybook Garden and over 14 hectares of display gardens, there's ample room for social distancing – making this a much needed fun and comfortable day out for everyone in the family!
---
Central Coast Museums, Galleries and Centres of Culture
---
Alison Homestead: Open Now

Take a trip back in time to Wyong's Alison Homestead where little historians can peruse the Museum filled with memorabilia, photos, furniture, toys, machinery and tools from as far back as 1825. Learn about the early settling of Wyong and its surrounds, see the Old Schoolhouse set up with classroom furniture and equipment from days gone by, take a wander around the stunning gardens or enjoy a morning tea of coffee and scones in this beautiful historical setting.
There's also a picnic area with BBQs available for self catering and the outdoor areas are dog friendly so furry friends are welcome!
The Museum is open Sunday to Thursday from 10am – 2pm. Morning tea costs $10 per head and includes the entry fee and a free tour of the Museum. Bookings are essential.
---
Gosford Regional Gallery and Edogawa Commemorative Garden: Open Now

If you're looking for somewhere to stretch little legs, the Edogawa Commemorative Garden at Gosford Regional Gallery is the place. Tots can explore the winding paths of the Japanese garden, sit and enjoy a picnic in the peaceful surrounds or feed the koi for $2 per bag of fish food. Plus there's also something for the parents – a yummy coffee from the Point Cafe!
Playing in Puddles visited – check out our review here.
Are you an art lover? Now's the time to visit the Gosford Regional Gallery as they reopen with the beautiful solo exhibition, "Coastal Sanctuaries" by Central Coast painter Robyn Pedley. Entry is FREE but booking is essential.
The Gallery is open 9.30am to 4pm Monday to Saturday.
---
Central Coast Marine Discovery Centre: Re-opening following renovations in time for the July School Holidays (Saturday 4th July to Sunday 19th July)

At the Central Coast Marine Discovery Centre you can see Port Jackson sharks, handle shells, look at shark teeth under microscopes, paint pelican plasters and watch a cartoon about sea dragons! It's a fun informative space run by local volunteers and it's currently under renovation (which is good timing given COVID-19). The Centre is due to re-open just in time for the July school holidays, so add it to your to-do list.
---
Attractions, Museums, Galleries and More in Newcastle, Lake Macquarie and the Hunter Valley
---
MAC – Museum of Art and Culture Lake Macquarie: Open Now

Art lovers will be delighted to hear that the Museum of Art and Culture and the Sculpture Cafe in Lake Macquarie will reopen to the public from Tuesday 2 June! The MAC will also be extending the popular First Class 19 and Guan Wei exhibitions until 28 June so guests don't miss out.
The Sculpture Cafe will be open to the public with social distancing and temporary capacity restrictions in place. Grab morning tea and a coffee while overlooking the glorious lake views or get a takeaway to enjoy in the stunning Sculpture Park grounds.
---
Heddon Greta Drive In: Open Now

Movie lovers can now get their fix at the Hunter Valley's Heddon Greta Drive In cinema! Guests can grab a bunch of blankets, pack a picnic of movie snacks and indulge in this big-screen experience at the much-loved open-air cinema. Ticket sales are online only so be sure to pre-book before you visit!
Our friends Newy with Kids visited; click here to read their review.
---
Oakvale Wildlife Park: Open Now

Oakvale Wildlife Park in beautiful Port Stephens has now reopened to the public. The Australian-owned and operated park promises an exciting hands-on experience for everyone in the family with many Australian native, domestic farm and exotic animals to see, touch and feel! There's even a water-park for the warmer days so take your swimmers and sense of adventure!
Please note all tickets must be booked online.
---
Toboggan Hill Park: Open for Private Bookings – up to 10 people.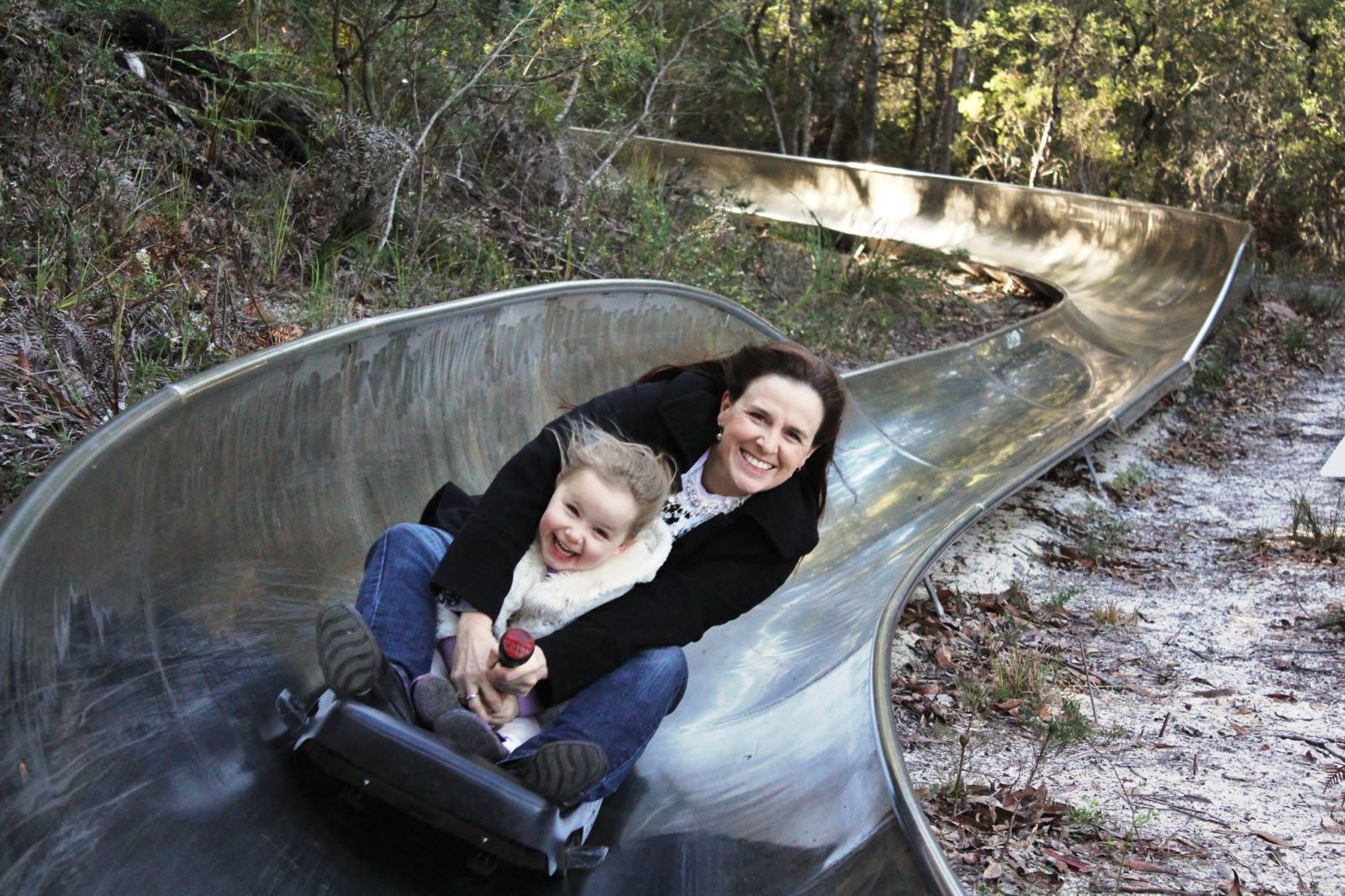 The MUST SEE attraction at Nelson Bay Toboggan Hill Park is now open for private bookings of up to 10 people. This awesome park has a huge number of activities to suit all age groups. The famous toboggan run is equipped with brakes, allowing parents to control the speed of descent – making this fun for both little and big kids! Plus, families can take a trip on the tractor-train ride, tackle the giant maze, try a hand at mini-golf or even have a go at soaking their opponent in 'Splashdown', the fun water balloon launching game!
Please note tickets must be purchased online.
---
Hunter Valley Zoo: Open Now

Hunter Valley Zoo are now welcoming visitors back to see their wonderful animals. Guests can now enjoy daily shows, animal encounters, farm animal feeding and spending a family day exploring the surroundings of the beautiful zoo.
In order to ensure everyone's safety during this time, Hunter Valley Zoo are unable to have their BBQ facilities available and seating around the zoo will be limited. Therefore, they suggest guests pack a nice picnic lunch, a picnic blanket or bring their own picnic chairs where possible so they can enjoy a relaxing day while at the zoo and avoid disappointment (or hungry children!)
---
Sydney Zoos, Aquariums, Museums, Galleries and Attractions

Wanting to day-trip to Sydney? Many of Sydney's top attractions are set to re-open this June, including Taronga Zoo, Madame Tussauds, the Museum of Contemporary Art and more. Our friends at Time Out Sydney have put together this awesome feature outlining when all of our favourite cultural institutions are re-opening.