There are so many fantastic kids classes available across the Central Coast. We've found classes in parkour, drama, art, nature play, sport and fitness and more.
Many classes offer a FREE trial and/or term discount exclusively to Playing in Puddles' readers.
Take a look and sign your kids up to something new!
---
Extreme Sports
Ninja Kids Classes – Flips and Twists
Have a child with aerial ambitions? One who wants to twist, back flip, spin and leap like a ninja? Want them to learn these skills in a safe environment? Sign them up to Flip Out Gosford's Ninja classes. Flip Out's teachers will show your kids how to achieve agility, co-ordination and aerial awareness in a safe environment. After mastering the basics, your child will learn tricks such as front flips, back flips, twisting skills and more.
You can join in a class casually, or you can sign up for the full term.
Age group: Kids aged 5-16.
Where: Flip Out, Gosford.
When: Tuesday-Thursday at 4pm, 5pm and 6pm (the class runs for 1 hour).
Cost: $15 per class or $120 for a 10-week term (plus $30 registration fee).
Contact: 4323 0162 or https://www.flipout.net.au/programs/ninja-classes
Active Kids Voucher Accepted
---
Circus Classes
Let your dreams defy gravity! Set your eyes on the skies with Tumbling, juggling, spinning plates and swinging on a trapeze – now they are some nifty tricks you don't pick up at school. But you can master them at Roundabout Circus in Wyoming. They host a heap of circus workshops for kids of all ages (young tots and adults too) throughout the term. Plus they offer $5 trial classes during the term and are creative and active kids providers.
Age group: From ages 2+.
Where: Wyoming.
When: Multiple sessions weekly.
Cost: From $10/class.
Contact: 0423 324 407 or www.roundaboutcircus.com
---
Sport Classes
Basketball Minis
Designed for children 18 months – 5 years, Breakers Indoor Sports Stadium Basketball Minis are fun and interactive classes which focus on basic basketball skills for your little ones. Sessions include a general warm up, run and shoot, colour and number recognition games, passing practice, bouncing practice, obstacle course and parachute fun.
All kids under 5 are welcome to participate in the same class which makes this a great activity if you have two or three kids within this age group. Plus, you can join for the term or come casually.
Age group: Kids aged 18 months – 5 years.
Where: Breakers Indoor Sports Stadium, Terrigal.
When: Mondays and Fridays 10am-10:45am
Cost: $100 for a 10-week term OR $10 per child per session (includes a free hot beverage for Mum or Dad).
Contact: 4385 3577 or https://www.bistadium.com.au/basketball-minis
---
Grom Fit Gym Class
Encourage your kids to get fit in 2019. Mingara One's Grom Fit classes are run specifically for tweens aged 8-12. They'll have fun, sweat it up and improve their confidence, fitness, health and mindfulness: boom.
Age group: Kids aged 8-12.
Where: Tumbi Umbi.
When: Tuesday and Thursday 4.30pm-5.30pm (classes are year-round).
Cost: $7.50 for casual visit or $60 for a 10-visit pass.
Contact: 4349 7825 or www.mingaraone.com.au
---
Ready Steady Go Kids
Ready Steady Go Kids is for children aged 18 months-6 years. They'll run, jump, bounce basketballs, bat cricket balls, have a load of fun and learn great skills. This award winning physio-designed program teaches children the fundamentals of 10 different sports and develops essential motor skills in a fun, non-competitive environment.The kids learn a new sport every fortnight so there's no chance of boredom.
Playing in Puddles offer: Free trial class
Age group: 1.5 years – 6 years
Where: Terrigal, Erina, Charmhaven, Woy Woy.
When: Daily – multiple times.
Cost: From $158.40/10 week term.
Contact: 1300 766 892 or readysteadygokids.com.au
Active Kids Voucher Accepted (4-6 year olds only. To qualify your child must be attending school).
---
Horse Riding Lessons
Glenworth Valley Outdoor Adventure's horse riding lessons take place in their arenas as well as out on their trails. Lessons are tailored to the riders' abilities and may include grooming, saddling, ground control, walking, trotting, cantering, leg yielding, riding on the bit and jumping.
Age group: Children aged 7+
Where: Glenworth Valley.
When: Daily – multiple times.
Cost: Ten 1-hour group lessons are $495 ($49.50 per lesson for up to 6 people).
Contact: 4375 1222 or www.glenworth.com.au
Active Kids Voucher Accepted for block of 10 bookings only.
---
Music and Dance Classes
Art Classes
The Gosford Regional Gallery hosts an evolving program of art classes, focusing on a range of techniques and developing the skills of budding artists. Suitable for ages 6 – 16, after school classes during term 3 will run Monday – Wednesday. Also, new to the Gallery in term 3 is a Life Drawing class (with a live, clothed model) for year 10 and Year 11 students which will be held on a Thursday Afternoon. Students will develop skills in drawing the body and face under the tutelage of Artist, Russell Austin.
At The Entrance Gallery, classes continue on Mondays and Tuesdays after school, with a focus on creating artworks based on nature.
Where: The Gosford Regional Gallery & The Entrance Gallery
Cost: $165/$155 (members) for eight weeks.
Creative Kids Voucher Accepted
---
Children's Music Program
Bam bam, tink, tink, ding, ding. Let your babies make music, giggle, clap and sing in one of The Con's Baby Music Classes for tots aged 0-5.
You can sign your primary-school child up to a group music class too. These classes – held at the Central Coast Conservatorium – are perfect for kids who love music but aren't yet old enough to take up one-on-one instrument tuition (or who don't yet know which instrument to choose).
Playing in Puddles offer: Mention us to get a FREE trial! PLUS, Students in the Children's Music Program can participate in the Con's Children's Choir for no additional cost.
Age group: 0-10. (They also run one-on-one instrument tuition for all ages – check their website for all details)
Where: Gosford and Woy Woy.
When: Multiple classes held each week.
Cost: From $86/term.
Contact: 4324 7477 or www.centralcoastconservatorium.com.au
Creative Kids Voucher Accepted
---
Dance Adventure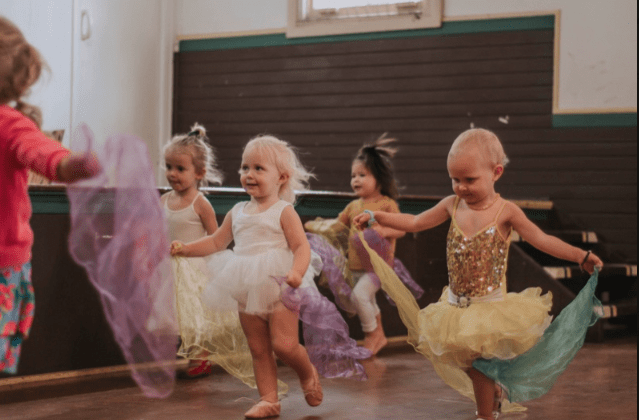 Can't decide if you should enrol your child in a music OR dance class? Send them to Dance Adventure and they get both! These classes are for children aged 1-7 (yep, dance classes for 1 year olds! Too cute!). Your child will dance, sing, play instruments and get thoroughly carried away with movement props such as silk scarves and glitter wands.
These wonderful classes are also now available to 5-7 year-olds after school on a Monday at Terrigal Scout Hall.
Playing in Puddles offer: Free trial class plus mention playing in puddles for 10% off your first terms fees.
Age group: 1-7.
Where: Terrigal, Tuggerah and Erina!
When: Mondays at Tuggerah and Terrigal, Wednesdays at Terrigal and Fridays at Erina.
Cost: $100/10-week term.
Contact: rachel@danceadventure.com.au or www.danceadventure.com.au
Active Kids Voucher Accepted. Rachel is in the process of applying for the Creative Kids Voucher. Contact her for more details.
---
Musikbugs
Baby music classes are the best! They give new, sleep-deprived parents a lovely excuse to escape the house and they provide a really fun, beautiful bonding time for you and your precious bub. These music and movement classes also help with your baby's brain development and help support their growth as they reach those critical milestones. The Double Bonus: your baby will love it! Kindermusik with Musikbugs also runs classes for older tots – classes are split into babies, walkers, toddlers and preschoolers.
Age group: 0-4.
Where: Niagara Park.
When: Multiple days (refer to website for further details).
Cost: $150 for 8 weeks.
Contact: 0424 446 778 or www.thepianobugstudio.com.au
---
NATURE CLASSES
Stone & Sprocket Bush Playgroup
Want to know what bush playgroup is all about? It's drawing with charcoal, building huts, whittling, setting up rope swings and making mud pies. Stone & Sprocket Bush Playgroup will be held once a month in 2019 in the Strickland State Forest. Sign your tots up for some outdoor fun.
Age group: 2-6 year olds.
Where: Banksia Picnic Area, Somersby.
When: 10am-12pm. July 23, August 13, September 3, October 22, November 19, December 3.
Cost: $19 per child. $9 per sibling (from same family), under 12 months free.
Contact: 0447 819 922 or www.stoneandsprocketec.com